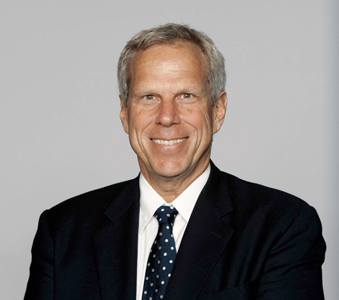 Recently, lyricist Robert Lopez became the 12th member of the exclusive E.G.O.T. Club – Emmy, Grammy, Oscar and Tony. Yet there is an even more exclusive club, one that I am officially labeling the O.S.B : Oscar, Super Bowl ring. The difference is this club only has one member –Steve Tisch. Tisch won an Oscar as producer of Forrest Gump and two Super Bowl rings as chairman of the New York Giants. After a screening of his heart-wrenching drama, American History X, Mr. Tisch spoke to our students at the New York Film Academy.
Steve Tisch got his start as an assistant to legendary producer Peter Guber, an experience he described as both his graduate school and PhD in the entertainment business. After a few years, Mr. Tisch started his own production company. His first major hit was 1984's Risky Business, the movie that made Tom Cruise a star. During the 1980's, Steve Tisch also produced several popular TV movies, including Burning Bed with Farah Fawcett. With only three major networks and limited competition from cable, TV Movies could draw an audience larger than most features. During some weeks, there'd be six new TV movies premiering, most of which would cover social topics that feature films wouldn't touch.
Mr. Tisch talked about how he's managed to keep producing successful material over the years. For him, the keys are the material and the relationship. In the case of Forrest Gump, he spent nine years getting the movie made. The largest issue was no writer seemed to be able to crack the book until Eric Roth stepped in. He was the one who understood that it needed more relationships, more love stories. The audience cares about Forrest Gump, largely because of his "love stories" with Jenny, his mother, Lieutenant Dan and the shrimp-loving Bubba. Six Academy Awards and several hundred million dollars later, it's safe to say they figured it out.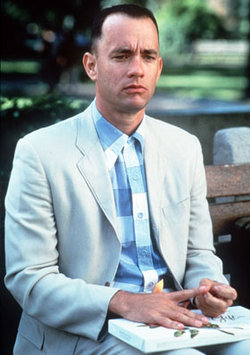 One of the students asked how the entertainment industry and sports industry were alike. Mr. Tisch explained that it's all about getting an audience, and giving the audience some real entertainment for their dollar. He also admitted that if he had to give either his S.B. Rings or Oscar back, he'd keep the Rings! In three plus hours, the Super Bowl had drama, tension, heart, excitement, heroes, villains, and (in the end) the thrill of victory. All without a screenplay.
Another student asked Steve Tisch, "What is your greatest mistake–the one you learned the most from?" Smiling and shaking his head, Mr. Tisch said to never give a movie star (who's also directing) final cut. He knew the movie wasn't working in post, but couldn't do a thing to fix it. Lesson learned.
On American History X, Mr. Tisch faced a bit of a battle, but with much better results. Using his clout from the ultimate feel good movie (Gump), he was able to get funding for what he called the ultimate "feel bad movie." When Edward Norton signed on as the reformed neo-Nazi, the movie got its green light. And that's when the trouble began.
The director – Tony Kaye, who had a terrific career in commercials – clashed constantly (and very publicly) with Edward Norton. Tony Kaye put out an ad in Variety demanding that his directing credit get changed to "Mickey Mouse, etc." In the end, the movie is 90% Tony Kaye's cut, 10% Mr. Norton's and holds up as a beautifully shot, devastating drama that netted Edward Norton a well deserved Oscar nomination.
Steve Tisch's big advice to the student body was to keep working on their material and finding the people who they want to work with… as well as the ones who will help them steer their way through Hollywood.
by nyfa