NYFA Documentary Professor Claudia Raschke is the Cinematographer for Peabody Award-Winning Doc "My Name is Pauli Murray"
Since 1940, the Peabody Awards have been recognizing outstanding work in podcast/radio, TV and film. Each year, the honors are given to a "collection of 30 stories that powerfully reflect the pressing social issues and the vibrant emerging voices of our day. From major productions to local journalism, the Peabody Awards shine a light on the 'Stories That Matter' and are a testament to the power of art and reportage in the push for truth, social justice, and equity."
Amongst those 'Stories That Matter' is NYFA Documentary instructor Claudia Raschke's documentary, My Name is Pauli Murray (2021).
The documentary surrounds the life of extraordinary civil rights activist, lawyer, gender equality advocate, Episcopal priest, author and poet, Pauli Murray, whose groundbreaking work was obscured until recently. The film marks Raschke's third collaboration with Betsy West and Julie Cohen, the trio's previous works include Julia and RBG. My Name is Pauli Murray reveals that Murray was a force of nature and a huge influence on the careers of greats such as Ruth Bader Ginsburg and Thurgood Marshall who cited them as an intellectual influence. Both figures used Murray's discourse to shape winning arguments presented to the supreme court. In the documentary Ruth Bader Ginsburg says,"we were not inventing something new. We were saying the same thing that Pauli had said years earlier at a time when society was not prepared to listen."
Of documenting and photographing the life of Pauli Murray, NYFA Documentary instructor Claudia Raschke says, "Capturing the passionate determination of civil rights activist Pauli Murray makes me appreciate how far we have come and how important it is to pass the knowledge over to the next generation because the fight is not over."
My Name is Pauli Murray celebrates all of Murray's achievements in the face of adversity and barriers. Murray would go on to be the first Black person to receive a JSD from Yale Law School after being denied admission to Harvard Law School on the basis of sex. Murray then moved to New York to assist in the civil rights efforts of the NAACP and they were decidedly intersectional. During their time at the NAACP, Murray coined the concept of "Jane Crow", arguing that the plight of Black men under the oppressive forces of the United States judicial system was not the same as theirs. Murray's seminal legal opinions on school desegregation as well as women's and LGBTQ rights were instrumental in the fight for intersectional equality. Murray finally received recognition in Julie Cohen and Betsy West's My Name is Pauli Murray.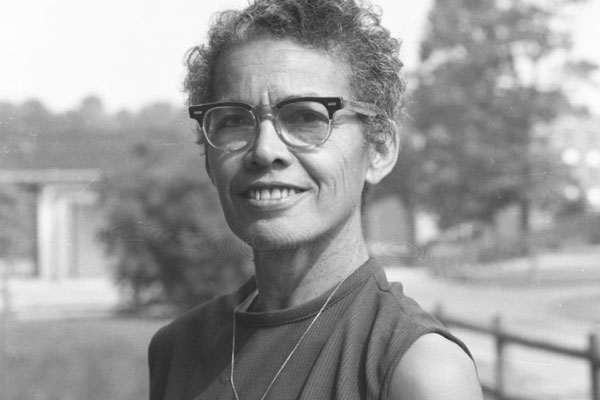 An image of Pauli Murray. Courtesy of Brandeis University
Using Murray's own words and excavating the personal history that informed the distinguished lawyer, poet, priest and writer, Cohen and West have crafted an indelible portrait of a figure who deserves to be better known. For restoring a key and inspiring figure to our historical memory, My Name is Pauli Murray won a Peabody Award.
Check out a 20/20 Liz Hinlein interview with Claudia Raschke where she discusses her style and the art of truthful filmmaking here:
Please note: NYFA does not represent that these are typical or guaranteed career outcomes. The success of our graduates in any chosen professional pathway depends on multiple factors, and the achievements of NYFA alumni are the result of their hard work, perseverance, talent and circumstances.