7th ANNUAL NORDIC INTERNATIONAL FILM FESTIVAL PARTNERS WITH NYFA FOR WORKSHOP SCHOLARSHIP
September 02, 2021
The
Nordic International Film Festival (NIFF)
took the stage this past week to showcase the power of international film. The festival, now in its seventh year, was held at
Fotografiska
on Park Avenue and featured films from an array of internationally recognized filmmakers including Lisa Meyer, Lisa Jespersen, and Anton Kristensen.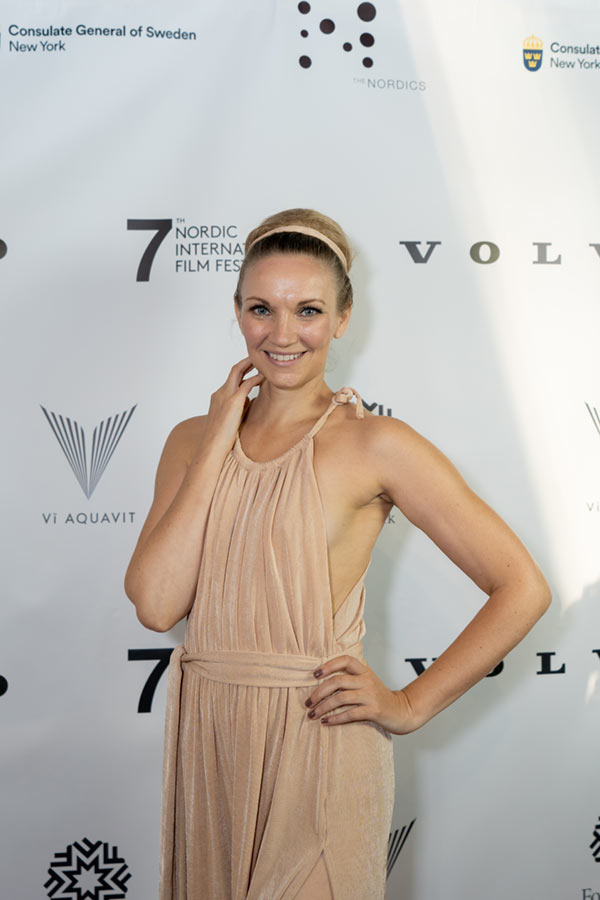 NIFF Founder, Linnea Larsdotter, on the red carpet at the Festival's 7th Award Ceremony (Photo Credit: Zhen Qin)
Founded by two New York Film Academy (NYFA) alumni,
Johan Matton
and
Linnea Larsdotter
, NYFA partnered with the festival to present the award for the Winner of the Aurora Borealis category as well as award them a 4-Week Workshop Scholarship for one of NYFA's programs. The award was presented by NYFA New York Acting for Film Creative Director, Amy Van Horne. "It was such an amazing evening getting to chat with NYFA alumni and founder of NIFF Linnea Larsdotter. It was inspiring being a part of the celebration that honored such diverse and socially conscious filmmakers. I believe Linnea and Johan's mission to put NIFF on the map as the largest Nordic Film Market is well underway."
The two acclaimed Producers
co-founded NIFF with the hopes of bridging the divide
between Nordic film and the international film community. In keeping with its mission, NIFF dedicates its efforts to support the Black Lives Matter movement and gender equality in the filmmaking community.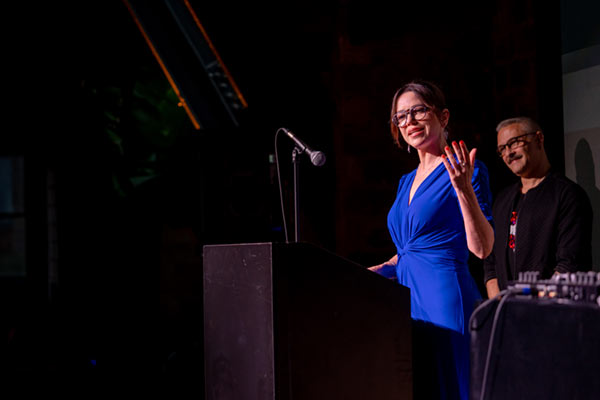 New York Film Academy's Acting For Film Creative Director, Amy Van Horne presents the winner of the Aurora Borealis category (Photo Credit: Zhen Qin)
Of this year's festival, Linnea Larsdotter said, "This was a challenging year to host NIFF, for obvious reasons, but we are so thrilled to have been able to once again bring these amazing films to our NY audience, and get to highlight the talent that the future of filmmaking is bringing."
Fotografiska, the largest photography museum in the world, was a key partner of NIFF 2021. With a mission to inspire a more conscious world, the museum's exhibits are developed by the artists themselves. The Awards Ceremony was hosted by Recording Artist and Music Executive, Rebstar. The award itself was designed by Orrefors, a premium manufacturer of crystal products.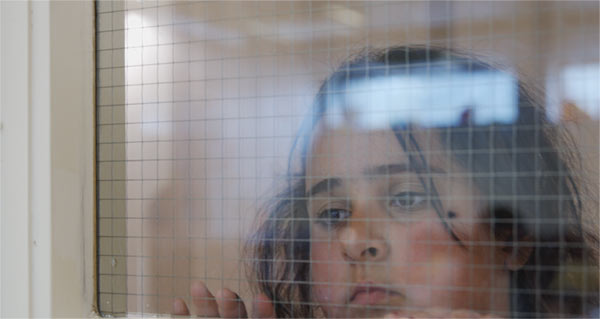 Photo still from the winner of the Aurora Borealis category, Birds of Passage, directed by Lisa Meyer
This year's winner of the Aurora Borealis category was Swedish director Lisa Meyer for her film
Birds of Passage.
The short film tells the story of Lorin, a girl whose family must suddenly move. The move tears Lorin away from her school, her friends, and the life she's built. A short film of only 14 minutes,
Birds of Passage
showcases life's disruptions from the perspective of a child.
New York Film Academy congratulates alumni Johan Matton and Linnea Larsdotter on another successful festival as well as Aurora Borealis winner, Lisa Meyer.