Avenue Q's Jeff Marx Visits New York Film Academy Musical Theatre Students
March 6, 2018 Jeff Marx, the composer and lyricist who won a Tony Award for his puppet-centric musical Avenue Q, visited students of the New York Film Academy's Professional Conservatory of Musical Theatre (PCMT) in late February, speaking with them at length at NYFA's New York City Theatre.

While Marx is now one of Broadway's biggest stars, he had originally planned to be a lawyer, going as far as passing the New York State Bar exam. While attending the BMI Lehman Engel Musical Theatre Workshop, he met partner Robert Lopez, and the two wrote a Muppet screenplay on spec. That eventually led to their extremely successful production of Avenue Q.

Avenue Q is the innovative musical starring both human and puppet characters. After debuting, it instantly earned critical acclaim and won over audiences everywhere, eventually going on to win three Tony Awards, including Best Musical. It is currently running Off-Broadway and has toured the country and been produced in both the West End and Las Vegas.

After his success with Avenue Q, Marx went on to write for the musical episode of NBC's Scrubs, as well as songs for The Book of Pooh and Bear in the Big Blue House. Marx also co-wrote the theme song for Logo TV's Rick & Steve: The Happiest Gay Couple in All the World.

Speaking with the aspiring Broadway stars of NYFA's Professional Conservatory of Musical Theatre, Marx brought up his indirect path to winning a Tony, highlighting that he didn't even start writing until he was 28 years old. "The greatest thing that I can wish for you," Marx told the students, "is hunger." In addition, he shared behind-the-scenes stories about the making of Avenue Q.

Marx didn't come to NYFA alone. Students were delighted when he brought out a guest — puppet and star of Avenue Q, Nicky. After operating the puppet on stage, students were invited to hold and pass Nicky around themselves.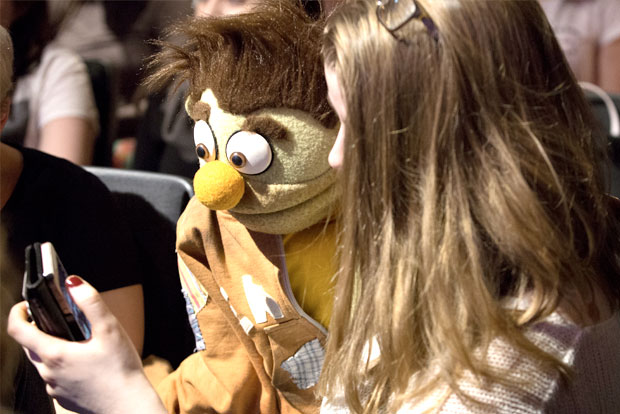 In addition to the Avenue Q scene-stealer, Marx brought his Tony Award, Broadway's highest honor. It was an inspiring moment for the PCMT students learning at NYFA to hold and pass around the statue, no doubt hoping to win one of their own in the not-too-distant future.

By the time the students had to say goodbye to Marx and Nicky, they had learned and laughed, and were extremely grateful for the generous time, energy, and inspiring words Marx brought with him to the New York Film Academy.