New York Film Academy Cinematography Alum Shoots Awkwafina's Award-Winning Film 'The Farewell'
Febuary 13, 2020 The Farewell, the multiple award-winning drama-comedy film starring Awkwafina, was shot by director of photography and New York Film Academy Cinematography alum Anna Franquesa-Solano, with BFA Filmmaking alum Qianying Zhou working as 1st Assistant Camera.

Both Solano and Zhou started their journeys from outside the United States. Solano originally hails from Spain and attended the 1-Year Cinematography conservatory at NYFA's New York campus in 2010. Zhou, who enrolled in the 1-Year Filmmaking conservatory at NYFA's New York campus in 2010 before continuing her studies in the BFA Filmmaking program at NYFA-Los Angeles, is from China.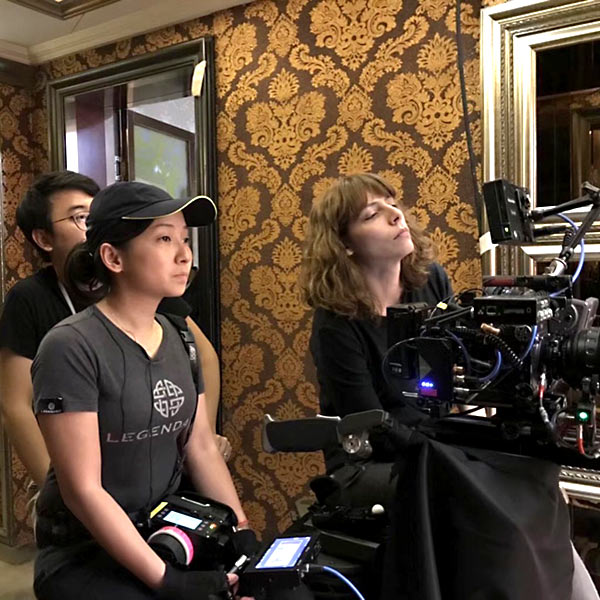 Caption: NYFA Alumni Qianying Zhou & Anna Franquesa-Solano.
"I believe in order to grow, you have to step out of your comfort zone,"
Franquesa-Solano
tells NYFA. "My first big leap was moving to New York without even speaking English in order to study cinematography. A few years later I challenged myself again by shooting
The Farewell
, a demanding project that came with a lot of responsibility. These two have been so far some of the most important decisions of my career."
These decisions have paid off, both for Franquesa-Solano and for the film they beautifully-shot.
The Farewell
became a Grand Jury Prize nominee at Sundance before earning numerous nominations and awards, including nominations for Best Foreign Language Film at the Golden Globes and BAFTA Awards and, most recently, winning top prize at the Independent Spirit Awards for Best Feature.
The Farewell
tells the story of a Chinese family who decide not to tell their grandmother she is dying, scheduling a wedding to bring the family together before she dies. The film was written and directed by Lulu Wang and stars Awkwafina, the Queens-born rapper, comedian, producer, writer, and actress who has steadily risen in fame since appearing in films like
Ocean's 8
and
Crazy Rich Asians
. Her dramatic talent in the film earned her a Golden Globe win for Best Performance by an Actress in a Motion Picture - Musical or Comedy, and also earned her nominations for other awards, as well.
New York Film Academy congratulates 1-Year Cinematography alum Anna Franquesa-Solano and BFA Filmmaking alum Qianying Zhou on the success of
The Farewell
and looks forward to following their blossoming careers!
Please note: NYFA does not represent that these are typical or guaranteed career outcomes. The success of our graduates in any chosen professional pathway depends on multiple factors, and the achievements of NYFA alumni are the result of their hard work, perseverance, talent and circumstances.