NEW YORK FILM ACADEMY (NYFA) DOCUMENTARY FILMMAKING ALUM ILARIA POLSONETTI EDITS COVID-19 SPECIAL REPORT FOR VICE NEWS TONIGHT
April 30, 2020 New York Film Academy (NYFA) Documentary Filmmaking alum Ilaria Polsonetti edited a special report for VICE News Tonight. The documentary segment is called "COVID-19: Italy's Tragedy," and explores the deeply unsettling and devastating impact of COVID-19 inside Italy's coronavirus epicenter.

The emotional news segment maps out the beginning of Italy's first encounter with the COVID-19 virus up until present day, where the report catches glimpses of the empty streets of Italy, the first responders and hospital workers, and those physically impacted by the virus.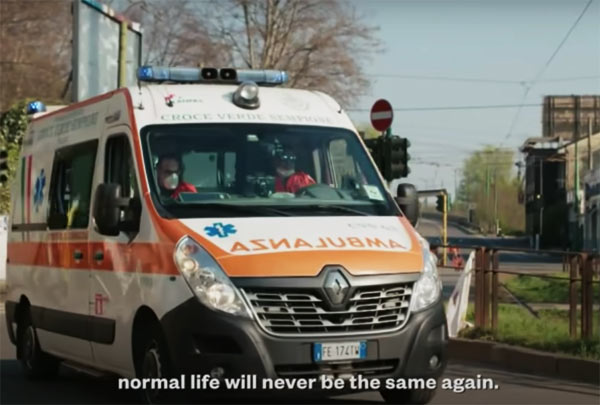 Screenshot from "COVID-19: Italy's Tragedy"
Polsonetti, who edited the VICE News Tonight special report, graduated from NYFA's
1-Year Documentary program
in 2011. She is also a graduate of the
15-Week Screenwriting
program, which she completed in 2013. After graduating NYFA, she worked for Market Road Films, Singer Street Films, and has worked for VICE since 2015.
In addition to her latest work on "COVID-19: Italy's Tragedy," Polsonetti's work on Vice's "Libya: Intercepting Migrants" project earned her a nomination for "Outstanding Editing: News" and an "Outstanding Continuing Coverage of a News Story in a Newscast" nomination at the
39th Annual News & Documentary Emmys.
View the trailer for the
VICE NEWS TONIGHT
segment below.
Please note: NYFA does not represent that these are typical or guaranteed career outcomes. The success of our graduates in any chosen professional pathway depends on multiple factors, and the achievements of NYFA alumni are the result of their hard work, perseverance, talent and circumstances.