NYFA PHOTOGRAPHY ALUM RITIKA SHAH SHOOTS FASHION EDITORIAL FOR HARPER'S BAZAAR INDIA
December 18, 2020
New York Film Academy
1-Year Photography
Conservatory alum, Ritika Shah, isn't letting 2020 stop her from making bold moves in the fashion world, landing a full fashion editorial for highbrow style magazine,
Harper's Bazaar India.
The fashion spread, which can be found in
Bazaar
's November 2020 issue, features images that capture the "Magic of the Weave," a concept by the magazine's editor paying homage to clothes that have been made of traditional, handwoven Indian weave, "Brocade," with a modern twist.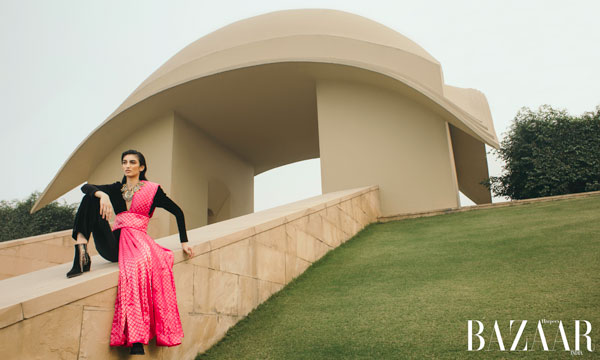 Shot by Ritika Shah for "Harper's Bazaar India"
As an independent photographer, Shah revealed that her style has evolved over time to be "very minimal" which is emulated in her photos. "I had full creative freedom in terms of the location and frames used for each shot and the model's poses," revealed Shah. "I decided to follow my vision, but I had to make sure that the imagery aligned with the magazine's aesthetic as well."
One of the biggest aspects of shooting the project was the location of the shoot, something that Shah was very confident about when taking on the project. "Luckily, I had done a recce [pre-shoot] with this location on another project before, so I had kept it in mind. When I got a call from the fashion stylist for this shoot, I immediately suggested this location, shared the images, and it got approved."
Photos shot by Ritika Shah for "Harper's Bazaar India"
The location ended up being a huge focal point for the spread and Shah's vision overall. "It had elements of traditional Indian architecture, but in a modern setting; Just like the clothes were made of traditional handwoven Indian weave, with modern silhouettes. The location played a big role in supporting the concept of the shoot."
Shah has been in the business for four years as an independent fashion photographer. Previously, she shot the cover for
Verve Magazine
and had her work featured in
Contributor Magazine, Homegrown Magazine,
and more. "It's been a great journey working as an independent photographer and I am always grateful for all my learnings at NYFA," explained Shah. "NYFA taught me to question everything that I liked and I still question myself as to why I like or dislike something; it helps in getting the creative juices flowing."
New York Film Academy would like to congratulate NYFA Photography alum, Ritika Shah, for her stunning fashion photography portraitures featured in the November issue of
Harper's Bazaar India
. For more photos from the NYFA alum, check out her Instagram
here.
Please note: NYFA does not represent that these are typical or guaranteed career outcomes. The success of our graduates in any chosen professional pathway depends on multiple factors, and the achievements of NYFA alumni are the result of their hard work, perseverance, talent and circumstances.