New York Film Academy Animation Student Rayt Kiya Receives 2018 NYFA Burbank Community Scholarship
October 8, 2018 New York Film Academy (NYFA) Los Angeles has a close relationship with its home city of Burbank, California, as well as with Burbank's local citizens. At a recent City Council meeting, the City of Burbank recognized one of those young citizens, 18-year-old Rayt Kiya, who was presented with the 2018 NYFA Burbank Community Scholarship.

The scholarship is granted by NYFA and includes full tuition for New York Film Academy's BFA in Animation program, where Kiya, a graduate of Burbank High School, will learn the craft of 3D Animation and Visual Effects. The scholarship was presented to Kiya by Burbank Mayor Emily Gabel-Luddy and NYFA-LA Dean of Students Dr. Susan Ashe during a City Council Meeting on September 25. Video of the ceremony will be aired on The Burbank Channel (local Channel 6) for two weeks following the event.


Along with Kiya, Dr. Ashe, and Mayor Gabel-Luddy, the ceremony was also attended by Kiya's father, as well other New York Film Academy administration members. This included Dr. Mary Samuelson, Dean of General Eduction and Chair of Liberal Arts & Sciences, and Paul McKenna, Service Learning Manager of New York Film Academy's Community Outreach Department.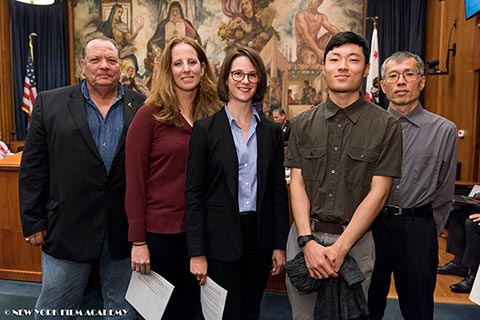 Kiya is well deserving of the accolades. Asked about the young scholar, Dean of Students Dr. Susan Ashe remarks, "Rayt is passionate about animation and enthusiastic about the career opportunities ahead of him. It was an honor that NYFA could be a part of this special and public recognition."
At the ceremony, Kiya was asked to say a few impromptu words. He was both humble and gracious, saying, "I'd like to thank the Academy for this incredible honor and opportunity." He continued, "I'm really grateful and excited."
Mayor Gabel-Luddy also wished to express praise for Kiya's father, and the role he played in raising an intelligent, talented son and student. Kiya's scholarship further strengthens NYFA's relationship with the City of Burbank, where its Los Angeles campus is centrally located.
"We are excited to be giving back to the Burbank community and to be encouraging the youth of the Burbank community in their artistic endeavors," adds Dr. Ashe.
At NYFA, Kiya will be studying 3D Animation. NYFA's
animation school
is one of the country's leading animation schools and offers a wide variety of VFX courses and 3D animation programs to suit the diverse needs of a wide array of talented, passionate students. The
award-winning faculty
of the school brings years of experience from their careers in animation and the visual arts, and share a wealth of industry secrets and practical knowledge to NYFA students.
During their time in the program, these aspiring animation and visual effect artists will learn in professional facilities with state-of-the-art equipment and software, including 3D Maya, Mudbox, MotionBuilder, Pixologic's ZBrush digital sculptor, SideFX's Houdini FX, Chaos Group's V-Ray, and Foundry's Nuke compositing and editing program.
The New York Film Academy congratulates Rayt Kiya and looks forward to the animation projects he'll be making as a BFA student at our Los Angeles campus!