NYFA Filmmaking Alum Ismael Gomez III Starts Production House and Releases His Latest Film on Amazon
September 03, 2020
New York Film Academy (NYFA) Filmmaking alum Ismael Gomez III released his latest film
Death of a Fool
on
Amazon Prime Video
. The film is the latest project from the Cuban-American filmmaker who, after graduating from NYFA, worked as a lead editor on several motion pictures and commercials that have been screened at Cannes, Tribeca, Miami, and Starz Denver international film festivals.
Gomez
was born and raised in Havana, Cuba and it was there that he fell in love with cinema. Directors like Coppola, Kurosawa, and Kubrick inspired Gomez to understand the passion and ingenuity of filmmaking, all leading him to study in the
2-Year Filmmaking Conservatory
with NYFA.
Death of a Fool
is a coming-of-age fantasy that follows teenager Pablo and his dying grandfather who begin conducting afterlife investigations in Miami after a mysterious man hires them to find the secret to immortality. The film was co-written, produced, and directed by Gomez.
"I remember being five years old, looking out my backyard one morning and seeing my dog, Charlie, lying motionless. He was sick for weeks and had now passed away. It was my first encounter with death and I did not know what to make of it," shared Gomez, when asked about inspirations behind
Death of a Fool
. "It [the film] is built on the simple idea that if we could live forever, would we necessarily want to?"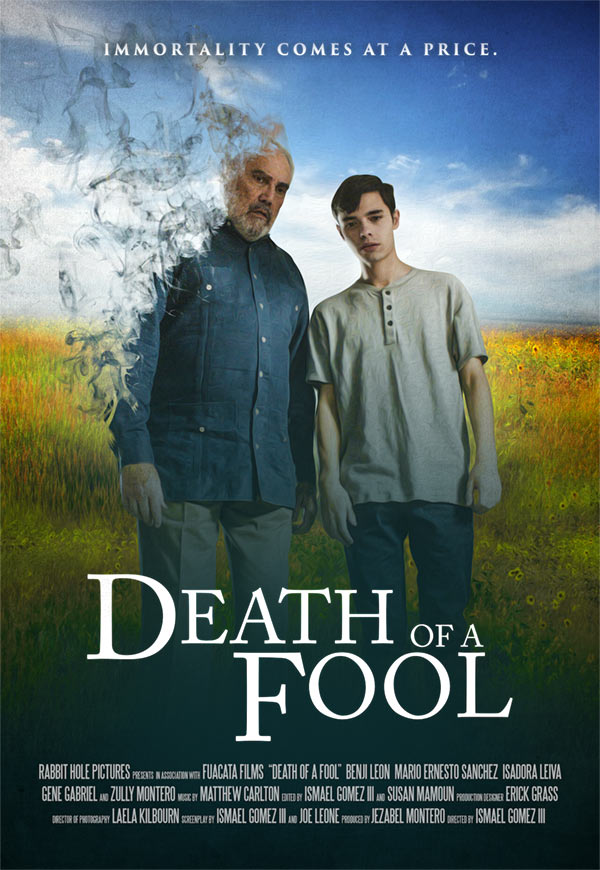 Film poster for 'Death of a Fool'
Before heading to Amazon, Gomez and his team were able to screen their film at Coral Gables Art Cinema, but it was around that time the pandemic hit. "We had to make the quick decision of moving online," revealed Gomez. "Although I really wanted to expand theatrically, if there's something filmmaking has taught me, it is to adapt quickly to rising obstacles, make a new plan and keep moving forward."
Gomez's
Death of a Fool
was recently covered in
The Miami Herald
, which also mentioned Gomez's Miami-based production house
Rabbit Hole Pictures
, that Gomez co-founded and continues to serve as the CEO.
"Our mission at Rabbit Hole Pictures is to tell mystical stories that spark curiosity and wonder. For us the word mystical embodies a sense of mystery, awe, and fascination for the unknown," Gomez shared with NYFA. "Fantasy always creates a striking contrast that helps us reframe and examine reality. It's about telling stories that carry people far-far-away to look at themselves up close."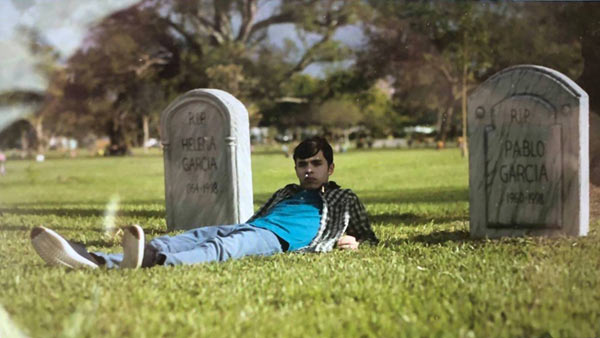 Still from 'Death of a Fool
Though the NYFA alum studied in
New York
when he was at The Academy, he recalled an experience that changed him forever when visiting his family in Miami in 2016. "I went to the theaters and watched
Moonlight
by Barry Jenkins and thought, 'here's a guy who has made this astonishing film completely in Miami and just won Best Picture at the Academy Awards.' So, a fuse had been lit up inside me and begged the question: How many movies have we seen entirely produced in Miami?"
In addition to wanting an authentic Miami represented in the film industry, Gomez also wanted Rabbit Hole Pictures to be a production house that showcases the fantasy genre. "I wanted to show a part of Miami that is rarely depicted on the big screen. Many clever producers have built sets that look like Miami, but the magic of the real thing cannot be duplicated," shared Gomez.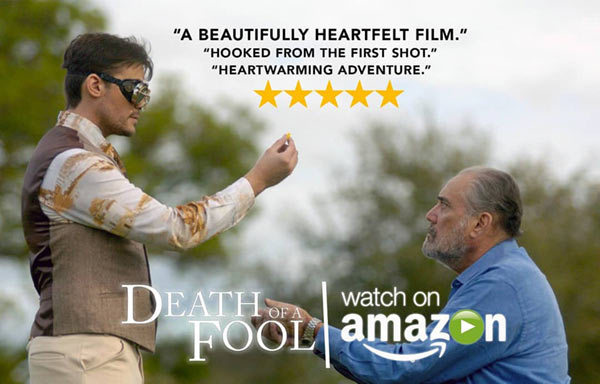 Rabbit Hole Pictures has already had a hand in
several projects
with a fantasy thriller currently in development. Gomez also shared that Rabbit Hole Pictures has recently announced a
Movie Pitch Contest
to help other creators during this time, and plans on granting a financial reward to help the winner fund their own project.
New York Film Academy would like to congratulate Ismael Gomez III on the recent success of
Death of a Fool
and encourages everyone to check it out now on Amazon Prime Video.
Please note: NYFA does not represent that these are typical or guaranteed career outcomes. The success of our graduates in any chosen professional pathway depends on multiple factors, and the achievements of NYFA alumni are the result of their hard work, perseverance, talent and circumstances.