New York Film Academy (NYFA) Included On Variety's Top Film Schools List For Third Year Running
May 23, 2019 In what is quickly becoming an annual tradition, New York Film Academy (NYFA) has been included on Variety's list of the best film schools in the world. The Entertainment Education Report: The Best Film Schools of 2019 lists the industry's top 50 academic institutions and educators that offer "cutting-edge instruction" and offer students the tools needed to create, innovate, and influence the industry. This is the third time NYFA has received the honor.

Variety's yearly list of schools is seen as the definitive guide to the best institutions in the business, and is carefully reviewed by both prospective students and industry professionals alike. NYFA's inclusion is a clear sign that the college has earned both the attention and the respect of the film industry.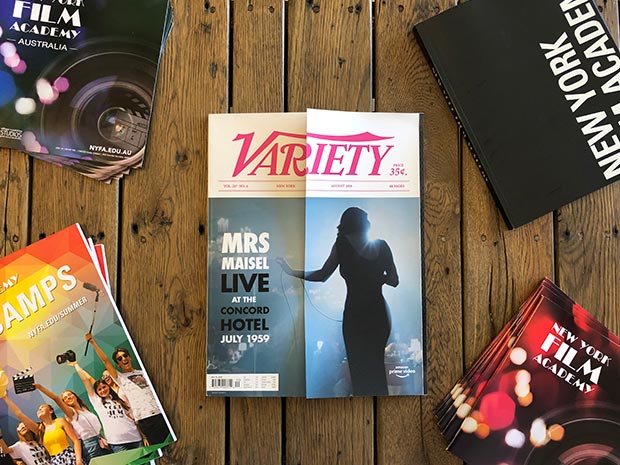 "We are honored to be recognized once again with inclusion in this list," said Michael Young, President of NYFA. "This is a real testament to the efforts of our outstanding faculty and staff. Our team is always looking for innovative ways to serve our students, and it's wonderful to see those efforts getting recognition at this level."
The article addressed the school's
filmmaking programs
, but it was the forward-thinking technological programs that gained the most interest. NYFA's game design, virtual reality, and 3D animation programs were dubbed "innovative and timely," and stood out amongst some of the more traditional offerings mentioned.
Also important was the level of flexibility NYFA offers to students. Variety highlighted the wide range of degree, conservatory, and workshop options, which make it easier for students to fit their education into busy schedules, as well as the wide range of locations around the globe.
NYFA's first entry on the list was in
2017
, when the magazine named it a "stellar" school for film students. The article made special mention of the school's alumni projects, calling out, "Work produced by NYFA graduates has been screened at Cannes, Sundance, Toronto, Venice and SXSW film festivals."
Variety is widely regarded as the authority in news, insight, and analysis for television, film, theatre, music, and the digital space. For more than 100 years, it has overseen every aspect of the entertainment industry, giving it a unique perspective on the academic programs and institutions that will be most helpful to students looking to work in media.
The New York Film Academy congratulates all its faculty and staff, whose efforts have helped the school earn this honor!