New York Film Academy (NYFA) Screens Groundbreaking VR Film 'Agent Emerson' with Director and BFA Filmmaking alum Ilya Rozhkov and Filmmaking Team
November 25, 2019 On Friday, November 15, New York Film Academy (NYFA) hosted a screening of groundbreaking VR action film Agent Emerson, followed by a Q&A with award-winning writer, director, producer, and NYFA BFA Filmmaking alum Ilya Rozhkov; Associate Producer & VP of Development of the Rogue Initiative, Bradley Etheridge; and Line Producer and NYFA alum, Radhika Womack. The president of the NYFA Broadcasting Club, Derek "DJ" Johnson II, moderated the event.

Ilya Rozhkov has directed award-winning shorts including Wes-Andresonesque Sabre Dance, starring Olympian Greg Louganis as Salvador Dali. His films have been distributed worldwide, featured on NBC, and screened at over 50+ festivals; winning numerous awards including Best Picture and Best Director.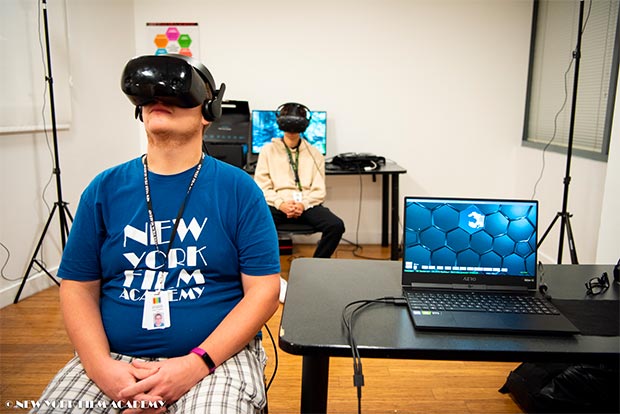 As a lead development executive at Rogue Initiative, Bradley Etheridge is responsible for input for both creative and business development. Etheridge's diverse range of duties includes working with directors, writers, and producers on film, TV, and
VR projects
; managing Rogue's internal team of game developers; and interfacing with contacts in various industries for everything from investment to content distribution opportunities.
Radhika Womack began her career producing commercials in the Indian film industry. Since moving to the United States, she has produced a number of feature films, shorts, documentaries, and music videos. Her most recent credits include producing the feature film
In This Gray Place
and line-producing
Agent Emerson
.
The VR film allows the audience to see an action movie from the 360-degree POV of its hero. The film, starring Andrew Bowen, Lyndsy Fonseca, and Tony Denison, has toured with Samsung and Verizon Media in a series of events in several states and recently had its successful
red carpet premiere
with high-profile guests from major Hollywood studios, Silicon Valley, the Producers Guild, the VR industry, and several Academy Award nominees.
DJ Johnson II opened the Q&A by asking how the idea of
Agent Emerson
came about, highlighting the fact that Rozhkov conceptualized the film's story with Womack during their time as students at NYFA.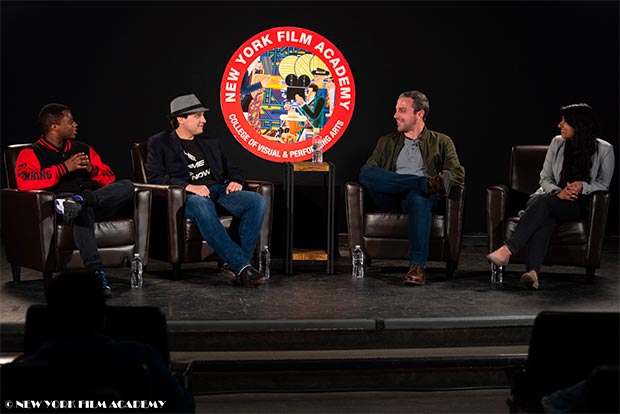 "It was a very long planning process; about a year of it," Rozhkov shared. "When I thought about it for the first time, I tried to figure out what would make it unique as a storytelling medium, just like people were with movies 120 years ago. So when the script was there and the concept was there, we started looking into technology and it simply did not exist, so I sat down with engineers and we had to create technology to make this possible." Johnson continued by inquiring how you set a frame that is 360 degrees. Rozhkov joked by saying, "Just like how there is no spoon in The Matrix, there is no frame in VR." Rozhkov continued, "It's storytelling through location and it's a cinematic medium for sure, but it takes a lot from theater and it takes a lot from gaming. There's no storytelling laws, especially when we started, so we had to find what works and just like any film, figure out the storytelling language."
When asked about what the biggest challenge the filmmaking team faced during production, Womack expressed, "The biggest challenge was the technology. There's so many unknowns in filmmaking already, and here you just triple that. It's just sitting and brainstorming all the things you need even though there's a lot of similarity with regular productions and other narratives. You have your locations, your permits, your crew, and the camera is taken care of, but again it's a much bigger department than you would have on a regular film. The biggest challenge was to let everyone in every department know the difference: if you can see the camera, the camera can see you."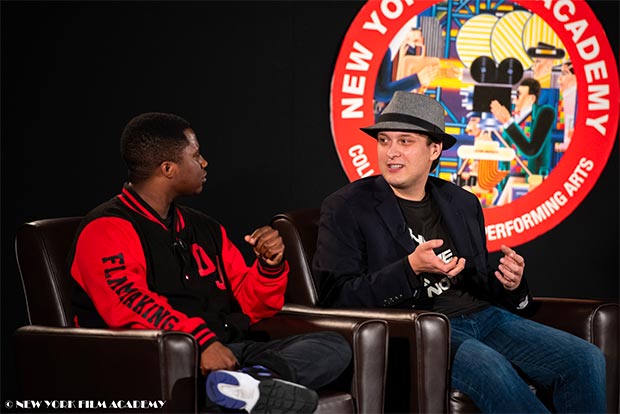 The Q&A then opened up for questions from the audience. A student asked the filmmaking team, "How did you combine the digital assets with the footage from your camera while maintaining the stereoscopic effect of the film?"
Rozhkov answered, "Everything was carefully measured, and we had a lot of sensor data from set that helped a lot. 360 degree video has a lot of limitations, especially when it comes to 3D, so we utilized game engine to bypass some of them. The film tracks in real time where you're looking and adjusts the 3D accordingly."
New York Film Academy would like to thank Ilya Rozhkov, Bradley Etheridge, and Radhika Womack for joining us, and sharing their expertise with our students.
Agent Emerson
will be released on Oculus Rift (Go and Quest), HTC Vive, and Cosmos on November 22.
Please note: NYFA does not represent that these are typical or guaranteed career outcomes. The success of our graduates in any chosen professional pathway depends on multiple factors, and the achievements of NYFA alumni are the result of their hard work, perseverance, talent and circumstances.