NEW YORK FILM ACADEMY (NYFA) WELCOMES ACTRESS PIPER PERABO AND DIRECTOR STEPHEN KAY FOR LIZ HINLEIN'S 'THE 20/20 SERIES'
June 10, 2020 On Wednesday, May 27, New York Film Academy (NYFA) had the honor of hosting actress and producer PIPER PERABO and director and producer, STEPHEN KAY, as part of The 20/20 Series, created by NYFA's Creative Director of Filmmaking and Cinematography, Liz Hinlein. The conversation was moderated by Hinlein and was held virtually, allowing individuals to join NYFA and the special guests from all over the world.

The 20/20 Series, created by Hinlein, is a virtual pop-up event that takes us into the homes, hubs, and workspaces of an array of dynamic creative visionaries to allow for relaxed, engaging conversations on craft, creation and artistic vision.

Special guest Piper Perabo is a Golden Globe-nominated actress and is currently on Showtime's Penny Dreadful. She has been a featured actress in Christopher Nolan's The Prestige, Cheaper By the Dozen, Looper, and cult classic Coyote Ugly. Perabo is married to Stephen Kay, with whom she worked with on USA's Covert Affairs, among other projects. Kay is a director and producer for television and film. His directing credits include The Shield, Friday Night Lights, Sons of Anarchy, and Yellowstone, among others.



(Left to Right): Piper Perabo, Stephen Kay, and Liz Hinlein
Hinlein kicked off the conversation by asking both Kay and Perabo about what it can be like directing or acting on a television set versus a film set. "You're working within an assigned series of limitations, which is great," Kay responded. He recalled that episodes of
The Shield
and
Friday Night Lights
, for example, were set up to be shot in a way that matched his style. Though, when directing television, it doesn't always turn out that way.
Kay also reminded the audience that sometimes you may interact with a creator of a show who has a laundry list of how not to shoot an episode, as well as lenses or shots that may not be approved, which could be uncomfortable or different than what a director may be used to working with.
For an actor, Perabo notes, television can be tricky because "you don't know the end of the story." For films and plays, you can easily have an idea of where your character is headed and how to take them there. On a TV show, "things get thrown at you that you don't always craft into your original performance."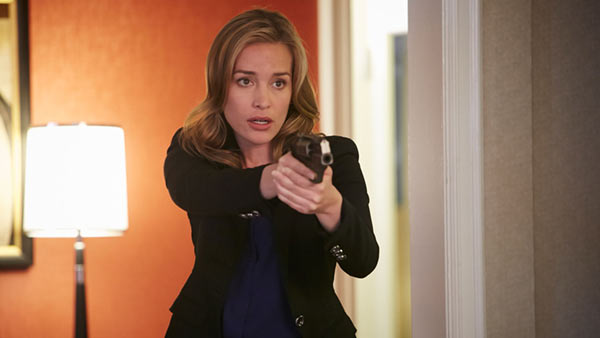 Perabo as Annie Walker on USA drama 'Covert Affairs'
Though television can be tricky as a director and actor, it is still a great opportunity to form closer relationships with the television crew than you normally would on a film set. Perabo, who was the series lead on
Covert Affairs
for five seasons, recalls it was that way between her and the cinematographer for the show. "I knew what his impulses were going to be and he knew mine, and you can sort of have a shared language or short-hand that can make it really fun [for the show and performance]."
Hinlein then posed the question to Perabo, "In the five seasons you did for
Covert Affairs
, did you see anything about your process or craft change?" Perabo responded that her craft didn't change, but "how I asked a question and how early I would ask it" certainly did, noting that adding her input early on could help the storyline have enough time to see a plotline through. Kay chimed in and remarked how "now, that isn't always the case with many networks and studios trying to have the scripts written before you walk in," which Perabo exclaimed was certainly more helpful for the actor.
Perabo, who later became a producer for
Covert Affairs
by season two, recalled that she had to "fight for" that spot, even as a series lead. "You make yourself indispensable and you never stop pushing and contributing." Perabo reiterates that becoming a producer was never about adding more lines for her character but was about being part of creating a logical and seamless world for the story, focusing on character arcs, and being more involved in casting.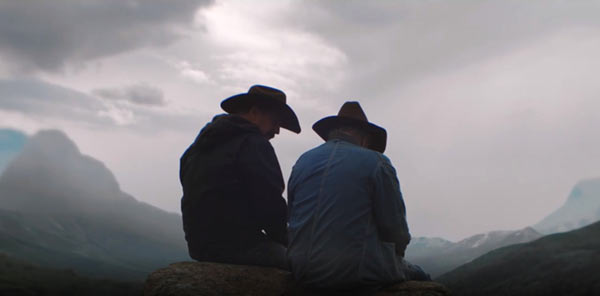 Scene from "Sins of the Father" episode of 'Yellowstone' (Directed by Stephen Kay)
One of the members of the global audience asked a question directed at Kay, who earlier in the conversation revealed he doesn't like to storyboard. The question posed was, "how do you know what to shoot and how to communicate your thoughts?"
"This is when it helps to know lenses," he responded. "I try not to be at the monitors and use the ride-along that is on someone else's camera and I get right in their ear." Kay also mentioned his heavy use of citing film references during pre-production, especially when communicating with his DP [Director of Photography] about how he wants a scene shot.
New York Film Academy would like to thank Piper Perabo and Stephen Kay for taking the time to speak with the NYFA global community on their careers as performers and filmmakers for The 20/20 Series, created by and moderated by Liz Hinlein.
To watch the full conversation, view the video below or watch on our
Youtube channel
.
These guests are not faculty and do not teach at NYFA, but they have appeared to share their stories and experience with our students. As guest speakers are scheduled based on their availability, NYFA cannot guarantee whether a guest speaker will visit during a student's attendance or who that guest speaker may be. This guest speaker forum is not part of any NYFA curriculum and attendance at guest speaker events is purely voluntary. Students should be aware that guest speaker events do not represent a job opportunity nor are they intended to provide industry connections.