NEW YORK FILM ACADEMY (NYFA) WELCOMES ACCLAIMED COSTUME DESIGNER MITCHELL TRAVERS FOR 'THE 20/20 SERIES'
September 21, 2020
On Wednesday, September 9, New York Film Academy (NYFA) had the pleasure of welcoming acclaimed costume designer
MITCHELL TRAVERS
as part of The 20/20 Series, created by NYFA's Creative Director of Filmmaking and
Cinematography
, Liz Hinlein. The conversation was moderated by Hinlein and was held virtually, allowing individuals to join NYFA and the special guests from all over the world.
The 20/20 Series, created by Hinlein, is a virtual pop-up event that takes us into the homes, hubs, and workspaces of an array of dynamic creative visionaries to allow for relaxed, engaging conversations on craft, creation and artistic vision.

Mitchell Travers is an American Costume Designer, who earned his breakout for
his work
on A24 indie hit
Eighth Grade
, which landed him a spot on
Variety's
Artisan's Impact Report. He was then tasked
to transform
Emma Thompson into a chic pantsuit-sporting Late Night TV host in Mindy Kaling's
Late Night
, directed by Nisha Ganatra. His striking work on Lorene Scafaria's critically acclaimed
Hustlers
also earned him a nomination for the Costume Designer's Guild Awards in 2019.
Mitchell's more recent projects include
Home Before Dark
, Lin Manuel Miranda's upcoming musical
In The Heights
and
The Eyes of Tammy Faye
starring Jessica Chastain. Before beginning his own work, Travers spent ten years as Associate Costume Designer on projects including
Oceans 8, Saturday Night Live, The Amazing Spider-Man 2, The Bourne Legacy, Joy, The Blacklist
, and
30 Rock
.
'Hustlers' (Costume Design: Mitchell Travers)
At the beginning of the conversation, Hinlein posed the question to Travers on the difference between a costume designer and a costume stylist. Travers, who is a costume designer himself, remarked that Hinlein's question was a great one because oftentimes the professions are lumped into the same category.
"A costume designer is someone hired by a director to help tell the story," began Travers. "We come in to do character arcs on large groups of people, character studies, and certain types of socio-economic people. In a way, we are sort of an anthropologist, a bit of a psychologist, and a designer all lumped into one. But, ultimately, our job is to tell the story."
"A stylist," Travers explained, "is hired to either promote a product or a person, so stylists take care of red carpet fashion, interview appearances, and editorial needs. So, the goal is not so much storytelling but elevating a person or a figure, and much more about the clothes than the story that is being told."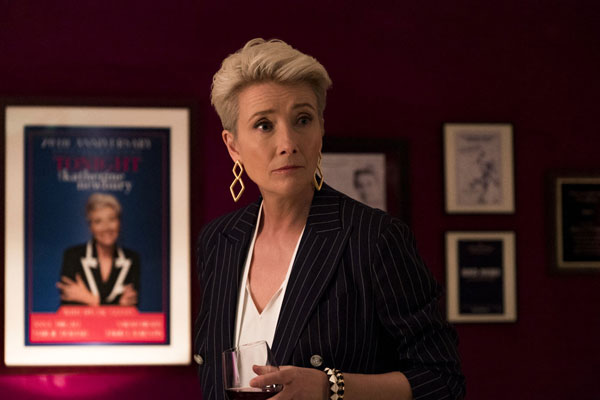 'Late Night' (Costume Designer: Mitchell Travers)
Travers, who enjoys the research and concept of stories and people, eventually coupled that with his love of clothes, ultimately steering him to become a prominent costume designer in the film business, where he now has the opportunity to choose his own projects rather than taking the next gig that comes his way.
"For me, I am not someone who limits myself by who is attached to a certain project or how big of a budget it is," explained Travers when asked about choosing his projects. "It's more about 'what is the opportunity to tell this story through clothing?' I am not someone who can be involved in a project where the clothes aren't part of the story, and I do best in a situation where you can show the progression of a character through clothes."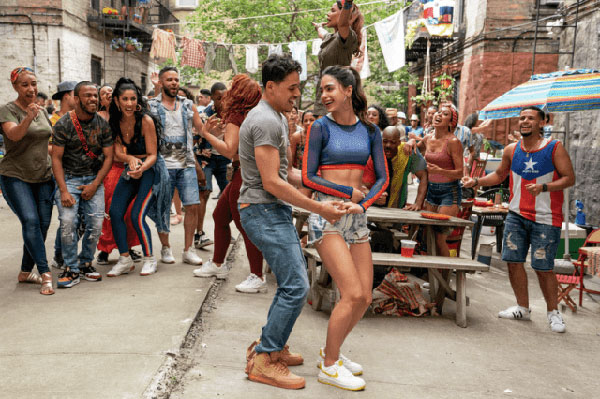 'In The Heights' (Costume Designer: Mitchell Travers)
Once Travers picks his project, the next step is approaching how he can make the clothing be part of the story and become an extension of the characters. "Understanding any character's roots is already ingrained in the work we do. You have to expand to understand all the things that go into making that one person," explained Travers. He used his work on
In The Heights
as an example: "For someone who grew up in Washington Heights, I want to discover things like 'are they proud of their neighborhood or do they want to get away'."
Having worked with big stars like J-Lo
(Hustlers)
and newcomers like Elsie Fisher (Eighth Grade), Travers also explained to the global audience that no matter how known someone is, his approach remains the same. "From my own perspective, it's understanding what a character needs to go through in this story and understanding what their high and low points are," he shared. "I've never felt like I am some sort of expert but my expertise is weighed on the conversations that I have with the characters, not who the performer is."
Like many different departments in filmmaking, the costume department is collaborative and made up of various people who have different jobs and areas of expertise. "So often the idea of costume designers is this mad person who is constantly sketching and draping fabric on people, but that's only a part of it," joked Travers. "You are also working with hat makers, beaders, costume coordinators, costume shoppers, etc. It's important to communicate the vision with them for what we need. There are definitely moments when you may even butt heads with your teammates and you have to find that common ground that each person makes the team better."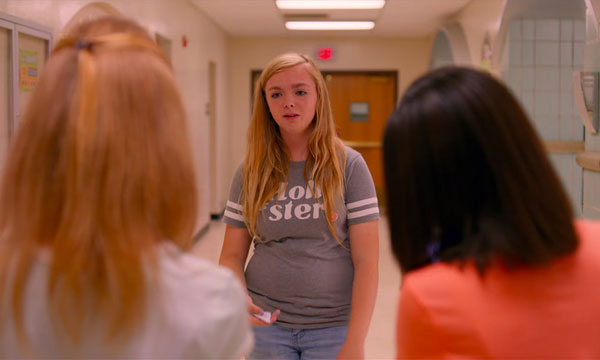 'Eighth Grade' (Costume Designer: Mitchell Travers)
Closing the conversation, Travers thanked Hinlein for the discussion and shared that, like many roles in a film, you may even fail, but that's part of creating your own masterpiece. "Sometimes you have to throw things at the wall until you understand 'that's not it.' There is pressure to get it right, but failure is an important part of the process."
New York Film Academy would like to thank Mitchell Travers for joining the NYFA global community to discuss creating characters through costume design for The 20/20 Series, created by and moderated by Liz Hinlein.
These guests are not faculty and do not teach at NYFA, but they have appeared to share their stories and experience with our students. As guest speakers are scheduled based on their availability, NYFA cannot guarantee whether a guest speaker will visit during a student's attendance or who that guest speaker may be. This guest speaker forum is not part of any NYFA curriculum and attendance at guest speaker events is purely voluntary. Students should be aware that guest speaker events do not represent a job opportunity nor are they intended to provide industry connections.