NEW YORK FILM ACADEMY (NYFA) WELCOMES DIRECTOR AND GOLDEN GLOBE AWARD WINNER ADAM BERNSTEIN
May 11, 2020 On Wednesday, April 22, New York Film Academy (NYFA) had the privilege of hosting legendary film, television and music video director Adam Bernstein. Writer, director, and producer Sarah Pirozek also joined the conversation as part of The 20/20 Series, created by NYFA's Creative Director of Filmmaking and Cinematography, Liz Hinlein. The conversation was moderated by Hinlein and was held virtually, allowing individuals to join NYFA and the special guests from all over the world.

The 20/20 Series, created by Hinlein, is a virtual pop-up event that takes us into the homes, hubs, and workspaces of an array of dynamic creative visionaries to allow for relaxed, engaging conversations on craft, creation and artistic vision.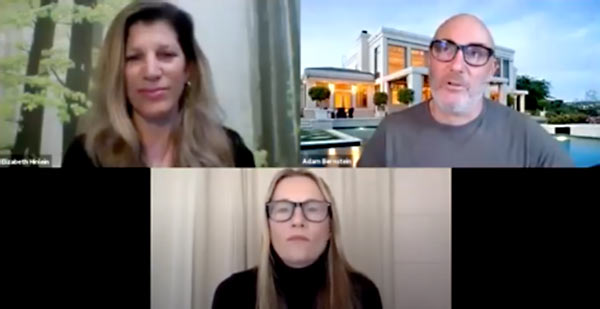 Adam Bernstein, Sarah Pirozek, and Liz Hinlein speak virtually about the creative process
Special guest Adam Bernstein began his career as an animator, and at the age of 26 produced some of the first original programming for the Nickelodeon Network. He then went on to direct over seventy music videos, including "Love Shack" for the B-52's, "Hey Ladies" for the Beastie Boys, and "Baby Got Back" for Sir Mix a Lot.
In addition to the pilots for
Fargo, 30 Rock, Scrubs, Alpha House
, and
Strangers with Candy,
Bernstein has also directed multiple episodes of
Breaking Bad, Better Call Saul, The Sinner,
and
Billions
. He is the recipient of a Primetime Emmy Award for Outstanding Comedy Series (
30 Rock
), a Golden Globe Award for Best Miniseries or TV Film (
Fargo
), an MTV Music Video Award for Best Group Video ("Love Shack"), and a Peabody Award
(Homicide - Life on the Street
).
Hinlein kicked off the discussion by commenting on both Bernstein and Pirozek's music video background, with both directors having worked with The Beastie Boys. Hinlein then proceeded to ask both guests about what they have carried over from their days of directing music videos into their world of narrative filmmaking today. Pirozek joked, "we probably learned a lot of the same things, like how to make a penny stretch and how to make a long day even longer to get the shots you need." She then elaborated more about how, at the time, she had more access to different shooting mediums like bleach bypass on reversal film and Bolex 16mm film. Bernstein added that directing music videos felt like "a laboratory for trying out different techniques and gadgets."
Between music videos and his earlier days at Nickelodeon working on television shows like
The Adventures of Pete and Pete
, Bernstein recalled, "those two activities [music videos and television at Nickelodeon] were my first introduction to narrative filmmaking or narrative television."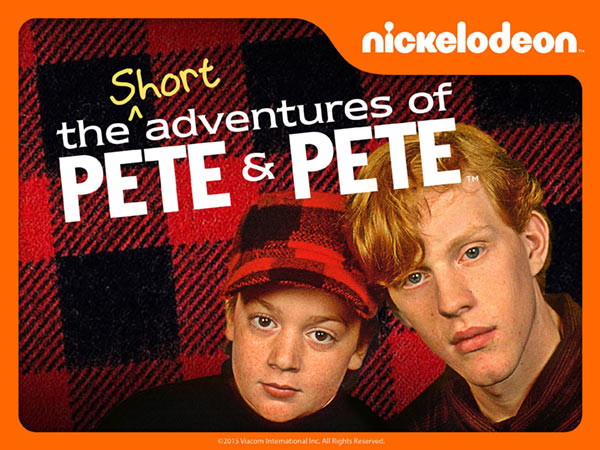 One of the first shows Bernstein directed, The Adventures of Pete and Pete
Hinlein then brought up Bernstein's television credits and remarked how he has been able to straddle many different genres as a director. Bernstein replied that in the pilot directing business, sometimes you get put on a comedy director list or a drama director list. "Somehow I got onto both lists," he joked, "I had done
The Adventures of Pete and Pete
, and someone at Comedy Central liked it and then they hired me to do this pilot that Amy Sedaris was doing called
Strangers With Candy.
" That, Bernstein notes, got him more comedy opportunities, in addition to the drama television opportunities he became involved in, which he credits to working under showrunner Tom Fontana.
"I love the [drama] stuff that has humor in it. With the comedies, I like them when they are dark. If you draw the venn diagram, there is a bit of overlap between those two things [genres]." Hinlein then remarked how Bernstein was able to flip between shooting something humorous like
30 Rock
and a drama like
Fargo
. Hinlein asked about film prep for shooting two very different types of shows [drama and comedy].
"You know, I sort of approach both things the same way in pre-production," he begins. "However, on set, both differ." Bernstein notes that drama pilots feel more like a movie and, when it comes to comedy, that can be "splintered into many different brands of comedy so everyone has their own style."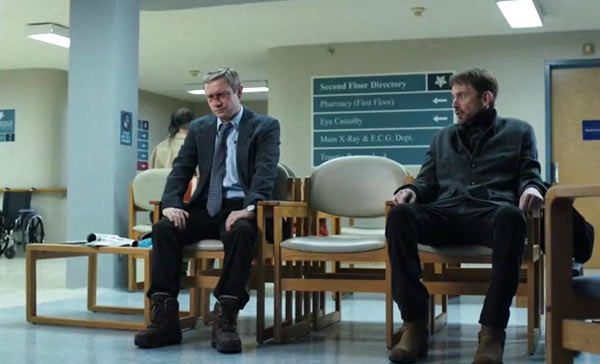 Still from the pilot episode of 'Fargo' called "The Crocodiles Dilemma," directed by Bernstein
The conversation came to a close with Hinlein asking Bernstein more about the role of a director when episodically directing a show and how they may navigate the relationship with the talent. "That's a great question," Bernstein responded. "The person who is number one on the call sheet sets the tone on set, so if they're warm and funny and nice, that infuses the whole thing [the experience]. If they are not so nice, then everyone is walking on eggshells. So, you generally just try to get intelligence when you're in prep [from the Assistant Director]. It's specific to every situation."
New York Film Academy would like to thank Adam Bernstein and Sarah Pirozek for sharing their time and speaking on their career and creative process for the 20/20 Series, created by and moderated by Liz Hinlein.
To watch the full conversation, view the video below or watch on our
Youtube channel.
These guests are not faculty and do not teach at NYFA, but they have appeared to share their stories and experience with our students. As guest speakers are scheduled based on their availability, NYFA cannot guarantee whether a guest speaker will visit during a student's attendance or who that guest speaker may be. This guest speaker forum is not part of any NYFA curriculum and attendance at guest speaker events is purely voluntary. Students should be aware that guest speaker events do not represent a job opportunity nor are they intended to provide industry connections.