NEW YORK FILM ACADEMY (NYFA) WELCOMES DIRECTOR AND PRODUCER MARK PELLINGTON FOR LIZ HINLEIN'S 'THE 20/20 SERIES'
May 26, 2020 On Wednesday, April 29, New York Film Academy (NYFA) had the honor of hosting director and producer MARK PELLINGTON and recurring guest, writer, director, and producer, SARAH PIROZEK, as part of The 20/20 Series, created by NYFA's Creative Director of Filmmaking and Cinematography, Liz Hinlein. The conversation was moderated by Hinlein and was held virtually, allowing individuals to join NYFA and the special guests from all over the world.

The 20/20 Series, created by Hinlein, is a virtual pop-up event that takes us into the homes, hubs, and workspaces of an array of dynamic creative visionaries to allow for relaxed, engaging conversations on craft, creation and artistic vision.

Special guest Mark Pellington is a director and producer who got his start directing music videos for U2, Crystal Waters, De La Soul, and Pearl Jam. His video for Pearl Jam's "Jeremy" won four MTV Music Video awards in 1993, including 'Best Director' and 'Video of the Year,' and his video for Whale's song "Hobo Humpin' Slobo Babe" won the inaugural MTV Europe Music Award for 'Best Video' in 1994. Pellington has also worked with musical artists Michael Jackson, Demi Lovato, Imagine Dragons, Foo Fighters, Nine Inch Nails, Linkin Park, Echosmith, Dave Matthews, Moby, Damian Marley, Bruce Springsteen, and many more.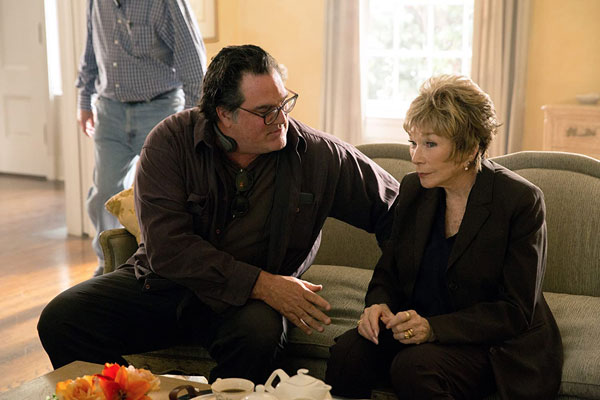 Mark Pellington on set of 'The Last Word' with Shirley MacLaine
Pellington has also had a career of directing feature films, including period drama
Going All the Way
, starring Ben Affleck and Rachel Weisz, paranoia thriller
Arlington Road
, starring Tim Robbins and Jeff Bridges, cult film
The Mothman Prophecies
with Richard Gere, and
Nightwalkers
with
Game of Thrones
actor Alfie Allen. Pellington also recently created the 13-part series,
Survive
, starring Sophie Turner and Corey Hawkins for the new, innovative mobile streaming app, QUIBI.
Hinlein, who moderated the conversation, began the Q&A by asking both Pirozek and Pellington how they feel about "being called an artist." Pellington remarked, "I don't think I called myself an artist until somebody else did." He noted that being an artist meant that you were doing many different things, and not always for yourself. "I'm here to create and sometimes it's to make people feel less alone, sometimes it's to sell something, sometimes it's to entertain, or, sometimes, it's some combination [of all]."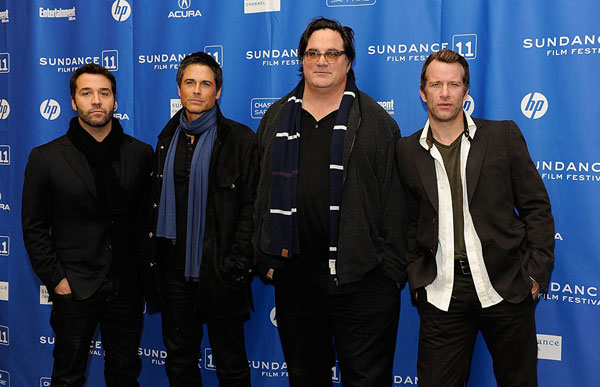 (From Left to Right) Jeremy Piven, Rob Lowe, Mark Pellington, Thomas Jane
Pirozek, who began her career as a painter, added, "I was brought up with the idea that I could survive as an artist...and I found that filmmaking is such a beautiful, collaborative art form because you're dealing with music, editing, and the visualization of it [the film]." She remarked that being an artist can be "a beautiful mess sometimes," but you eventually find your way to pull things together and create something.
With both Pirozek and Pellington having a background in music videos, the conversation eventually steered to how, as a filmmaker, music can be an essential part of your production. "The music leads," says Pellington. "I was trained to do the music first. In a way, you are letting the content and emotion lead you."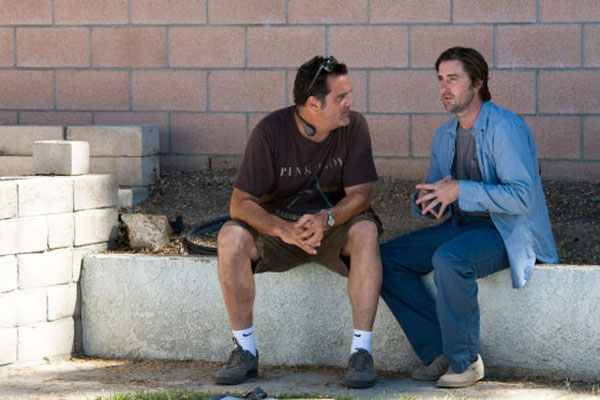 Mark Pellington on the set of 'Henry Poole is Here' with Luke Wilson
Hinlein then posed a question to both creatives and asked, "what's one thing [or multiple things] that every director should know?" Pellington replied, "dream your dream, but know what your tools are and don't give up. Don't let anyone tell you what you can't do."
He then continued by saying that directors should respect their audience, but if they don't like something it's not the end of the world. "Not everybody watches the same film the same way," he continued. "You've got to make your own dish [film] and you have to be your own audience." Pirozek agreed, then added, "If you're bored, everyone else will be bored too. Make sure you don't bore yourself."
New York Film Academy would like to thank Mark Pellington and Sarah Pirozek for taking the time to speak with the global audience on their careers as filmmakers and beyond for The 20/20 Series, created by and moderated by Liz Hinlein.
To watch the full conversation, view the video below or watch on our
Youtube channel.
These guests are not faculty and do not teach at NYFA, but they have appeared to share their stories and experience with our students. As guest speakers are scheduled based on their availability, NYFA cannot guarantee whether a guest speaker will visit during a student's attendance or who that guest speaker may be. This guest speaker forum is not part of any NYFA curriculum and attendance at guest speaker events is purely voluntary. Students should be aware that guest speaker events do not represent a job opportunity nor are they intended to provide industry connections.