New York Film Academy (NYFA) Welcomes Emmy-Nominated Actor Timothy Olyphant As Guest Speaker
February 13, 2019 On Wednesday, February 6, New York Film Academy (NYFA) Los Angeles campus hosted a Q&A with Emmy-nominated film and television star Timothy Olyphant, moderated by NYFA Acting for Film Department Associate Chair, Anne Moore.

Olyphant made his acting debut on Off-Broadway in 1995 in The Monogamist and later branched out to film. In the early years of his career, he was often cast in supporting villain roles, most notably in Scream 2 (1997), Go (1999), A Man Apart (2003) and The Girl Next Door (2004). He came to the attention of a wider audience in HBO's epic western series Deadwood (2004–2006). Olyphant starred in a number of films including Catch and Release (2006), Hitman (2007), A Perfect Getaway (2009), The Crazies (2010) and Live Free or Die Hard (2007).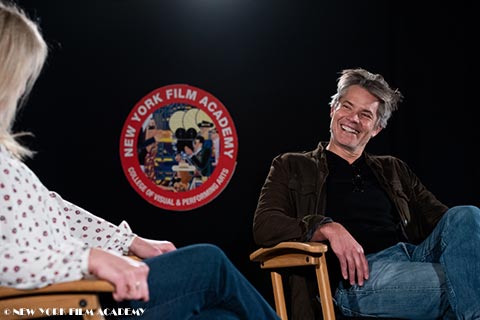 Olyphant then starred as Deputy US Marshal Raylan Givens in FX's modern-day Kentucky western,
Justified
(2010–2015), for which he was nominated for a Primetime Emmy Award for Outstanding Lead Actor in a Drama Series. Olyphant has appeared in numerous television sitcoms including
The Office
(2010),
The Mindy Project
(2013), and
The Grinder
(2015–2016). He currently stars in the Netflix series
Santa Clarita Diet
with Drew Barrymore.
Moore opened up the Q&A by discussing Olyphant's early career studying the Meisner acting technique in New York. (The main goal of the Meisner acting technique is to push actors to be present in the moment rather than "in their heads.") Moore then asked Olyphant about his apparent transition from dramatic roles like his roles in
Deadwood
and
Justified
to a role that is more comedic with
Santa Clarita Diet.
"I don't think of comedy versus drama; I see really very little difference between the two," said Olyphant.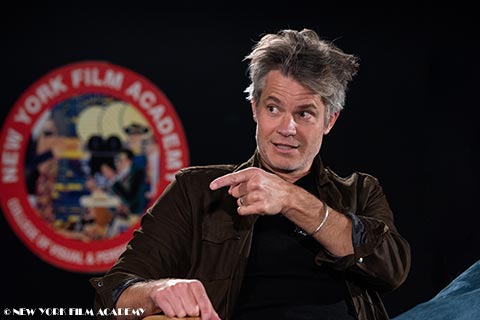 Moore agreed, replying, "It's humanity." She then asked Olyphant about working with Quentin Tarantino on his most recent film,
Once Upon a Time in Hollywood
. Olyphant shared that it was a very unique experience because—in the age of smartphones and in an industry with a reputation for breeding self-importance—Tarantino did not allow anyone to have mobile phones on set.
This demonstrated to Olyphant that Tarantino wanted to focus strictly on the art of filmmaking and the present and Olyphant was deeply impressed by this. "He's doing it in a way that you just didn't know was possible," he told the audience. "He's conducting his business and his work and his set like no other set you've ever been on… he's worked really hard to be able to do it his way and it's just beautiful."
Later in the Q&A, one member of the audience inquired about Olyphant's technique for understanding his character's motivations in a scene. Olyphant replied that he gleans most of what he needs to know about the character by their actions in the scene because actions give a lot of insight into how a character thinks and operates. "I'm not even interested [in] what he was like when he was seven years old or 15 years old or 18 years old," said Olyphant. "You're just playing the scene; you're just literally playing what's in front of you."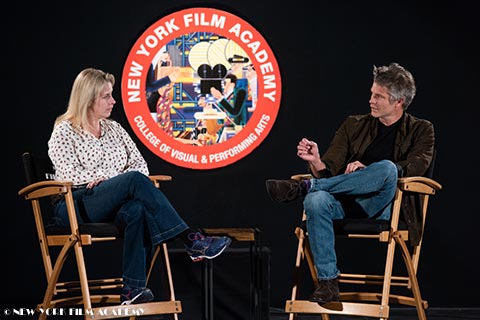 When asked how he is able to focus on "playing the scene" (à la Meisner), Olyphant said he memorizes the lines very thoroughly so that he's not worrying about remembering them when it's time to shoot the scene. He also studies the actor opposite him, paying attention to their technique and learning from them to build his knowledge for future roles.
The New York Film Academy would like to thank film and television star Timothy Olyphant for sharing his acting techniques and industry advice with our students!
These guests are not faculty and do not teach at NYFA, but they have appeared to share their stories and experience with our students. As guest speakers are scheduled based on their availability, NYFA cannot guarantee whether a guest speaker will visit during a student's attendance or who that guest speaker may be. This guest speaker forum is not part of any NYFA curriculum and attendance at guest speaker events is purely voluntary. Students should be aware that guest speaker events do not represent a job opportunity nor are they intended to provide industry connections.