NEW YORK FILM ACADEMY (NYFA) WELCOMES EXECUTIVE PRODUCER NATALIA GARCIA TO THE 20/20 SERIES
December 22, 2020
On Wednesday, December 16, New York Film Academy (NYFA) welcomed Executive Producer
NATALIA GARCIA
as part of The 20/20 Series, created by NYFA's Creative Director of Filmmaking and
Cinematography
, Liz Hinlein. The conversation was moderated by Hinlein and was held virtually, allowing individuals to join NYFA and the special guests from all over the world.
The 20/20 Series, created by Hinlein, is a virtual pop-up event that takes us into the homes, hubs, and workspaces of an array of dynamic creative visionaries to allow for relaxed, engaging conversations on craft, creation, and artistic vision.

Liz Hinlein (Left) and Natalia Garcia (Right) for The 20/20 Series
Natalia Garcia is a content creator, executive producer, showrunner, and director. Garcia has produced both scripted and unscripted series for cable and network outlets such as A&E, Viceland, Showtime, ABC, Comedy Central, Lifetime, MTV, NBC, TLC, and Sundance, amongst others. She created, showran, and directed the multi-season Showtime series,
Polyamory: Married & Dating
, and recently produced and launched MTV's
Ghosted: Love Gone Missing
.
Garcia has produced an array of various programs from Follow Docs, Format, Branded, and Digital to Scripted. She is a member of the Director's Guild of America (DGA), the Producers Guild of America (PGA), and the Academy of Television Arts & Sciences (ATAS).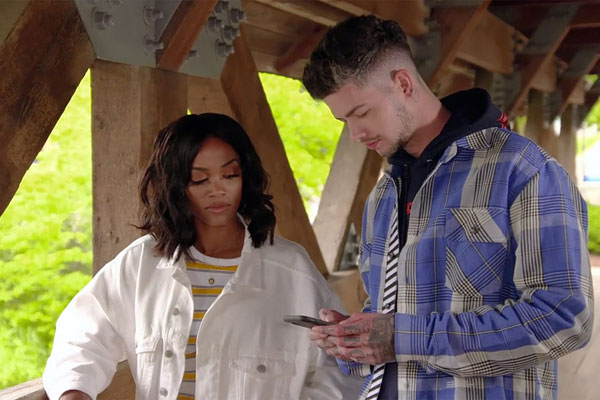 Hosts Rachel Lindsay and Travis Mills on MTV's "Ghosted: Love Gone Missing" (Credit: MTV)
Hinlein began the conversation by asking about Garcia's background with unscripted television and working closely with MTV, specifically on Garcia's latest hit
Ghosted: Love Gone Missing
. Garcia, who has spent most of her career working with MTV joked that when she first started there it was like "paid grad school" because they let her try everything.
Garcia, a fan of doing pilots and other shows for unscripted series alike noted that pilots are especially exciting because it's putting "words on paper into a vision," something she did effectively for
Ghosted: Love Gone Missing
.
Garcia, a fan of docu-style shooting and capturing realistic and emotional moments, notes that while the projects she works on aren't necessarily a documentary, she aims to make them as real as possible. "Shooting reality television can be challenging, but it's handheld and about not having too much set up, using natural lighting, and owning the elements around you; in terms of the look, the cameras are really important in reality TV."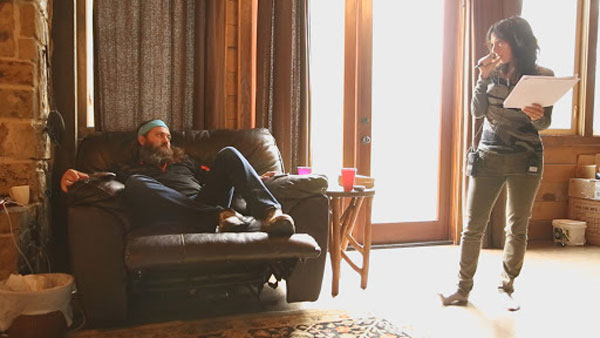 Garcia on set of shooting "Duck Dynasty" with star Willie Robertson
For
Ghosted: Love Gone Missing
, Garcia points out that it's about being able to work as a team with a reliable group of people. "I was very fortunate to work with a team and I was working with and we are producing real people's stories and essentially only giving feedback to how the casted talent (non-professional actors) explain that story." The production feedback to the actors is what Garcia explained, differentiates reality tv from a true documentary.
Like many productions this year, Garcia and her team had to pivot quickly to make shows like
Ghosted
continue production safely, which meant new challenges for the already unpredictable world of unscripted projects. "MTV was trying to figure out how to keep the show going and they asked me how to make the show better," she explained. The solution? Sending the hosts and actors their own equipment to shoot. "it made me realize how hard it is to produce and direct when you are not in control," revealed Garcia.
"It was challenging and it took a lot of patience from the cast and the hosts, who had to handle their own wardrobe, makeup, and shooting, and not everyone is tech-savvy. The show is only going to look as good as you shoot it and it took a lot of communication with everyone to make it work."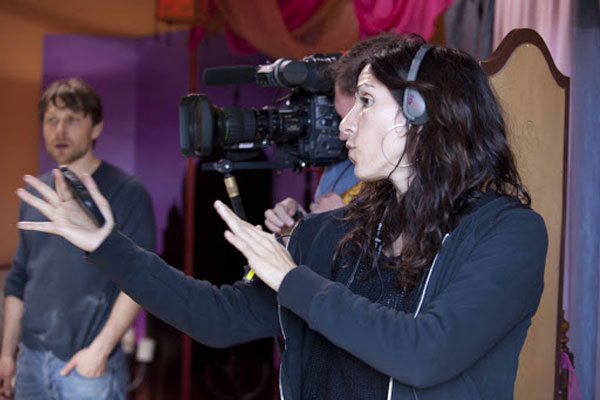 Natalia Garcia behind the scenes during filming
Hinlein remarked how incredible it was that Garcia and her team were still able to make the show look and feel coherent given the challenges for production and commented that directing unscripted is already harder than directing narrative. Garcia agreed and relayed that many in the entertainment business constantly look down on unscripted series, but it's actually so much harder to direct and it deserves more credit.
"With scripted content, you have your marks, your script, your professional actors, your lighting, and constant takes on hand. In unscripted content, you use unprofessional actors with real emotions, and you can give them direction, but you can't really interrupt them. The direction is mostly for the cameras because you have one chance to reveal a moment, so it's about preparing the crew around the cast to pivot with what the cast is doing. It's about owning the mistakes and unpredictability, whereas in scripted you can do multiple takes to cover those up."
Hinlein closed the conversation by asking Garcia if she had any advice for aspiring creatives getting into the business. Garcia shared some advice she was given by David Lynch, who advised her that as long as she was having fun and knew what she was doing, the rest is all noise. She also urged everyone to not undermine the various positions you can do in the industry as she got her start as a PA and worked her way up.
New York Film Academy would like to thank Natalia Garcia for joining the NYFA global community to discuss shooting unscripted series for The 20/20 Series, created by and moderated by Liz Hinlein.
To watch the full conversation, view the video below or watch
here
.
These guests are not faculty and do not teach at NYFA, but they have appeared to share their stories and experience with our students. As guest speakers are scheduled based on their availability, NYFA cannot guarantee whether a guest speaker will visit during a student's attendance or who that guest speaker may be. This guest speaker forum is not part of any NYFA curriculum and attendance at guest speaker events is purely voluntary. Students should be aware that guest speaker events do not represent a job opportunity nor are they intended to provide industry connections.