NEW YORK FILM ACADEMY (NYFA) WELCOMES NYFA INSTRUCTOR AND AWARD-WINNING FILMMAKER WILLIAM TYLER SMITH FOR 'THE 20/20 SERIES'
September 16, 2020
On Wednesday, September 2, 2020, New York Film Academy (NYFA) had the pleasure of having NYFA instructor and Award-Winning Filmmaker
WILLIAM TYLER SMITH
as part of The 20/20 Series, created by NYFA's Creative Director of Filmmaking and
Cinematography
, Liz Hinlein. The conversation was moderated by Hinlein and was held virtually, allowing individuals to join NYFA and the special guests from all over the world.
The 20/20 Series, created by Hinlein, is a virtual pop-up event that takes us into the homes, hubs, and workspaces of an array of dynamic creative visionaries to allow for relaxed, engaging conversations on craft, creation and artistic vision.

William Tyler Smith (Left) and Liz Hinlein (Right) for The 20/20 Series
William Tyler Smith is an award-winning New York-based independent filmmaker and film educator at New York Film Academy. His film
Kiss Me Again
(Fred Armisen, Kathryn Winnick, Darryl Hammond), premiered at the Tribeca Film Festival and also screened at the Zurich International Film Festival, Berkshire International Film Festival and the Moscow American Independent Film Festival, with a very successful run on the STARZ network.
His first feature documentary,
The Third Mind
, premiered at the Venice International Film Festival and at the Los Angeles Museum of Contemporary Art (MOCA). It was broadcast on the Sundance Channel as part of their series,
The Beats Go On
. He recently completed
Third Mind Blues,
which documents the unlikely musical collaboration between Ray Manzarek and slide-guitarist extraordinaire, Roy Rogers. Smith is currently on post-production on a documentary series about the infamous rock and roll band, The Flamin Groovies.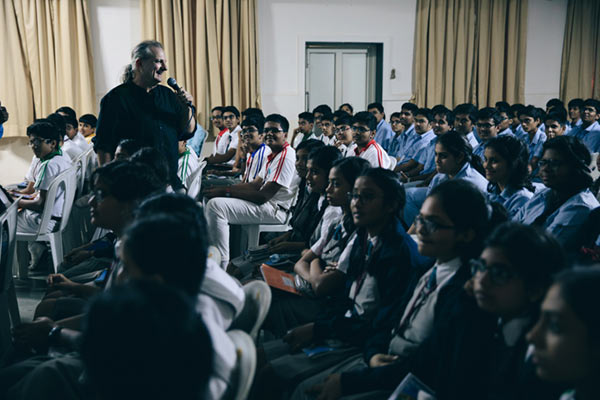 William Tyler Smith teaching a filmmaking Master Class in India
Smith, who grew up in the 70's, recalled being inspired by films he watched growing up and credits them with helping him to become the filmmaker he is today. The NYFA instructor practically grew up in the history of cinema as we know it, getting to see classics in the theater like
The Godfather
or
The Exorcist
. Smith also cited the film
Wings of Desire
(Dir. Wim Wenders) as a work of art that completely changed his life and proved to be a constant source of inspiration to him behind the camera and when teaching.
Hinlein remarked how sometimes artists tend to learn more about themselves as they get involved in their craft, to which Smith agreed. "Any artwork I do informs me about myself and I am always going to learn something about myself," Smith explained. He also directed his comments at the audience, encouraging them by saying, "if your creation comes from the heart, of course you're going to learn about yourself."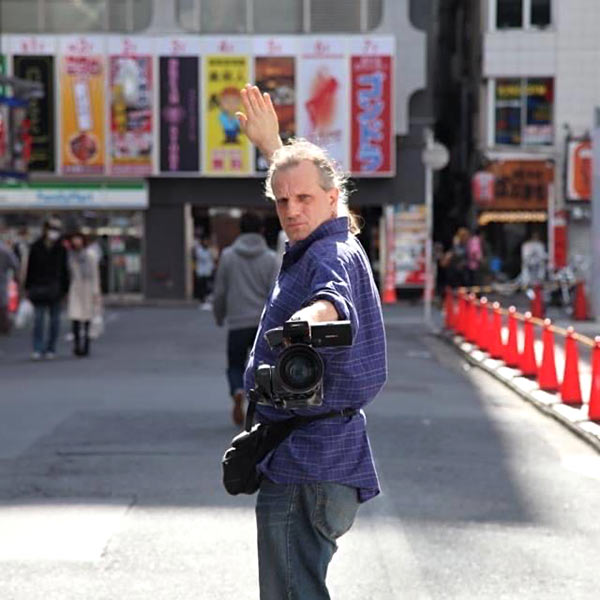 (Photo Courtesy of William Tyler Smith)
As for what Smith has learned about being a filmmaker, he mentioned it all comes down to how to get along and create with others. "When you are working with people (on screen or on set), you have to learn about yourself because you are ultimately dealing with people and unpredictable situations."
Smith,who is also an instructor at NYFA, explained that teaching filmmaking has kept him active and taught him to always be on his toes. "Filmmaking is highly collaborative and as a filmmaker you have to learn how to collaborate. Everyone learns differently and I constantly have to be aware of that with my students."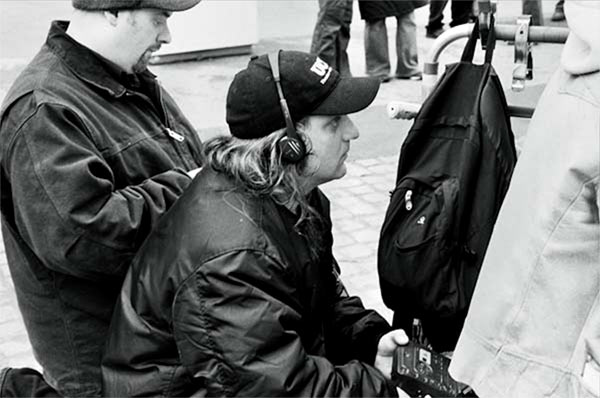 Behind the scenes (Photo Courtesy of William Tyler Smith)
Even with a collaborative team or crew, Smith explained that it may not always be a cohesive process when it comes to ideas. "You want to work with people on the same creative level as you and if that's not possible you need to be clear and concise about your communication," he shared. Hinlein agreed, adding "and be willing to hear different points of view." Smith responded by sharing something he tells his students all the time in the classroom: "You're a sponge and you have to be open minded and malleable, but also stubborn as well."
The conversation came to a close with a member from the global audience asking Smith what was the most important thing to remember as a filmmaker, to which Smith responded:
"As a filmmaker you have to be true to your vision. Staying true to yourself and your vision and standing up for yourself in a respectful way. You have to have that strong foundation of what you are trying to achieve and then you can fly."
New York Film Academy would like to thank William Tyler Smith for taking the time to speak to the NYFA global community and discuss being a filmmaker, instructor, and creative collaborator for The 20/20 Series, created by and moderated by Liz Hinlein.
To watch the full conversation, view the video below or watch on our
Youtube channel
.
These guests are not faculty and do not teach at NYFA, but they have appeared to share their stories and experience with our students. As guest speakers are scheduled based on their availability, NYFA cannot guarantee whether a guest speaker will visit during a student's attendance or who that guest speaker may be. This guest speaker forum is not part of any NYFA curriculum and attendance at guest speaker events is purely voluntary. Students should be aware that guest speaker events do not represent a job opportunity nor are they intended to provide industry connections.