NEW YORK FILM ACADEMY (NYFA) WELCOMES EXECUTIVE PRODUCER ISAAC BOLDEN TO THE 20/20 SERIES
April 15, 2021
New York Film Academy (NYFA) had the honor of welcoming executive producer
ISAAC BOLDEN
as part of The 20/20 Series, created by NYFA's Creative Director of Filmmaking and
Cinematography
, Liz Hinlein. The conversation was moderated by Hinlein and was held virtually, allowing individuals to join NYFA and the special guests from all over the world.
The 20/20 Series, created by Hinlein, is a virtual pop-up event that takes us into the homes, hubs, and workspaces of an array of dynamic creative visionaries to allow for relaxed, engaging conversations on craft, creation, and artistic vision.

Liz Hinlein (Left) and Isaac Bolden (Right) for The 20/20 Series
Isaac Bolden is an executive producer with a distinguished array of work with themes ranging from white-collar crime to high fashion, storm chasing, full (tattooed) sleeves, death row to the friendly skies. Bolden's 1998 short film,
Final Act
, Executive Produced by Danny Glover, which tackled the final thoughts of a man on death row, enjoyed a successful run on IFC. In the early 2000s, he began work with Granada New York and helped create/produce what is now cable's longest-running series,
The First 48
(A&E), a follow-doc with police from multiple cities as they attempt to solve local homicides. He produced Emmy-nominated documentaries for A&E's franchise
Investigative Reports with Bill Kurtis: Anatomy of 9/11, Portrait of A Terrorist: The Muhammad Atta Story, Room Raiders
(MTV), and
Airline
(A&E), which granted exclusive access to Southwest Airline's operations.
By 2013, Bolden began work with Alex Gibney's Jigsaw Productions, bringing his journalistic provocative storytelling style to television, producing:
Death Row Stories
(CNN);
Dirty Money
(Netflix),
The New Yorker Presents
(Amazon),
Cooked, and Salt Fat Acid Heat
(Netflix), and
Hip Hop: The Songs that Shook America
(AMC), a six-part series, in partnership with Executive Producers Black Thought and Questlove of The Roots and Shawn Gee.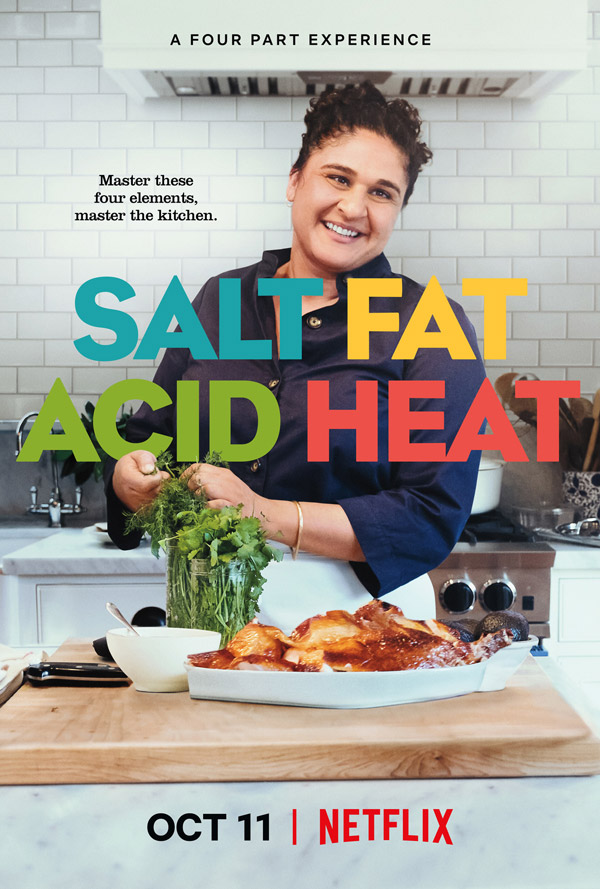 "Salt, Fat, Acid, and Heat" from Isaac Bolden (Netflix)
Right out of the gate, Hinlein posed the question to Bolden about what makes a great documentary, something Bolden is all too familiar with considering the multiple successful documentaries he has produced over the years. "I really think it [a good documentary] is something that is able to touch the heart and soul of the stories."
Part of his role as an executive producer really boils down to ensuring not only that the story is sound and heartfelt, but that the film or series is ultimately packaged in a way that whoever is distributing it already has a final product to share. "Being an executive producer is really about understanding the budget, protecting the producing team, and ensuring everything that is contracted properly so when you give the product over to the broadcaster you can let them feel that you have done your due diligence and protect them in releasing that product. Essentially, my job is to put together how the show can be made and at what cost and with the right team."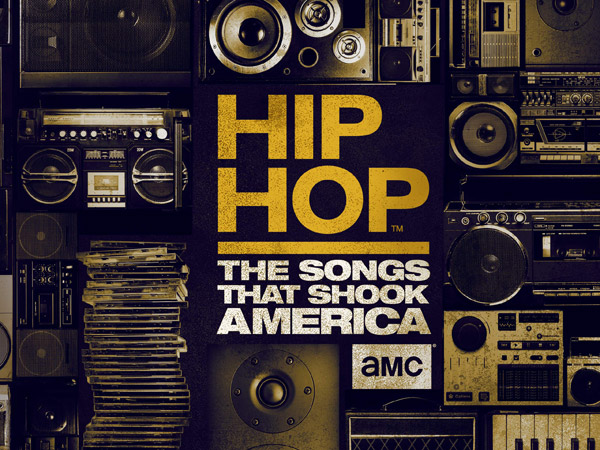 Poster for "Hip Hop: The Songs That Shook America" from Isaac Bolden (AMC)
Sometimes that budget that executive producers like Bolden have to work with comes from assessing the whole project before anything else can be discussed in terms of production. " I have done it [budgeting for projects] for quite some time and it comes down to understanding what we want to do on that day or location [while shooting] and understanding how long we need to be at a location or time to pull it off or set it up. A lot of folks don't want to deal with the numbers but that's something I am very good at and how I stepped into this world."
While others see impossible, Bolden sees possible when it comes to understanding the numbers that come into play while making any project. "The numbers are equally as creative with what goes in the final film," he explained. "You get a certain amount of numbers for any film to make it work. Make it beautiful and make it compelling. You are sort of doing a dance every day, so you are constantly keeping track of that and managing that, and that is a creative process because you have to come up with suggestions and alternative methods."
New York Film Academy would like to thank Isaac Bolden for joining the NYFA global community to discuss assessing budgets for projects and the production process for The 20/20 Series, created by and moderated by Liz Hinlein.