NEW YORK FILM ACADEMY (NYFA) WELCOMES RON SIMONS, PRODUCER AND CEO OF SIMONSAYS ENTERTAINMENT FOR LIZ HINLEIN'S 'THE 20/20 SERIES'
July 28, 2020 On Wednesday, July 8, New York Film Academy (NYFA) had the pleasure of hosting founder and CEO of SimonSays Entertainment RON SIMONS as part of The 20/20 Series, created by NYFA's Creative Director of Filmmaking and Cinematography, Liz Hinlein. The conversation was moderated by Hinlein and was held virtually, allowing individuals to join NYFA and the special guests from all over the world.

The 20/20 Series, created by Hinlein, is a virtual pop-up event that takes us into the homes, hubs, and workspaces of an array of dynamic creative visionaries to allow for relaxed, engaging conversations on craft, creation and artistic vision.



Ron Simons (Left) and Liz Hinlein (Right) for The 20/20 Series
Ron Simons is a five-time Tony Award-nominated and four-time Tony Award-winning producer, four-time Sundance Film Festival selected producer and actor of stage, film and television. He is the Founder and CEO of SimonSays Entertainment. Simons was recently nominated for his 5th Tony Award for the runaway hit
Ain't Too Proud: The Life and Times of The Temptations
, which ran at the Imperial Theater on Broadway before the pandemic shutdown. He was also a featured actor in the films
27 Dresses
and
Night Catches Us
.
Mr. Simons is one of the leading African-American Tony Award-winning producers of all time, cementing him as a leading Broadway producer, who continues to bring diverse stories to the stage. Mr. Simons is also a recipient of the Heritage Award from Columbia College's Black Alumni Council, 150 Distinguished Alumni Award from University of Washington, and is a Johnson & Johnson Leadership Award Fellow, IFP Cannes' Producers Network Fellow and a Sundance Producers' Summit Fellow. He holds a BA from Columbia College, an MBA from Columbia Business School and an MFA from the University.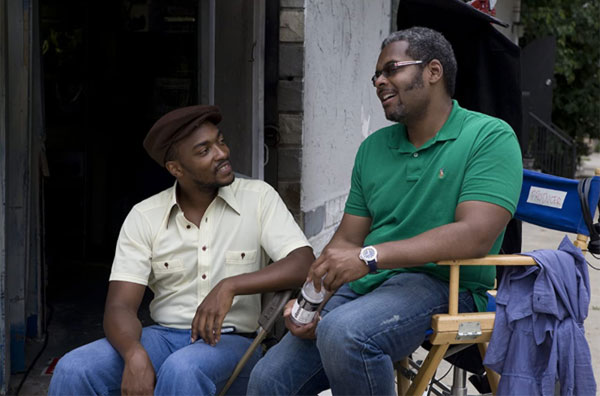 Ron Simons (Right) on set with Anthony Mackie (Left) for 'Night Catches Us'
Hinlein began the discussion by asking Simons what, from his perspective, made a good script and something worth producing. "The story arc must be clear and it must be compelling. It needs to include at least one protagonist or antagonist. I even love characters that follow the antagonist, because that is something more compelling to me."
Simons, who also is the CEO SimonSays Entertainment, also told the global audience that there are three other important factors that he sticks to when selecting a project to produce or be involved in: "It should be about underrepresented communities, have high artistic integrity, and possess commercial viability."
Hinlein asked Simons how a producer can tell if something is "commercially viable," as this may not be something people can easily pick up, especially with the industry constantly changing. "There is no formula," Simons responded. "But I ask myself 'will someone in the middle of Nebraska see this and be engaged by it?'"
CEO of SimonSays Entertainment Ron Simons
He suggested filmmakers stay constantly engrossed in what is trending or being well-received by moviegoers. As a producer, commercial viability is essential as it is part of the producer's job; making sure a film can be made to the highest standard with the budget it has while also making a profit because, at the end of the day, in order to make more movies there needs to be money.
"My stuff has been critically acclaimed, but it doesn't always make money. So, sometimes to tell a story you want to tell, you have to make the money first." Part of that, he added, means making something you know will allow for the funds to flow for your next project.
As for what it's like being a producer, Simons explained that it is a constant learning process. "Curiosity is what drove me to become a producer," he shared. "Most stories have never been told, which is very different from saying 'have all the universal themes been explored'."
New York Film Academy would like to thank Ron Simons for taking the time to speak with the NYFA global community on his producing career and the process filmmakers go through to create their next project for The 20/20 Series, created by and moderated by Liz Hinlein.
To watch the full conversation, view the video below or watch on our
Youtube channel
.
These guests are not faculty and do not teach at NYFA, but they have appeared to share their stories and experience with our students. As guest speakers are scheduled based on their availability, NYFA cannot guarantee whether a guest speaker will visit during a student's attendance or who that guest speaker may be. This guest speaker forum is not part of any NYFA curriculum and attendance at guest speaker events is purely voluntary. Students should be aware that guest speaker events do not represent a job opportunity nor are they intended to provide industry connections.