NEW YORK FILM ACADEMY (NYFA) WELCOMES VICE PRESIDENT OF THE DIRECTOR'S GUILD OF AMERICA AND DIRECTOR LAURA BELSEY FOR LIZ HINLEIN'S 'THE 20/20 SERIES'
June 29, 2020 On Wednesday, June 17, New York Film Academy (NYFA) had the pleasure of hosting director and Vice President of the Director's Guild of America (DGA), LAURA BELSEY, as part of The 20/20 Series, created by NYFA's Creative Director of Filmmaking and Cinematography, Liz Hinlein. The conversation was moderated by Hinlein and was held virtually, allowing individuals to join NYFA and the special guests from all over the world.

The 20/20 Series, created by Hinlein, is a virtual pop-up event that takes us into the homes, hubs, and workspaces of an array of dynamic creative visionaries to allow for relaxed, engaging conversations on craft, creation and artistic vision.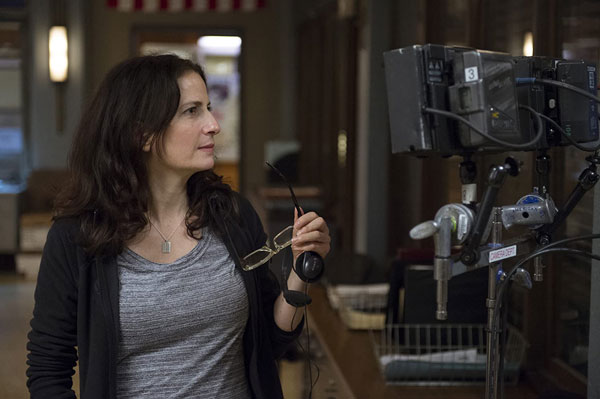 Laura Belsey behind the camera while directing a television episode
Laura Belsey is a commercial, film and television director, who has directed several short films, the documentary Katrina's Children and numerous television episodes for shows including
The Walking Dead, Bosch, Genius: Picasso, Preacher, New Amsterdam, Arrow, The Flash, Animal Kingdom, Queen of the South, Criminal Minds, Law & Order: SVU
, and many others.
Belsey has been a member of the Directors Guild of America's National Board since 2007 and serves as the Fourth Vice President for the DGA. She has helmed hundreds of commercials and won numerous international awards, including a Cannes Gold Lion.

Liz Hinlein and Laura Belsey for the 20/20 Series
Hinlein kicked off the conversation by asking her about her infamous "oner shot" or a long take that she uses in shows like
Preacher
. Belsey, who admits that she is constantly thinking about the editing process while shooting, shares, "every cut has to have a reason and a 'oner' is like you are editing with the camera, so you are committing to an editing pattern that cannot be broken."
The "oner" take seems to happen almost always organically according to Belsey. "In television, we have to work so fast. Sometimes you have seven days to prep an episode, so you don't have too much time to mull things over and you have to commit to things on day one." For Belsey, a "oner" can come to her as soon as she reads a script and gets that "gut feeling."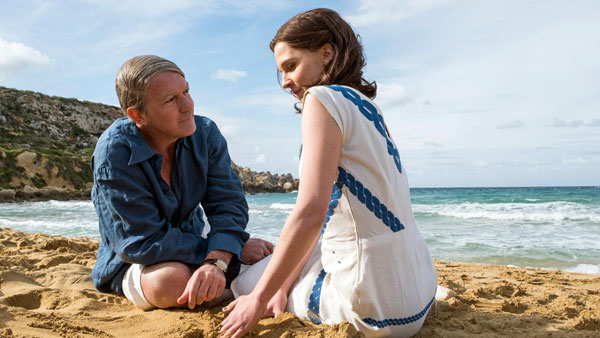 Still from 'Genius: Picasso,' Chapter 5 (Directed by Laura Belsey)
Trained in the martial arts and known for tackling shows with action and violence like
Arrow, The Flash
, and
The Walking Dead
, Belsey shares that there is "never a one size fits all for action." She reveals that prepping for an action sequence requires a lot of your own planning in your head with the stunts and editing.
"For me, I always begin an action sequence by asking myself 'what is the story' and 'what does this mean emotionally for the characters,' and that informs how I shoot the action." Belsey, who is no stranger to directing violent scenes, notes that it's all about creating visceral emotions, and "the process of creating action is really fun."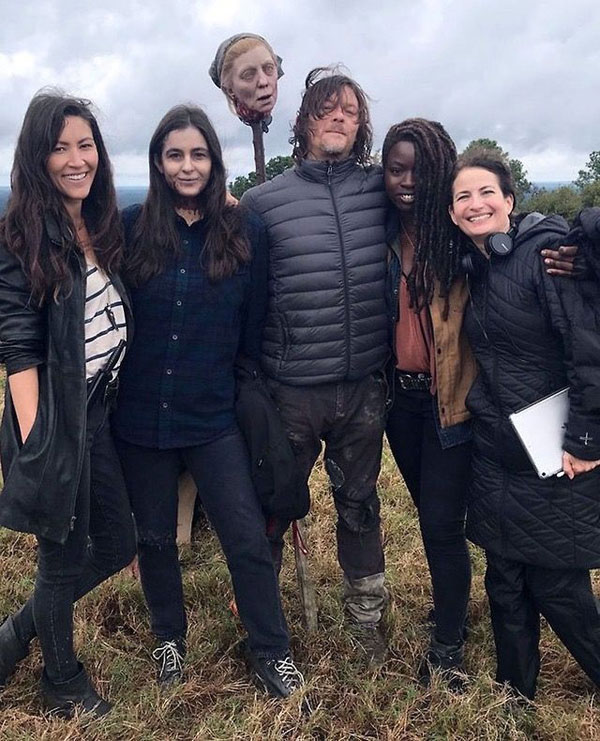 Belsey (right) during shooting of "The Calm Before" episode of 'The Walking Dead'
"Not all violence is honorable," she reminds the audience. For shows like
The Walking Dead
, however, it is actually an integral part of the storyline because "it is about survival and how evil is born, and how that evil is something worth examining."
When it was time for questions from the audience, one audience member asked Belsey to elaborate on her philosophy as a filmmaker. "I believe in story, metaphor, and flow," she says. "It's about asking 'what do I want the audience to feel,' and to create and guide emotions through a story."
As for working with other crew members like the director of photography (DP), Belsey exclaims how fun it is to work alongside other creatives and to speak their language of the craft. "That's the fun part of this business. We are all grownups playing make-believe."
New York Film Academy would like to thank Laura Belsey for taking the time to speak with the NYFA global community on her career as a director and for insight into the world of directing television and action for The 20/20 Series, created by and moderated by Liz Hinlein.
To watch the full conversation, view the video below or watch on our
Youtube channel.
These guests are not faculty and do not teach at NYFA, but they have appeared to share their stories and experience with our students. As guest speakers are scheduled based on their availability, NYFA cannot guarantee whether a guest speaker will visit during a student's attendance or who that guest speaker may be. This guest speaker forum is not part of any NYFA curriculum and attendance at guest speaker events is purely voluntary. Students should be aware that guest speaker events do not represent a job opportunity nor are they intended to provide industry connections.