Movies don't make themselves, we do! Learn filmmaking at Gold Coast, Australia the home of NYFA Australia.
You may also like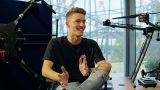 1.31K Views0 Comments4 Likes
Check out this spotlight on camera operator, drone technician & New York Film Academy Australia Alum Leroy Button. Learn about his journey doing what he loves after graduating from NYFA Australia's Diploma of Scre...