A student short by New York Film Academy Filmmaking alum Yi Pan.
You may also like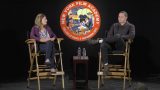 128 Views0 Comments0 Likes
Actor, director, and screenwriter Matt Ross visited the New York Film Academy in Los Angeles. His latest work, "Captain Fantastic" stars Viggo Mortensen as Ben Cash, a man who raises his six children in the wilderness...