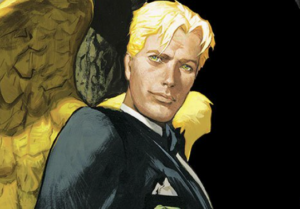 The devil came down to Fox, or at least it will, now that the network has ordered a pilot for Lucifer, an hour-long drama based on a comic book. Lucifer was created by industry kingpin Neil Gaiman, with Sam Kieth and Mike Dringenberg. The story concerns the devil himself retiring from running Hell and moving to sunny LA where he assists the police in punishing criminals.
With an epic backstory and police procedural structure, it's a no-brainer that mega producer Jerry Bruckheimer is adapting Lucifer for TV with his company Jerry Bruckheimer Television. Bruckheimer is behind other TV juggernauts like CSI, Without a Trace and Cold Case. He's also currently producing HBO's upcoming Cocaine Cowboys with Michael Bay.
TV is becoming as populated by comic book characters as Hollywood movies. Lucifer is published by Vertigo, itself a DC publication. The series will join other DC properties on television like Arrow, Flash and Fox's own Gotham, as well as CBS's upcoming Supergirl series, also said to be part-procedural. Marvel has two series on ABC and will be adding several more to Netflix in the near future, starting with Daredevil.
Dream of producing your own comic book TV series one day? Check out New York Film Academy's producing school programs here.
by nyfa