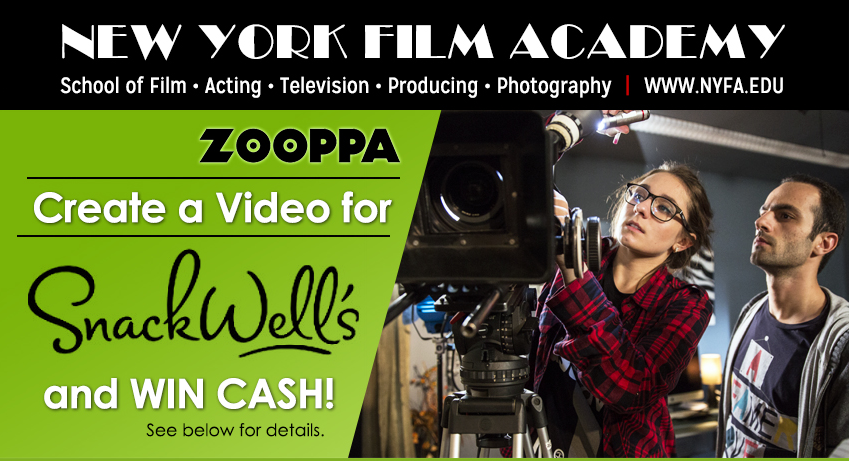 The New York Film Academy has partnered with the growing online creative community, Zooppa. Zooppa is a global social network that develops user-generated advertising with a commitment toward giving talented people with original ideas the ability to work with leading brands. This is a tremendous opportunity for NYFA's diverse student body to immediately impact the professional world of creative advertising.
Thus far, NYFA members have contributed content for "Be Bold for Girls," as well as Campbell's and other brands.
Now, Zooppa has announced the following opportunities for students, alumni and faculty to continuing creating content for major brands and earn money!
Snackwell's: Live Well, Snack Well
Mission: Create clever 30 second or 15 second videos that entertain female shoppers and entice them to try new the new Snackwell's.
Tone: Clever and entertaining
Target: women 35 – 65 years of age who is health conscious and weight conscious, but still craves sweet-tasting snacks with fewer calories.
$15,000 in total awards that will go to the top 3 submissions
Deadline to submit is May 5

, 2015

All students who submit to this project will be eligible to win from the $15,000 awards pool offered by SnackWell's. In addition, NYFA students only will be eligible to win an additional $500 – guaranteed to go to the best submission from NYFA.
For more info click here
Volo Energy "Good, For You"
Mission: Create 30-45 second commercial style videos showing real life moments where Volo Vitamins Energy packets give you the boost you need
Tone: Informative and Inspirational OR Funny, Sharable, Entertaining
Target: Healthy, active, men and women (18-49), seeking a healthy alternative to coffee and energy drinks
$20,000 in total awards that will go to the top 8 submissions
Deadline to submit is 

May 5, 2015

Social sharing encouraged! Tag @VoloVitamins
For more info click here
San Diego Zoo Global Wildlife Conservancy: Saving Rhinos From Extinction
Mission: Make short (30 second) video PSA's calling people to action and activating them to join the SanDiego Zoo's conservation efforts
Tone: Lighthearted, humorous
Target Audience: Women 40+ who are animal lovers and 20+ year olds who have grown up with conservation as a pressing issue
Winning videos may be used on a nationally broadcasted TV PSA
$25,000 in total awards that will go to the top 7 submissions
Deadline to submit is 

March 17, 2015

For more info click here
Please feel free to reach out to [email protected] with any questions you may have.
* In order to be eligible for the special $500 NYFA award, students must submit high-quality content in-line with the creative brief.
Best of luck with all of your projects!
by nyfa