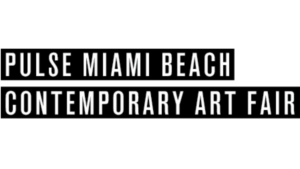 At this year's PULSE Miami Beach art fair, the New York Film Academy (NYFA) South Beach will join forces with a global contemporary art community as the official supporter of one of the art fair's key events: PERSPECTIVES. PULSE Miami Beach is one of the Miami art scene's premier annual events, providing an exciting and dynamic venue for today's thrilling contemporary art.
"The New York Film Academy South Beach is very excited to partner with PULSE Art Fair for the production of PERSPECTIVES," said NYFA South Beach Director Elli Ventouras. "We feel that this is a natural collaboration of art and culture. Filming with PERSPECTIVES allowed us to develop a relationship with artists within the Miami art scene, and working in partnership with PULSE Art Fair will provide our students with real-world exposure to today's contemporary artists and artwork in a truly rich and exciting context. We hope that this is the beginning of a long collaboration with PULSE Art Fair for many years to come."
Throughout PULSE Miami Beach 2017, NYFA South Beach will have two photographers live on the scene to capture the action at PULSE Miami Beach, as the public interacts with emerging and established galleries from an international community of artists.
In addition, NYFA South Beach has partnered with PERSPECTIVES to create three original video profiles of 2017 exhibiting artists Donna Ruff, Mindy Solomon, and National YoungArts Foundation President Carolina García Jayaram. As the fair's opening approaches, the films will be released on the PULSE Miami Beach website, and then screened as an installation for audiences at PERSPECTIVES.
PULSE Miami Beach 2017 PERSPECTIVES with Carolina Garcia Jayaram from PULSE Contemporary Art Fair on Vimeo.
PULSE began in New York in 2005, but organizers were inspired to shift their center of operations entirely to the city of Miami in 2016 to become PULSE Miami Beach. Since then, the arts fair has launched PULSE 360, a year-round events initiative focused on fostering community and engagement, and forged this new partnership with the New York Film Academy's South Beach campus.
PULSE Miami Beach will run Dec. 7-10 in Miami. As a part of the partnership between PULSE Miami Beach and New York Film Academy, complimentary day passes are available for all NYFA South Beach students.
by nyfa