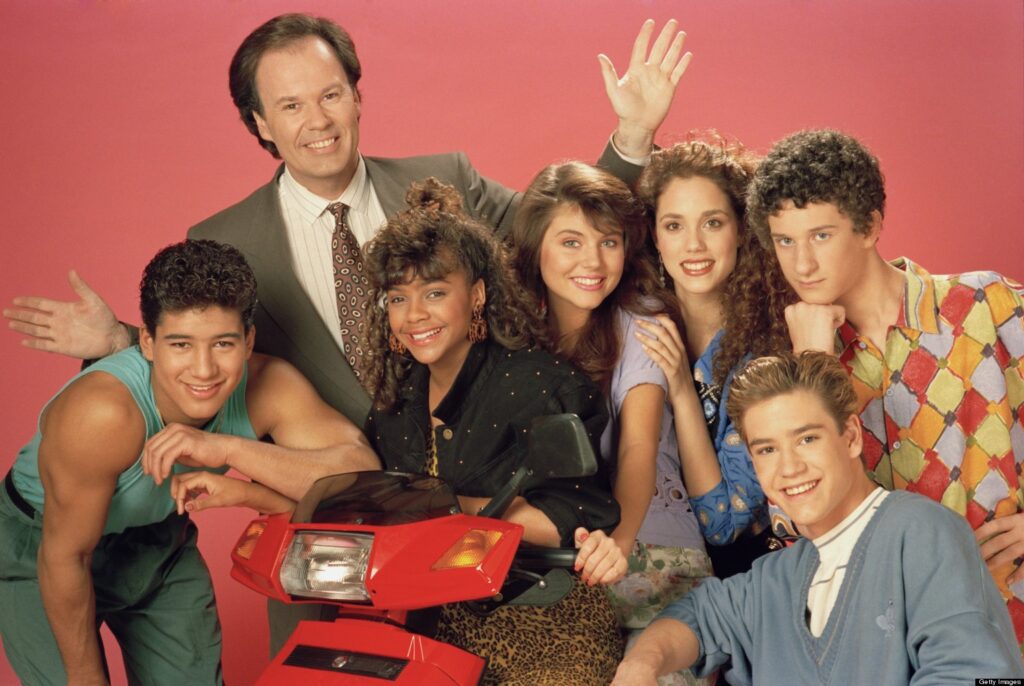 This week, on a Wednesday night, a Saturday morning favorite from the 1990s made its triumphant return to NBC when the cast of teen sitcom Saved by the Bell reprised their roles on Jimmy Fallon's talk show. Since taking over for Conan O' Brien's Late Night, Fallon has made a name for himself in a number of ways, including making viral videos for the Internet and indulging in 90s nostalgia. Those ideas came to a head on a Tonight Show sketch he performed with five of the seven original Saved by the Bell stars.
A detailed replica of Bayside High's famous hallway was built on the Tonight Show's soundstage with Fallon decked out in quintessential 90s garb. He was soon joined by actors Mark-Paul Gosselaar, Elizabeth Berkely, Mario Lopez, Tiffany-Amber Thiessen and Dennis Haskins with their hair and wardrobe mocked up to their famous TV characters Zack Morris, Jesse Spano, A.C. Slater, Kelly Kapowski and Mr. Belding, respectively. Surprisingly, the actors have aged well, with Lopez and Berkely in particular looking exactly like their characters from over two decades ago.
Missing from the fun were Lark Voorhies, who played Lisa Turtle, and Dustin Diamond, a.k.a. Screech Powers, who has been busy with unfortunate legal troubles of late. The rest of the cast seemed game for the reunion and had a lot of fun with Fallon, much to the delight of the audience and the thousands who've watched it online since last night.
This isn't the first nostalgic stunt Fallon's pulled. He's had Gosselaar on his show before in character, and last year hosted a similar Full House reunion. Which 90s show from his and our past will he resurrect next? Doogie Howser? Perfect Strangers? Let us know whom you'd like to see in the comments!
by nyfa