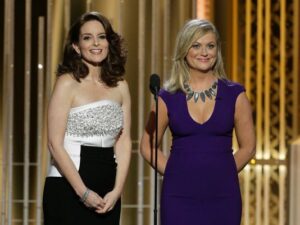 With last night's 72nd annual Golden Globes taking place in Los Angeles, the ceremony continued to cement its reputation as the best indicator of who will likely be taking the top awards at this year's Academy Awards. And while co-hosts Tina Fey and Amy Poehler—hosting the awards for their third and final time—offered plenty of laughs and well-meaning digs, the winners of the night gave the best insight on how this awards season will likely play out.
To that effect, Boyhood continued to clean up the awards circuit, nabbing the Best Picture, Drama award along with a Best Supporting Actress award for front-runner Patricia Arquette and the Best Director award for Richard Linklater. While Ava DuVernay is still widely believed to be receiving a nomination for Best Director on Thursday when the Academy Award nominees are announced, making her the first African-American woman to ever receive the honor, last night's win for Linklater seems to indicate that it is his category to lose. However, with The Grand Hotel Budapest picking up the Best Picture, Comedy or Musical category, this dark horse seems more likely than ever to earn a few nominations on Thursday and add some intrigue to an increasingly predictable awards season.
While Boyhood was widely believed to be a lock for those three awards, the other likely Oscar front runners also got their due last night with Julianne Moore winning the award for Best Actress, Drama for her turn in Still Alice while Michael Keaton picked up his award for Best Actor, Musical or Comedy. However, as the Globes breaks up the best picture and actor categories into Drama and Musical or Comedy, both Keaton's and Moore's main competitors also walked away with awards, with Amy Adams winning for Big Eyes and Eddie Redmayne picking up a Best Actor, Drama for his turn as Stephen Hawking in The Theory of Everything. However, both the Best Actor and Actress categories remain highly competitive with actors like Jennifer Anniston, Reese Witherspoon, Jake Gyllenhall, and David Oyelowo making these categories the least predictable.
The same cannot be said of the Best Supporting Actor category, with JK Simmons accepting the award for his terrifying turn in Whiplash. Simply put, at this point it seems hard to imagine any actors other than Arquette and Simmons cleaning up the Supporting categories when the Oscars air on February 22nd.
What did you think of last night's telecast and who would you like to see walking away with nominations on Thursday? What films do you think might end up giving Boyhood a run for its money?
A full list of last night's winners can be viewed here.
by nyfa