In collaboration with the New York Film Academy (NYFA), the National Coalition Against Censorship (NCAC) honored this year's Youth Free Expression Film Contest winners Molly Smith and Sage Croft, who accepted the award for their film Dear America. NYFA President Michael Young presented the award to the pair at a benefit event held in New York City on Monday, November 11, hosted by Drag Queen Story Hour's Harmonica Sunbeam. Celebrating its 45th anniversary, NCAC also presented Free Speech Defender Awards to author Jason Reynolds and artist Carolee Schneemann (1939 – 2019).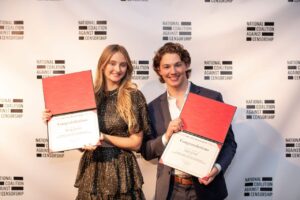 NCAC's Youth Free Expression Program empowers students with knowledge, tools and opportunities to defend their rights and assert their voices. Too often, students are silenced when tough conversations get labeled disruptive. Over the past 15 years, the Youth Free Expression Film Contest has showcased the films of dozens of teens whose vision and respect for free expression will inspire generations to come. 
NYFA offers crucial support for NCAC and the extraordinarily talented young filmmakers; the scholarship prize offered by NYFA allows award winners the opportunity to undertake any 4-Week hands-on workshop at any of NYFA's domestic campuses—New York City, Los Angeles, and Miami.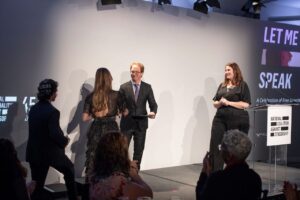 Dear America, the film co-directed by this year's winners—Molly Smith and Sage Croft of Clermont, Florida—is a vital example of just how important young voices are for sociopolitical discourse as well as the effectiveness of film as a medium for those voices. The film is an open letter on the topic of gun control from generation Z, and spotlights the psychological impact of gun violence on youth. Among a remarkably competitive field, Dear America earned the judges' highest scores for its clear message and compelling visual technique.
This year's contest, which drew over 100 entries, invited teens to speak truth to power, directly addressing those with power to lead change by creating a cinematic postcard with a message they believe has gone unheard or silenced. The twelve finalist films tackled a wide range of polarizing—and often taboo—topics, including immigrant family separation, gender equality, toxic masculinity, shaming and bullying, and climate change.
New York Film Academy and the National Coalition Against Censorship look forward to a continued partnership that gives students a platform to create films that speak to the free expression issues that affect their lives.
[su_carousel source="media: 33086,33089,33087,33090,33085,33088,33084″ limit="60″ link="lightbox" target="blank" width="780″ height="360″ title="no" autoplay="0″]
by nyfa