At the 2023 Oscars, one of the many Brendan Fraser movies was finally recognized for the actor's exceptional on-screen talent. Fraser was awarded his first Oscar for Best Actor, celebrating his performance as Charlie in The Whale. The Whale, which premiered at the 79th Venice International Film Festival, solidified Fraser's return as a leading man in Hollywood. Fraser fans rejoiced, demonstrating how much audiences missed the multi-talented actor.
Celebrating "The Brenaissance" With Brendan Fraser Movies and TV Shows
Fraser's comeback is not solely attributed to his immense talent but to his perseverance. The actor has conquered personal challenges throughout his career, making his comeback all the more remarkable. In a stunning 2018 interview with GQ, Fraser described the long road to recovery from injuries sustained during the creation of films such as the third installment of his blockbuster The Mummy, titled The Mummy: Tomb of the Dragon Emperor, the loss of his mother to cancer, as well as battling depression after a now infamous incident at a Hollywood Foreign Press Association luncheon, resulting in a long hiatus from film.
After winning Best Actor at the Critics Choice Awards, Fraser tearfully expressed his gratitude to The Whale director Darren Aronofsky, saying, "I was in the wilderness and I probably should've left a trail of breadcrumbs…But you found me… and like all the best directors, you merely just showed me where to go to get to where I needed to be."
Fraser also provided encouragement to the audience, telling them: "If you too can have the strength to just get to your feet and go to the light, good things will happen."
Brendan's words as a reminder to all artists and creators of the importance of mental wellness and self-care. With a few upcoming projects on his slate, we're eager to see more of the actor in the coming years, and until he hits the silver screen again, we've curated a list of some of the most memorable Brendan Fraser movies and roles on television.
From Encino Man (1992) to The Mummy (1999) to Doom Patrol (2019), here are a few performances for every Fraser mega fan to watch.
School Ties (1992)
In School Ties, Fraser portrays a hard-working private school student, David Green, facing discrimination from his classmates because of his Jewish heritage. Co-starring Matt Damon, Ben Affleck, and Chris O'Donnell, the film addresses social class and prejudice in the late 1950s. The film was based on the real-life experiences of Dick Wolf, who wrote the script.
Encino Man (1992)
The 1992 film Encino Man was one of Fraser's first big opportunities in Hollywood. Fraser plays "Link," a caveman who had been frozen and thaws out in sunny California. He's discovered by two teenagers considered outcasts at their high school, and hilarity ensues. The film is a feel-good flick about friendship and acceptance and coincidentally co-stars Pauly Shore, Stranger Things actor Sean Astin, and Oscar-winner Ke Huy Quan.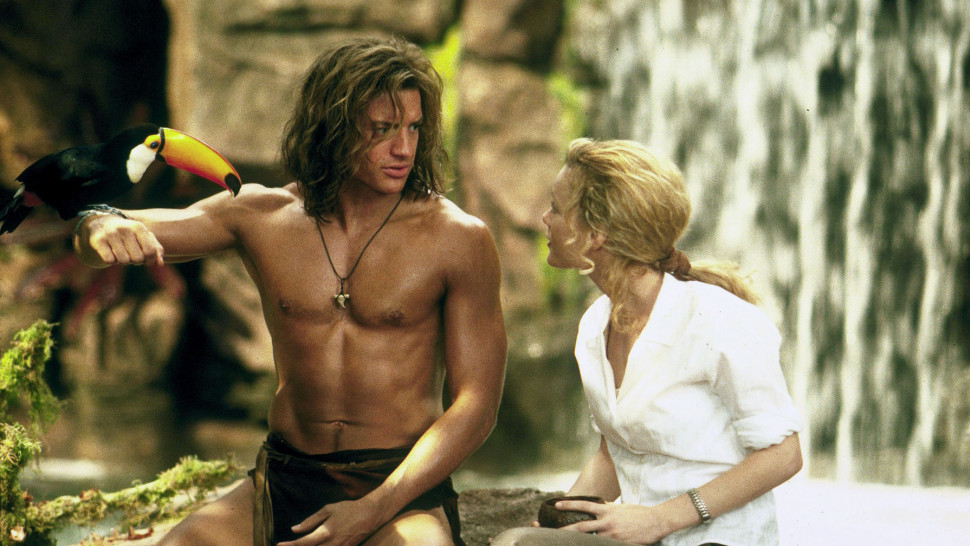 George of the Jungle (1997)
In this upbeat comedy, Fraser plays the wild and naive George, a man raised in the jungle by apes. Based on the George of the Jungle (1967) cartoon series, this film follows George's journey from the jungle to San Francisco and shows how he reacts and responds to living in modern society. The film, while silly and lighthearted, is definitely one of Fraser's most memorable performances. The film co-stars Leslie Mann and Thomas Haden Church.
Blast from the Past (1999)
The romantic fantasy film Blast from the Past (1999) features Fraser as Adam, a young man who was raised in a fallout shelter and is experiencing the modern world for the first time. After falsely believing nuclear war is starting, Adam's parents, played by Christopher Walken and Sissy Spacek, lock themselves in their fallout shelter and raise Adam there after he's born. The film also stars Alicia Silverstone as Eve, Adam's modern-day love interest.
The Mummy (1999)
The Mummy (1999) is an action epic starring Fraser as Rick O'Connell, a confident adventurer out to uncover the mysteries of Egypt. One of three films, The Mummy was followed by The Mummy Returns (2001) and The Mummy: Tomb of the Dragon Emperor (2008). Co-starring Rachel Weisz, the film is one of Fraser's most popular. The first film is such a fan favorite, in fact, that in 2023, Fraser surprised fans at a screening in London dressed in his Rick costume.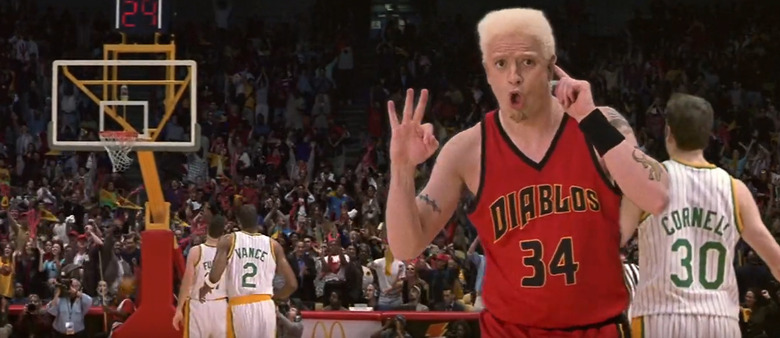 Bedazzled (2000)
Based on the 1967 film of the same name, in the comedy Bedazzled (2000), Fraser plays Elliott, an awkward man who, in hopes of winning over a girl, makes a deal with the devil (Elizabeth Hurley). He receives seven wishes, bringing him through hilarious scenarios where he tries to change the course of his life. Fraser's character does everything from playing professional basketball, ala Michael Jordan to living the life of a cultured writer, each scenario ending with a wicked twist from The Devil herself.
Monkeybone (2001)
In the black comedy film Monkeybone (2001), Fraser plays Stu, a cartoonist who falls into a coma, entering a quirky and eccentric world of his own creation. The fever dream film was directed by Tim Burton and also featured animated scenes. Although not as well received as his other movies, Fraser held his own, delivering an eccentric and quirky performance. The film co-starred Whoopi Goldberg, Christ Kattan, and Giancarlo Esposito.
The Quiet American (2002)
Based on the novel of the same name, Fraser plays a British journalist, Alden Pyle, an American working for the Economic Aid Mission in 1950s Vietnam. In this romantic drama, Fraser competes for the affection of Phuong, a Vietnamese woman already in a relationship with Thomas Fowler, a married man, and journalist. With Michael Caine in the role of Fowler, the film was received well by critics. Caine was nominated for Best Actor in a Leading Role, as well as Best Performance by an Actor in a Leading Role.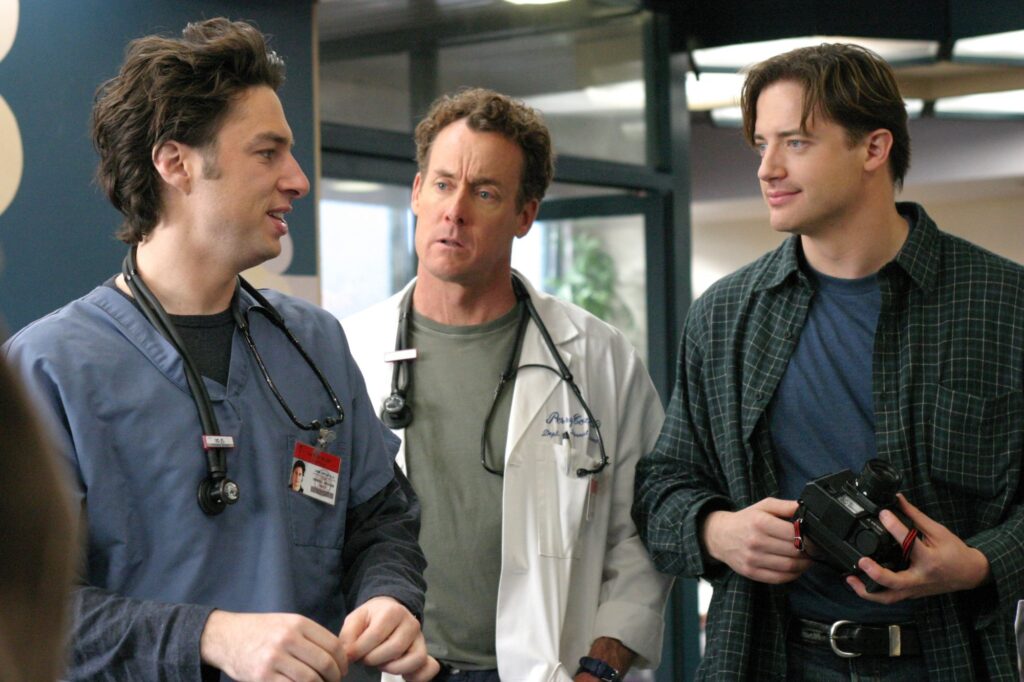 Scrubs (2002-2009)
Though it was a supporting role, Fraser made a lasting impact on the TV show Scrubs, where he plays the best friend to the sarcastic Dr. Cox. In what was supposed to be a visit for a mild injury, it's revealed that Ben is much sicker than it appears, causing Dr. Cox to spin into turmoil as he grapples with Ben's illness. Although he only appeared in a few episodes, Fraser's "Ben" is still known as one of the best guest stars on the show.
The Affair (2014-2019)
By season three of the Golden Globe-winning drama series The Affair, audiences were eager to see what would become of narcissistic writer Noah Solloway (Dominic West), who was imprisoned for a hit and run. Fraser joined the cast as John Gunther, an antagonistic prison guard who takes a special interest in Solloway. Despite minimal screen time, Fraser's daunting presence is a huge plot point, rattling Noah and making him question his sanity.
Doom Patrol (2019-2021)
Fraser's comeback really kicked into high gear with the television show Doom Patrol, which is based on the DC Comics series of the same name. Playing Robotman/Cliff Steele, Fraser's ability to combine humor with drama came in handy in this series, joining a zany cast of reluctant, outcast superheroes.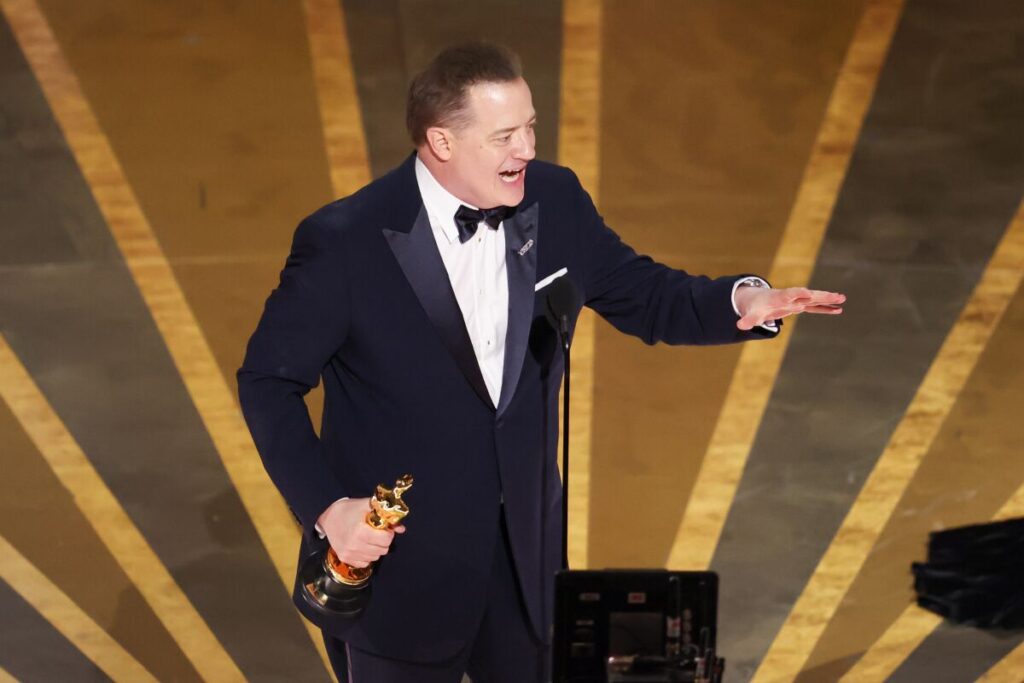 The Whale (2022)
The Whale, a film from A24 directed by Darren Aronofsky, was one of many more dramatic roles that Fraser has taken on in the last few years, but ultimately, it got him his Oscar. In the movie, Fraser plays an English teacher who teaches his students remotely as he struggles with obesity and tries to connect with his teenage daughter (Sadie Sink). The film received mixed reviews, but Fraser was applauded for his performance and portrayal of a character dealing with mental illness.
Fans who know Fraser for his more popular films may be surprised to learn that there's a range of Brendan Fraser movies where he shows off his incredible acting chops. In addition to the featured films and shows above, here are a few more of the actor's projects.
Dog Fight (1991)
Airheads (1994)
Gods and Monsters (1998)
Crash (2004)
The Air I Breathe (2007)
Inkheart (2008)
Extraordinary Measures (2010)
Breakout (2013)
Texas Rising (2015)
Trust (2018)
Condor (2018)
The Twilight Zone (2019)
From a street-smart private investigator seeking answers in the FX series Trust (2018) to an unstable man seeking the approval of his father in Condor (2018), there are many exceptional comedic and dramatic Fraser performances to choose from. Fraser has also done voicework for video games such as The Mummy and animated television shows including The Simpsons, Robot Chicken, and King of the Hill.
Develop Acting Skills at NYFA
It's easy to be inspired by the charming and talented Fraser. If the powerhouse actor's roles have inspired you to develop your own skills in acting and performance, NYFA has a range of acting for film programs to choose from. Learn more by visiting our Acting for Film School page.
by Melissa Randall