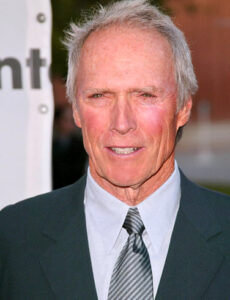 Name: Clinton Eastwood Jr. aka Clint Eastwood
Essential DVDs: Play Misty For Me (1971) ; High Plains Drifter (1973); The Outlaw Josey Wales (1976); Pale Rider (1985); Unforgiven (1992); The Bridges of Madison County (1995); Midnight in the Garden of Good And Evil (1997); Mystic River (2003); Million Dollar Baby (2004); Gran Torino (2008)
Oscars: Best Director, Best Picture (Unforgiven, 1993); Best Director, Best Picture (Million Dollar Baby, 2005)
In His Own Words: "I love every aspect of the creation of motion pictures and I guess I am committed to it for life."
When Clint Eastwood decided to direct the thriller Play Misty For Me, with its cautionary view of celebrity, in 1970 he inadvertently took the first step to a kind of cinematic respectability that had thus far eluded him. He was certainly successful by then, and popular. He had been almost constantly in work since his debut on television as Rowdy Yates in Rawhide. But the spaghetti westerns he had made with Siergio Leone were yet to be subject to the critical re-appreciation led by British writer Sir Christopher Frayling and, though finally they became hits with the public, were mostly thought of as curious rip-offs of their Hollywood inspirations. Dirty Harry, who made his debut in 1971 and continued through a series of four sequels of ever deteriorating quality was considered to be essentially fascist by a number of critics, a barely disguised vigilante movie typical of the decade and virtually indistinguishable from the likes of Death Wish. Other, kinder, commentators simply regarded it as an efficient enough policier(ital) with a charismatic star grittily directed by Don Siegel.
But with Play Misty Eastwood revealed not only a facility for directing, but a (until perhaps recently) savvy taste for good material. He made four westerns, both High Plains Drifter and Pale Rider were solidly made examples of the genre from a man who thoroughly understood it, but The Outlaw Josey Wales is the most fascinating of the early ones; a daring, postmodern riff on Western mythology (filtered with anti-war sentiment in its post Civil War setting) that begins a task that his later masterpiece would complete.
Until the success of Million Dollar Baby, there was a school of thought that had wished he'd retired after making Unforgiven. Made from a brilliant screenplay by David Webb Peoples that Eastwood had cannily kept in store until he was old enough for the lead, it was a perfect grace note on which to end a career; it is after all a film about age and endings.
There have been missteps in the last few years. Space Cowboys was a woebegone attempt at dealing with the familiar theme of aging in a poorly written comedy-adventure while True Crime had a typically incendiary performance from James Woods as a newspaper editor but little else to recommend it. But there were the superior literary adaptations of The Bridges of Madison County and Midnight in the Garden of Good and Evil to keep us going.
Mystic River showed a return to form, it was efficiently directed, though for some it was a little too reverent for its pulpy roots and the performance he coaxed out of at least two of his leads were so honed towards Oscar glory you almost felt they were wearing their tuxes under their workshirts. The austere, multi-layered Million Dollar Baby is another masterpiece, a thematic return to the concerns of Unforgiven—age and death were again the key subjects. Made guerrilla style in little more than a month and pretty much without anyone noticing, it maintained that Eastwood's pre-eminence as one of Hollywood's most daring and personal filmmakers.
by nyfa