Recently, New York Film Academy-Los Angeles created a Cyanotype workshop for alumni at NYFA instructor Andrew Hall's darkroom in downtown Los Angeles.
Cyanotype is one of the oldest photographic processes we know of, and has a distinctive blue color. Cyanotypes are made by treating a surface — paper, cloth or leather — with iron salts which then react to UV light. Originally used to document botanical specimens by placing them on treated papers and exposing them to the sun, it was also an early way to create copies of drawings, especially architectural drawings – thus the name "blueprints."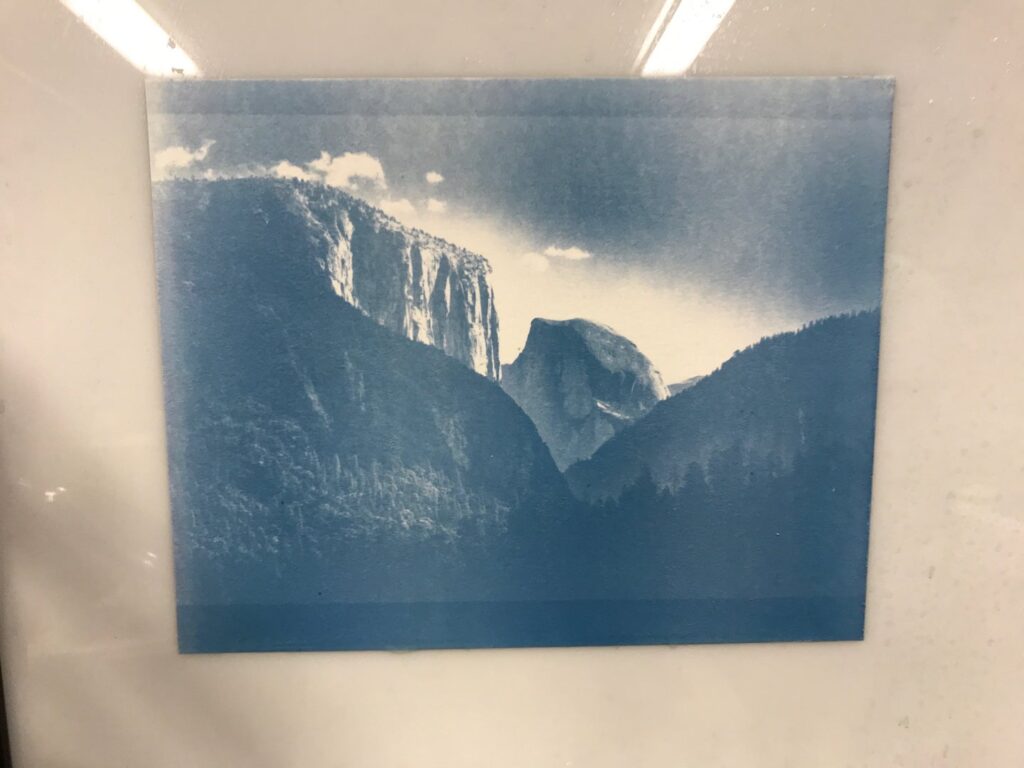 Before the workshop, paper was pre-coated with the cyanotype chemistry so it would be dry and ready to go when participants arrived. Instructors also demonstrated the process on a large mural print he was making for one of his art projects that is up for an award.
First, the instructors taped paper to the table using Frogtape — a green tape with little tack so it wouldn't damage the paper — and then measured out the chemicals. Cyanotype is equal parts ferric ammonium citrate and potassium ferricyanide. Measuring each chemical separately so as not to add too much, he combined them in a glass bowl and began brushing on the mixture as evenly as possible onto the paper. Then he used a hair-dryer to dry the paper, and the rest of class went upstairs to begin laying out our cyanotypes.
Many students had followed the instructor's instructions from the previous week and printed black and white negatives to match the pre-coated paper size. Some used pieces of glass and cut out shapes instead, and some used a mixture of both. Once the negatives and ephemera were placed on the pre-treated sheets, they were put under glass and transferred to a large UV Light box that acted like an oven to bake our prints for 10 minutes each.
[su_carousel source="media: 13953,13958,13963,13962,13961,13966,13967,13968,13969″ link="image" target="blank"]
Everyone in the group were able to get several prints done each and experiment with various timings and placements. After exposing to UV light, the class went downstairs to Hall's darkroom and washed the remaining chemistry off the prints until the water ran clear, then squeegeed the remaining water off and lay them in the drying racks to dry.
It was fun for NYFA faculty to catch up with alumni and hear how everyone was doing and what they were up to. And it was great to see them interact in a mixed group of students from various cohorts.
NYFA MFA Alum Federico Imperiale stated, "It was great to see professional photographers working on a laboratory project. They were able to guide us through the understanding of the process, giving us a complete overview of the cyanotype technique and its expressive and aesthetic potential."
The results of the cyanotype workshop were wonderful to behold and now students know how easy and fun it is and can do it from the comfort of their own home!
Interested in learning photography? Find out more information about the Photography programs at New York Film Academy today!
Written by Naomi White. Naomi is Chair of Photography at NYFA Los Angeles.
by nyfa