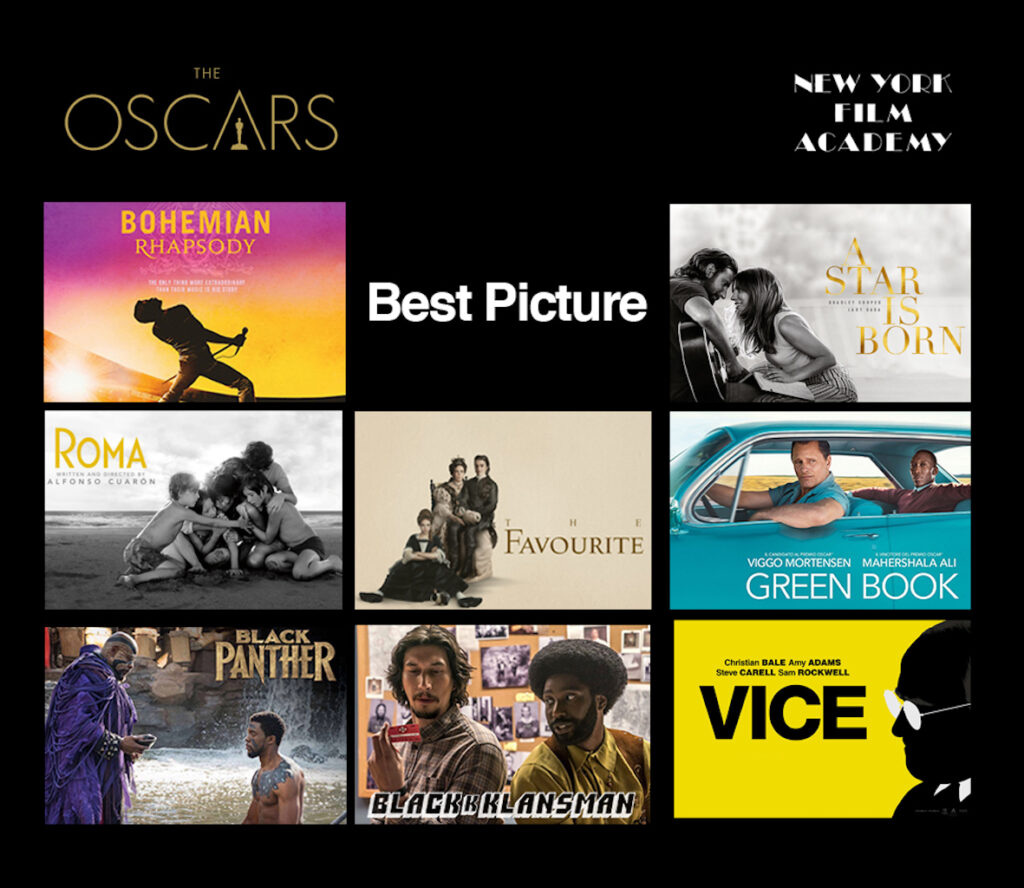 The Academy of Motion Picture Arts and Sciences have announced the nominees for the 91st annual Academy Awards, to be given out during ABC's televised ceremony on Sunday, February 24. The Oscars will cap off a months-long awards season featuring industry veterans, newcomers, and as always, endless debates about who deserves to go home with the golden statue.
The final award of the night, Best Motion Picture of the Year, is handed out to the eligible producers of the film. Since 2009, the number of nominations has increased from five to a maximum of ten, based on a more complicated voting system that uses a modified preferential ranking process.
New York Film Academy (NYFA) takes a closer look at this year's Academy Award nominees for Best Picture:
Black Panther
Black Panther is the first superhero film to receive a Best Picture nomination and is notable for its themes of race and diverse cast and role models for children of color used to typically seeing white male heroes in Hollywood blockbusters. It was directed and co-written by Ryan Coogler, while the sole producer eligible for the Best Picture Oscar is Kevin Feige, president of Marvel Studios and mastermind of the groundbreaking Marvel Cinematic Universe. Black Panther is up for seven Academy Awards total.
BlacKkKlansman
BlacKkKlansman is the latest film from Spike Lee and earned him his first Academy Award nomination for Best Directing. Based on true events, the film tells the story of an African American detective who infiltrates the Ku Klux Klan in the 1970s. Lee is also one of the five producers eligible for the Best Picture Oscar, including Sean McKittrick, Jason Blum, Raymond Mansfield, and Jordan Peele, who won a Best Screenplay Oscar last year for 2018 Best Picture nominee Get Out. BlacKkKlansman is up for six Academy Awards total.
Bohemian Rhapsody
Bohemian Rhapsody is the latest Hollywood musical biopic to gain a groundswell of awards season buzz, focusing on legendary rock group Queen, with Rami Malek giving an Oscar-nominated turn as iconic frontman Freddie Mercury. The sole producer eligible for Best Picture is Graham King, who previously won the award for Martin Scorsese's 2006 film, The Departed, and was nominated in the category for two additional Scorsese films, Hugo and The Aviator. Bohemian Rhapsody is up for five Academy Awards total.
The Favourite
The Favourite is the latest critically-acclaimed art house film from Greek writer and director Yorgos Lanthimos (The Lobster, The Killing of a Sacred Deer). The period dramedy depicts the rivalry between two cousins vying for the favor of 18th century British Queen Anne. Lanthimos is one of four producers eligible for the Academy Award, along with Ceci Dempsey, Ed Guiney, and Lee Magiday. This is the first Oscar nomination for Dempsey and Magiday, while Guiney was previously nominated in the category for Room in 2015. The Favourite is up for ten Academy Awards total.
Green Book
Green Book is a dramedy set in the 1950s Deep South, based on a real life concert tour of African American pianist Don Shirley and his white driver and bodyguard, Tony Vallelonga. Five producers are eligible in the category, including director and co-writer Peter Farrelly, who made a name with his brother for slapstick comedies like Dumb and Dumber and There's Something About Mary. He shares the nomination with Jim Burke, Charles B. Wessler, Brian Hayes Currie, and Vallelonga's son, Nick Vallelonga, who is also co-nominated for Best Original Screenplay. Green Book is up for five Academy Awards total.
Roma
Roma is a deeply personal, semi-autobiographical film by Alfonso Cuarón set in Mexico City in the early 1970s and shot beautifully in black-and-white. In addition to sharing the Best Picture nomination with Gabriela Rodriguez, Cuarón also wrote, shot, and directed the film, for which he received additional Oscar nods. This is the first nomination for Rodriguez, and the first nomination in the category ever for a Latinx woman. Along with the The Favourite, Roma has the most Academy Award nominations this year, with a total of ten.
A Star is Born
A Star is Born is the third remake of the original 1937 film, updated by director and star Bradley Cooper after years of development hell with several filmmakers attached. Cooper shares the Best Picture nod with Bill Gerber and Lynette Howell Taylor. This is Cooper's second nomination in the category (the first was for American Sniper) and seventh overall; it's the first nomination for both Gerber and Taylor. A Star is Born is up for eight Academy Awards total.
Vice
Vice is a dramedy biopic of former Vice President Dick Cheney, starring Christian Bale in heavy, lifelike prosthetics. The film is writer and director Adam McKay's follow-up to The Big Short, which similarly took a quasi-comedic look at the lead-up to the 2008 Great Recession, and which earned him an Oscar for Best Adapted Screenplay. McKay is eligible for Best Picture along with Dede Gardner, Jeremy Kleiner, and Kevin J. Messick. Gardner has been nominated for Best Picture six times in the last seven years, winning twice, for 12 Years a Slave and Moonlight; Kleiner has been nominated five times, sharing both Oscars with Gardner. This is the first nomination for Messick. Vice is up for eight Academy Awards total.
Check out the New York Film Academy Blog after this year's ceremony for a full list of the 2019 Oscar winners and losers!
by nyfa