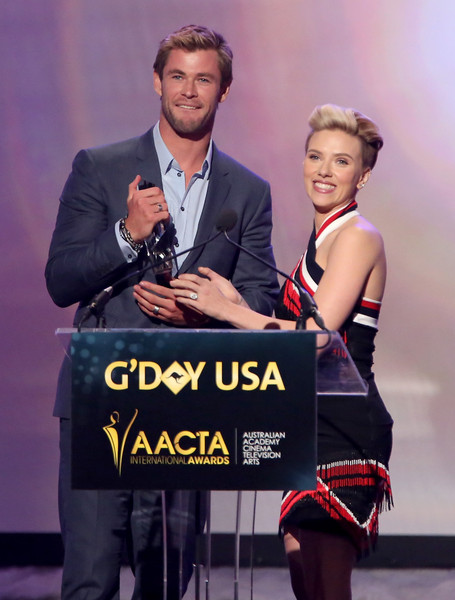 It's starting to feel a lot like awards season. As the Australian 4th Annual Australian Academy of Cinema and Television Arts (AACTA) Awards in Sydney concluded, the AACTA International Awards commenced in Los Angeles on 31 January 2015. 4th AACTA International Awards has partnered-up with G'DAY USA, joining forces for a star-studded night. The night gives much deserved recognition to Australians performing exceptionally in film and television outside the country.
AACTA President, Geoffrey Rush, shared the stage with fellow presenters including Nicole Kidman, comedian Rebel Wilson, Elizabeth Debicki, John Travolta, Jonathan LaPaglia, Rachel Griffiths and Russell Crowe.
Award winners included:
BIRDMAN for 'Best Film', 'Best Screenplay', 'Best Direction' (Alejandro G. Iñárritu) and 'Best Lead Actor' (Michael Keaton)
STILL ALICE for 'Best Lead Actress' (Julianne Moore)
BOYHOOD for "Best Supporting Actress" (Patricia Arquette)
Chris Hemsworth was also honored with the 'Excellence in Film' award, presented to him by Scarlett Johansson.
Our New York Film Academy Australia students were recently invited to attend their 4th Annual AACTA Awards, with their highlights (amongst the many) including, watching Cate Blanchett host the Award Ceremony, talking to the Spierig Brothers about their film Predestination, shaking hands with AACTA President Geoffrey Rush, getting photos taken with Rose Byrne, and speaking with Bobby Canavale. NYFA Australia student Chantelle Von Appen added that the event was, "Basically getting an inside to the Industry."
Students have also showcased their personal photos from the event on Facebook.
With the Australian awards all wrapped-up, the US film industry has just started warming up for the Oscars with nominees having just been announced.
by nyfa