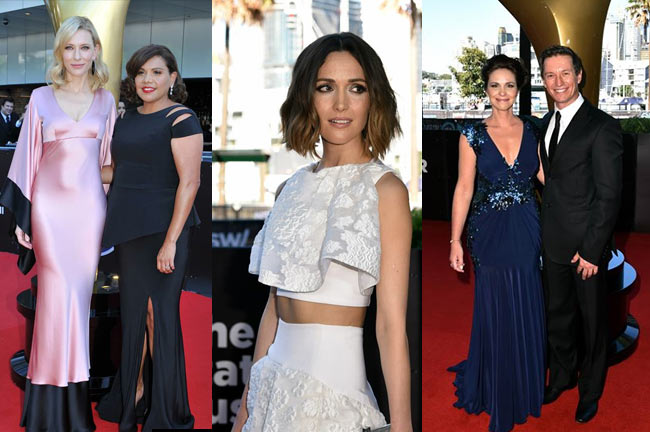 The Australian Academy of Cinema and Television Arts (AACTA) Awards 2015 second star-studded awards event last night announced Russell Crowe directed film The Water Diviner and The Babadook (debut film for director Jennifer Kent) dual winners for 'Best Film'. CEO Damian Trewhella considering this unusual, but not unprecedented.
The big names kept coming, with AACTA president Geoffrey Rush awarding Rose Byrne the 'Inaugural Trailblazer Award'.
The Babadook , as expected, cleaned-up on the night, taking home three of the total four nominated categories (how they didn't win an Oscar is beyond us). Other multi-award winner also included:
The Code for 'Best Television Drama Series', 'Best Direction in Television Drama or Comedy', Ashley Zukerman for 'Best Lead Actor in a Television Drama' and Chelsea Preston Crayford for 'Best Guest or Supporting Actress in Television Drama'
Please Like Me for 'Best Screenplay in Television' and Debra Lawrence for 'Best Performance in Television Comedy'
This year nominees and winners definitely raised the bar for the Australian film and television industry.
On the night, a group of film and acting students from our very own New York Film Academy Australia had the privilege of rubbing shoulders with their idols. They walked the red carpet and took part of all the events of the ceremony including meeting with the actors, directors, produces and influential industry professionals. They took advantage of the opportunity to network and collated their own celebrity snapshots.
NYFA Australia offer a range of industry related hands-on courses including Filmmaking, Acting for Film, Screenwriting and many more. The programs are designed to allow students hands-on and real-life industry experience and this particular event is the perfect example of what the Academy has to offer.
For further details on New York Film Academy courses throughout the Australian and abroad, contact us.
by nyfa