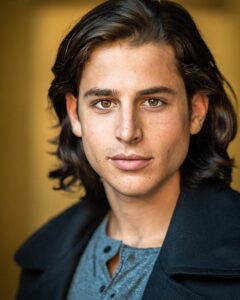 New York Film Academy (NYFA) Alum Gonzalo Martin might agree that "life is strange," especially since he nabbed the lead role in Square Enix's highly-anticipated video game, Life is Strange 2. Square Enix is the Japanese developer and publisher of wildly popular games Final Fantasy, Kingdom Hearts, and Dragon Quest, among others. 
The episodic graphic adventure video game, available on nearly all major platforms (including Xbox One, Playstation 4, PC and macOS), is the sequel to the smash hit and critically-acclaimed Life is Strange, originally released in 2015. That title has sold over 3 million copies to date.
The newest entry released its first episode in September 2018, with the last of five episodes set to come out in 2019. Life is Strange 2 was developed by Dontnod Entertainment (Vampyr, Twin Mirror) and has already been nominated for several gaming awards and won the Special Jury Prize at the 2018 Ping Awards.
Life is Strange 2 tells the story of young brothers Sean and Daniel Diaz, who are on the run from the police. The game is a third-person story adventure, with dialogue trees and gaming decisions
affecting the story and future episodes.
Gonzalo Martin stars as lead protagonist Sean Diaz, who the player controls throughout the game. Martin is an Acting for Film alum from the New York Film Academy, having attended the AFA program in 2015, and has previously been a part of the Academy's admissions team. At NYFA's acting school, Martin was given both practical experience and a hands-on education to develop his skills as an actor, with training from a faculty of experienced actors currently working in the industry.
Previous acting roles of Martin include BuzzFeed Murder Mystery Stories, and the films I'll Be Next Door for Christmas and When It Rings.
The New York Film Academy congratulates Gonzalo Martin on landing the lead role in Square Enix's Life is Strange 2! 
by nyfa