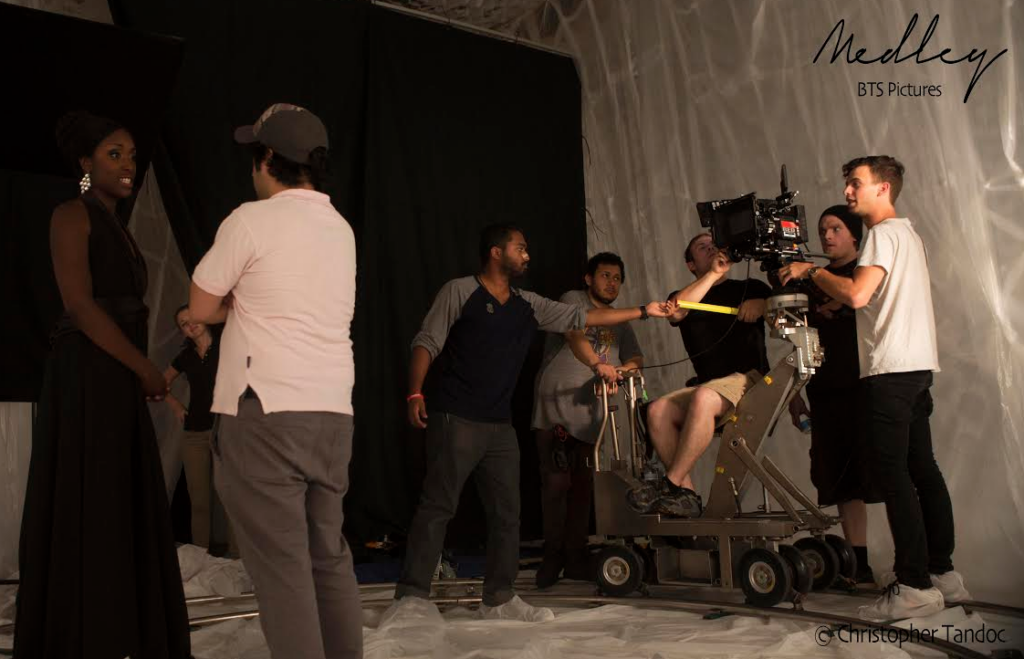 When our filmmaking students graduate from the New York Film Academy, they bring with them a thesis film that they can be proud of. Often the short film will be his or her calling card to the professional world. But before that happens, we encourage our graduates to enter his or her thesis film into as many film festivals as possible, giving him or her and the film the proper exposure needed.
One of our recent BFA Filmmaking graduates, Diego Andres Londono, has followed this advice, and has already seen success at the festivals with his thesis film, Medley. He's won awards at two film festivals, California International Shorts and LAArthouse Filmfest, both as Best Experimental Film. Medley has also been selected into the biggest University level Film Festival in Colombia and was a part of the Cannes Short Film Corner.
"There is a sweet and twisted bliss in Diego's talents as he sees things with a creative eye that understands both art and commerce," said NYFA Instructor Saga Elmoraseb. "He is detailed without being demanding and is sensitive about the filmmaking process. These (and many more) are reasons why I feel Diego is a cut above the rest. His film Medley is proof."
Now, Diego's film is a finalist in the CineGear 2015 Film Series, which will take place at the famous Paramount Studios. Diego is competing for $5,000 in equipment for his next project against two other student thesis films from AFI and USC.
We had a chance to ask Diego a few questions about his film and his young career before his upcoming GineGear screening on June 4th.
Congrats on the success of your thesis film! Can you tell us what the film is about?
It wasn't the first idea that I had and it was born kind of in the middle of turmoil, as I didn't know if I was going to be able to shoot a thesis film at all. Nevertheless, one night of May 2014, Matías Piegari, a very good friend and composer, whom I met at NYFA, showed me an amazing piano recital experiment called: "4'33."
The experiment was conducted by John Cage, and in it, Cage brought a world-renowned piano player and made the audience believe that he was about to play a sonata. The curiosity would build up as the piano player sat down in front of the big audience, but when the time to perform came in, the player would start his metronome and remain motionless until the metronome hit an entire movement. It is what's called a symphony composed of silence.
To me, it challenged the very definition of art because it shows that art is not just this thing that is created by a human being for others to judge, it exists on its own. And in the context of Medley, it exists in nature. I went back home and began writing with extreme passion about a piano concert in which the piano didn't produce the sounds that it was expected to produce, but sounds of nature. Nature for me is what drives my creativity — as I see it — it is in nature where art resides in its pure form and in its universal state.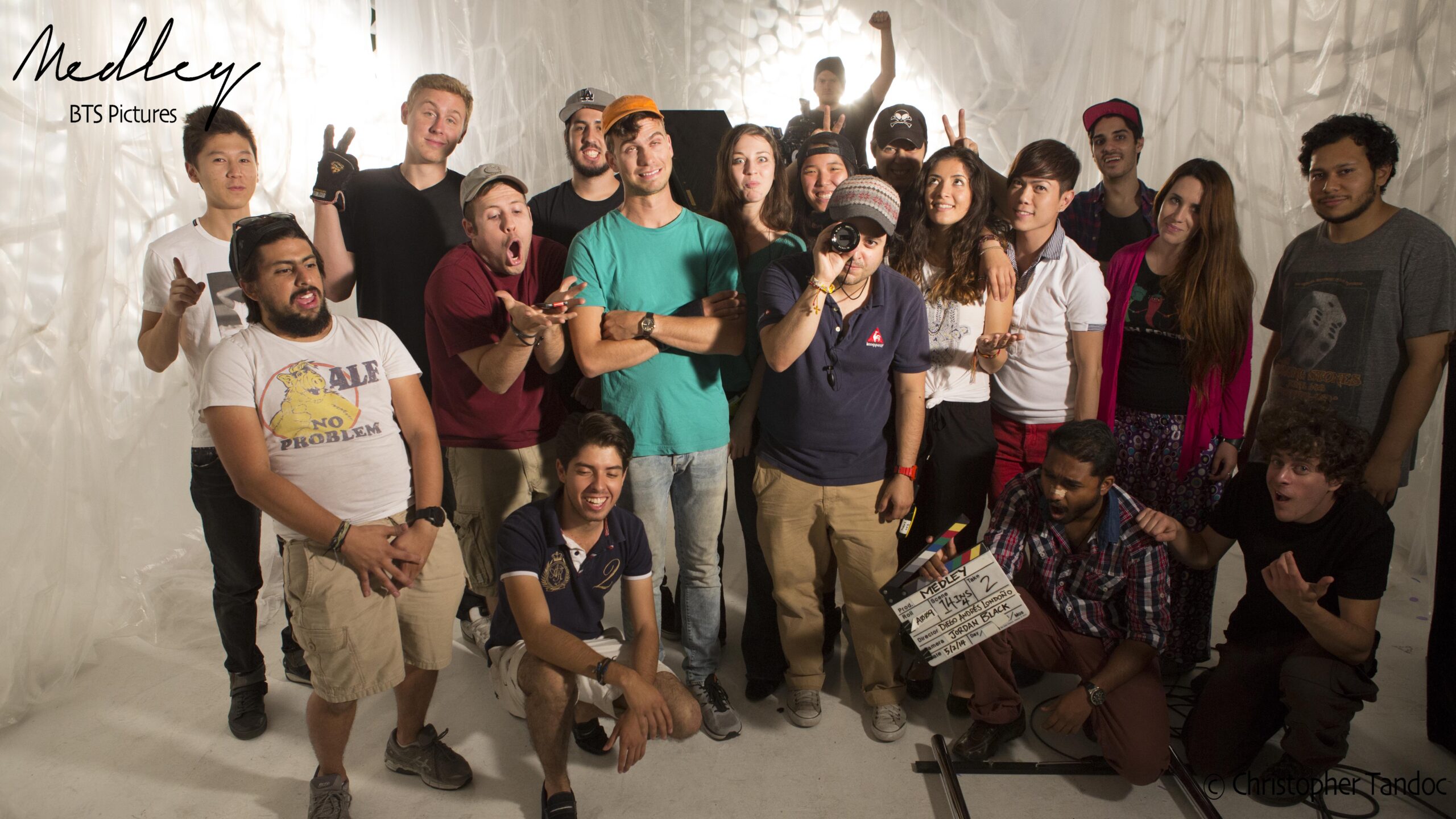 Can you tell us a little bit of how this film came together?
I got an amazing support from Asaph Polonsky and Tony Schwartz, my directing and producing instructors. They knew of the effort I put on my first thesis idea and the reasons why it didn't come through. At that time, they put a word in with Mike Civille, who was the head of the filmmaking department at that time. I was asking for an extra semester to be able to shoot my thesis, but Mike gave me an extra month; and he was right: an extra month was enough for me to conceive the idea and shoot it. I had to resource to my own creativity, the producing and directing tools that I had acquired with years and to my friends — the people who I spent three years of my life battling side by side in the sea of projects that is the BFA program.
I will be eternally grateful to Melissa Inzunza, our Producer, and Yana Surits, our AD: they are not only just classmates, they are my true friends. After the initial struggle, we managed to get Jordan Black on board, an amazing Director of Photography and an equally talented Production Designer, Kalise Wallace (Star Trek: Renegades, Bound). And just like that, we rented a small studio in Glendale and began dressing up the atemporary world where the concert had to take place. A lot of friends came forward and helped in the dressing of the place. To help in the construction, Kalise brought a master threader who works with 'Cirque du Soleil' to build their tents and scenery in Vegas. (Only in LA do you get to meet people like that.) He congratulated us for the amazing production value that we were capable of generating with a minimal budget.
A month after principal photography was completed, we shot the nature sequence. I wanted to contrast the arranged concert as an art form with the pure art that exists in nature. But I knew that I had to choose a place equally beautiful to what we had created artificially. This is why we chose Big Sur as our location for the nature shots. This magical place on Earth is one where Ansel Adams decided to inspire himself and represent his work. At Big Sur, the majestic sequoia trees die by the sea. I've never seen that spectacle elsewhere. We hiked for two days with a skeletal crew of five. We captured mesmerizing imagery that, in the words of many photographers, rival those of the National Geographic.
What do you hope to achieve with this film?
I wanted to try new approaches to filmmaking by conveying emotions through the creative use of sound and image. I learned heaps in the process; and most likely will affect my future films. As for our audience, I would like to generate questions about what is art, and where does the concept comes from. I would like for them to feel and experience an experimental journey that hopefully will trigger their creativity.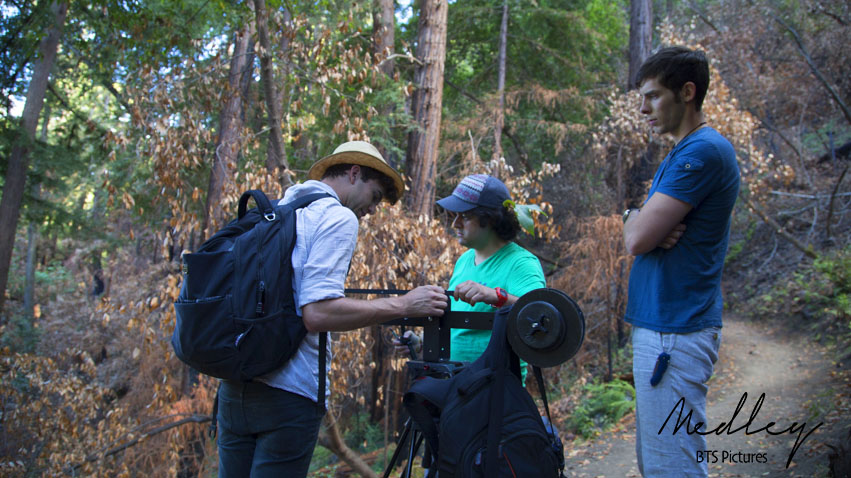 Would you say your training and education at NYFA was useful in terms of directing this film?
I am grateful for the education and hands-on training that I received at NYFA. I learned from working on all of my friend's projects and also from great instructors who taught me to strive for greatness and to stand behind my vision and get my collaborators involved in it. Throughout the time that I spent at the school, we constantly changed and evolved and towards the end of my BFA program I was able to put together all of the directing lessons that I received and implement them in the natural way that I imprinted in Medley's actors.
NYFA is a young school but it has an international quality to it that gives you a sense of global perspective that other schools might not give you. This helped me in writing Medley out of a traditional way, and go for an avant-garde style. All for all, I had awesome experiences that allowed me to see the world through other scopes. Being surrounded by different cultures allowed me not only to receive an 'American Education' but also to share my cinematic experience with people from around the world. I am proud to say that my film is the first NYFA film to compete in the '2015 Cinegear Film Series' at Paramount Studios, alongside of AFI and USC thesis films, because my school is at that level.
Are you currently working on another project?
Currently, I am working on developing a feature film about a murder case in Pleasanton, California, in which authorities work in a crooked way because of the victim being an African American and because of the sense of 'small town' that NorCal communities have. We can use all the help that we can get and of course we where planning on coming to NYFA, as we know of the good relationship that the school has with its alumni. I also have projects in development in Colombia and México, which I'm already in conversations with production companies back home to produce in the upcoming years. I say 'years' because it seems like feature filmmaking is a marathon and not just a sprinting race, but I'm enjoying the ride.
Medley has been selected to compete in the Student Film Category for the 'CineGear film series' at Paramount Studios on June 4th of 2015. For more information visit: http://www.cinegearexpo.com/
Have a look at Diego's trailer for Medley below!

by nyfa