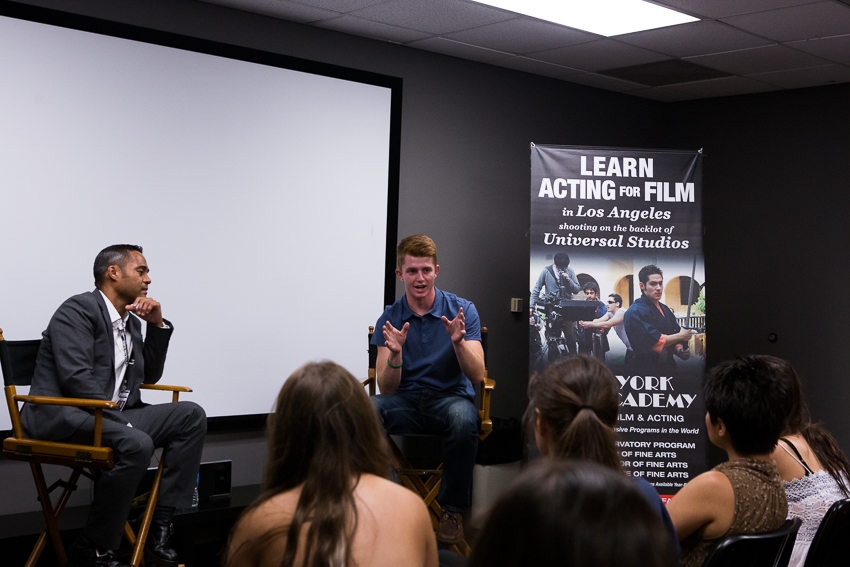 New York Film Academy Los Angeles students recently had the pleasure of speaking with actor Zane Huett from the hit T.V. series, Desperate Housewives. Huett played (Golden Globe Winner & Academy Award Nominated Actress) Felicity Huffman's son "Parker Scavo" as a series regular for five years. We talked to a packed room of NYFA students comprised of teen camp acting and filmmaking students. The audience was first treated to a highlight reel of Zane Huett, showing clips from Desperate Housewives to his most current feature films such as Dear Lemon Lima, starring alongside Academy Award-Winning actress Melissa Leo, to his most current web series project, Blooob. Our young students were enlightened with Zane's experience, having stared in the business at a young age of 4 years old. It's hard to imagine being on a hit show at such an early age! We also discussed certain tips and advice he received while working alongside award-winning actresses such as Melissa Leo and Felicity Huffman.
Throughout the Q & A, students were able to ask Zane Huett questions from tips to getting an agent to any pitfalls or highlights of childhood stardom. In addition to his acting, Huett plays bass and sings in his new band, The Boulevards.
After the Q & A session, he was delighted to spend time, take photos and sign autographs with some of the NYFA students who were also fans of his work.
by nyfa