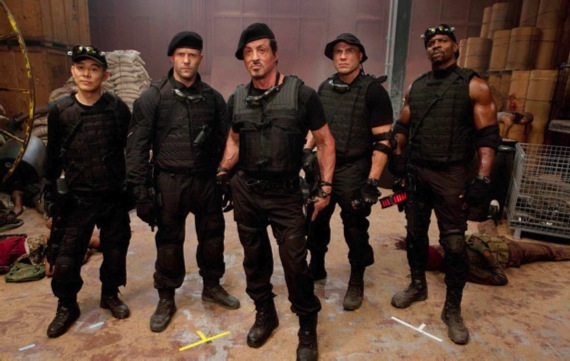 After three films and tapping seemingly every action movie star in the universe, one could be forgiven for thinking that The Expendables had finally run out of steam. But alas, there are still plenty of aging TV action stars out there and today they can be heard thanking their patron saint Sylvester Stallone, who will be bringing the franchise to the small screen for Fox, which he'll also be executive producing.
While no cast has yet to be announced, entertainment news outlets have already begun speculating about potential candidates, such as 24's Kiefer Sutherland, Walker Texas Ranger's Chuck Norris (who has already starred in the films), Magnum P.I.'s Tom Selleck, and Xena's Lucy Lawless.
The show will be written and executive produced by writing duo Greg Coolidge, who penned last year's hit Ride Along, and Kirk Ward, along with Shane Brennan of NCIS who will also be serving as showrunner.
The project comes from Lionsgate TV, the small screen sibling of the powerhouse feature film studio. Analysts are speculating that adapting The Expendables for the small screen will be the first of many Lionsgate properties that will get the TV treatment, as the studio has reportedly been eying the many blockbusters in its libraries for television, having first floated the idea for an Expendables television show back in 2012.
by nyfa