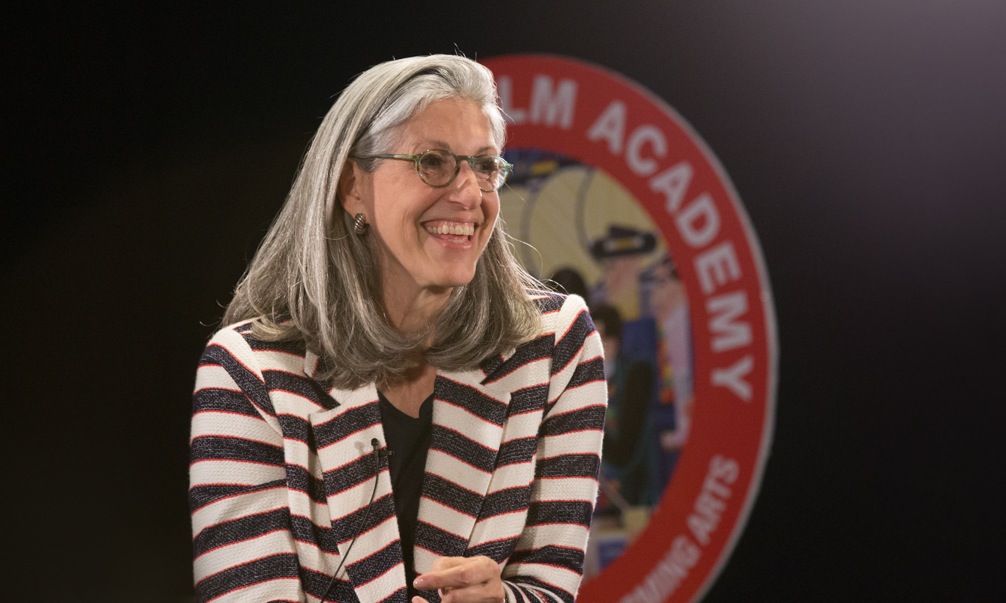 Last week New York Film Academy Los Angeles students were treated to a special lesson on "Basic Costume 101" by renowned costume designer Deborah Nadoolman-Landis followed by a discussion with her. Deborah's distinguished career includes the classics Animal House, The Blues Brothers, An American Werewolf in London, Raiders of the Lost Ark, Coming to America (for which she was nominated for an Academy Award), and the groundbreaking music video for Michael Jackson's Thriller. She served as a two-term president of the Costume Designer's Guild, Local 892 and is a Governor of the Academy of Motion Picture and serves on the Executive Board of the Library of Congress National Film Preservation Foundation. The discussion following Deborah's lecture was moderated by producer Tova Laiter.
Costume is monumentally important in a movie. It speaks volumes about a character before the character even opens their mouth. However the irony is that it is often the least thought-out (or not thought of at all) aspect of low-budget and student filmmaking. This is a travesty, and Deborah Nadoolman-Landis has made it her life mission to educate filmmakers as to the importance of costume design in all levels of filmmaking.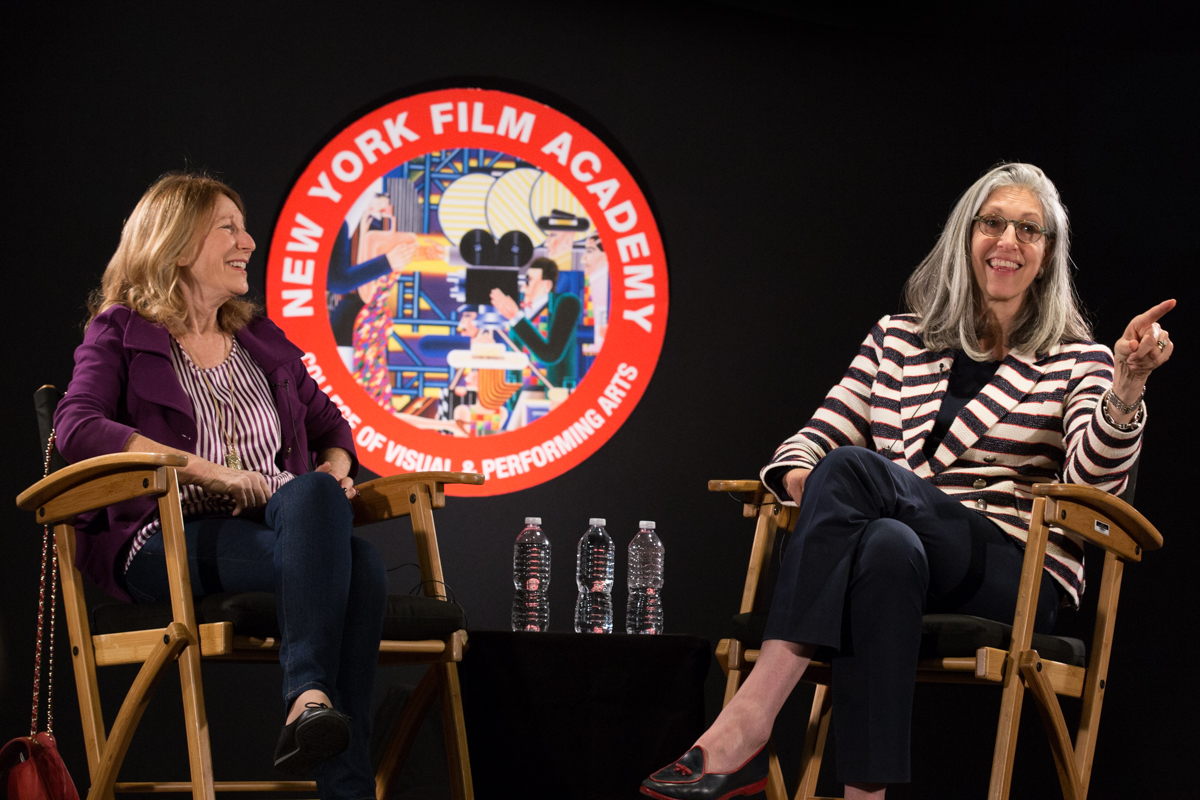 Deborah began the night by calling four student volunteers to the front of the room and asked each student, "Where are you from?" However, Deborah wouldn't accept a generic answer; she insisted on being told the exact street address of the home they grew up in. Deborah then proceeded to address every article of clothing on each student from their feet to their heads. She asked them where they bought the article of clothing, how much it cost, who was with them when they bought it, and why they choose to buy and wear it, or who gave it to them if it was a gift or who lent it to them if it was borrowed. After this lengthy process, the audience had a much greater understanding of who these people were and what their motivations in wearing these particular clothes were. Deborah explained that she engaged in this dramatically long exercise to prove two very important things: 1) Every article of clothing on every character in your movie must be consistent with their story, and 2) Character details are not general but specific.
Deborah then asked all of the students in the theater to stand up and group themselves in the four corners of the room depending on whether they were wearing white, black, neutral and subdued colors, or bright colors. It was a rather unorthodox, yet amusing, experience for students who are used to remaining in their seats for the whole NYFA event. Deborah then pointed to the people wearing neutral colors and said, "These are your background extras." To the people wearing bright colors she said, "this is the cast of Glee." Deborah explained to students how they could stage their extras and supporting characters in the foreground, mid-ground, and background according to where their main character is in order to draw attention to them. Of course, she stressed the importance of making this color choreography appear random since groups of people never divide themselves naturally according to the color of their clothing.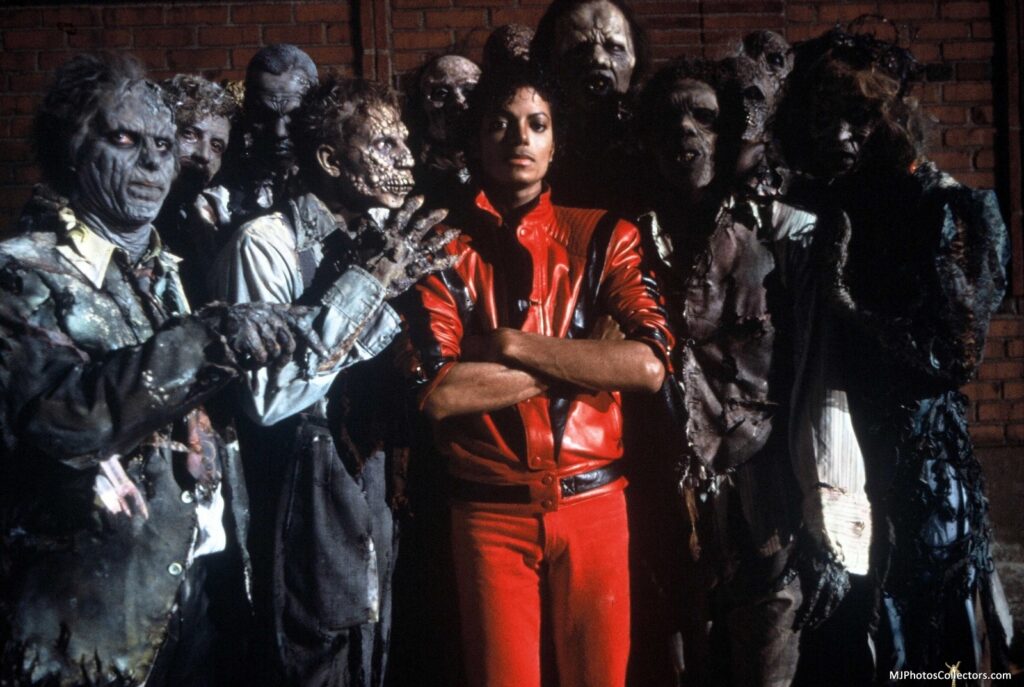 Following these exercises, Deborah gave an hour-long keynote presentation that she had made for the Hollywood Costume exhibit she curated at the LACMA. This presentation emphasized the undeniably important role costume design plays in shaping character and just how powerful of a storytelling tool it is. During the Q&A after the keynote presentation, Deborah explained how she designed the iconic outfit Michael Jackson wore in Thriller. She explained that "design is reductive," meaning you start with all that choices that are obviously wrong and you begin whittling down your options. Michael Jackson was as 5′ 9″ man who weighed less than 100 pounds and her job was to turn him into a powerful sex symbol. His jacket had to make him stand out in front of the rows of zombies he danced in front of. Black, blue, orange, purple would not have worked. "It had to be red," Deborah said, "There was just no other choice. It had to be red." She designed the leather jacket to hold padding in the shoulders and included strong lines creating a V to project masculinity. The straight black pants helped to elongate his body. The result speaks for itself as one of the must iconic costumes in history.
The evening with Deborah Nadoolman-Landis was a truly valuable experience for NYFA students of all disciplines in the audience. If you missed her lecture don't worry, Deborah has preserved much of her knowledge in educational texts. As a historian with a PhD in design from London Royal college of art, Professor Landis' books include: Hollywood Sketchbook: A Century of Costume Illustration, FilmCraft: Costume Design, and the award winning 2012 catalogue for the landmark exhibition, Hollywood Costume, which she curated at the Victoria & Albert Museum in London and exhibit recently at the LACMA museum in LA to great success. We sincerely thank Deborah for visiting and look forward to what kind of waves in the costume design world she will inevitably make in the future.
by nyfa