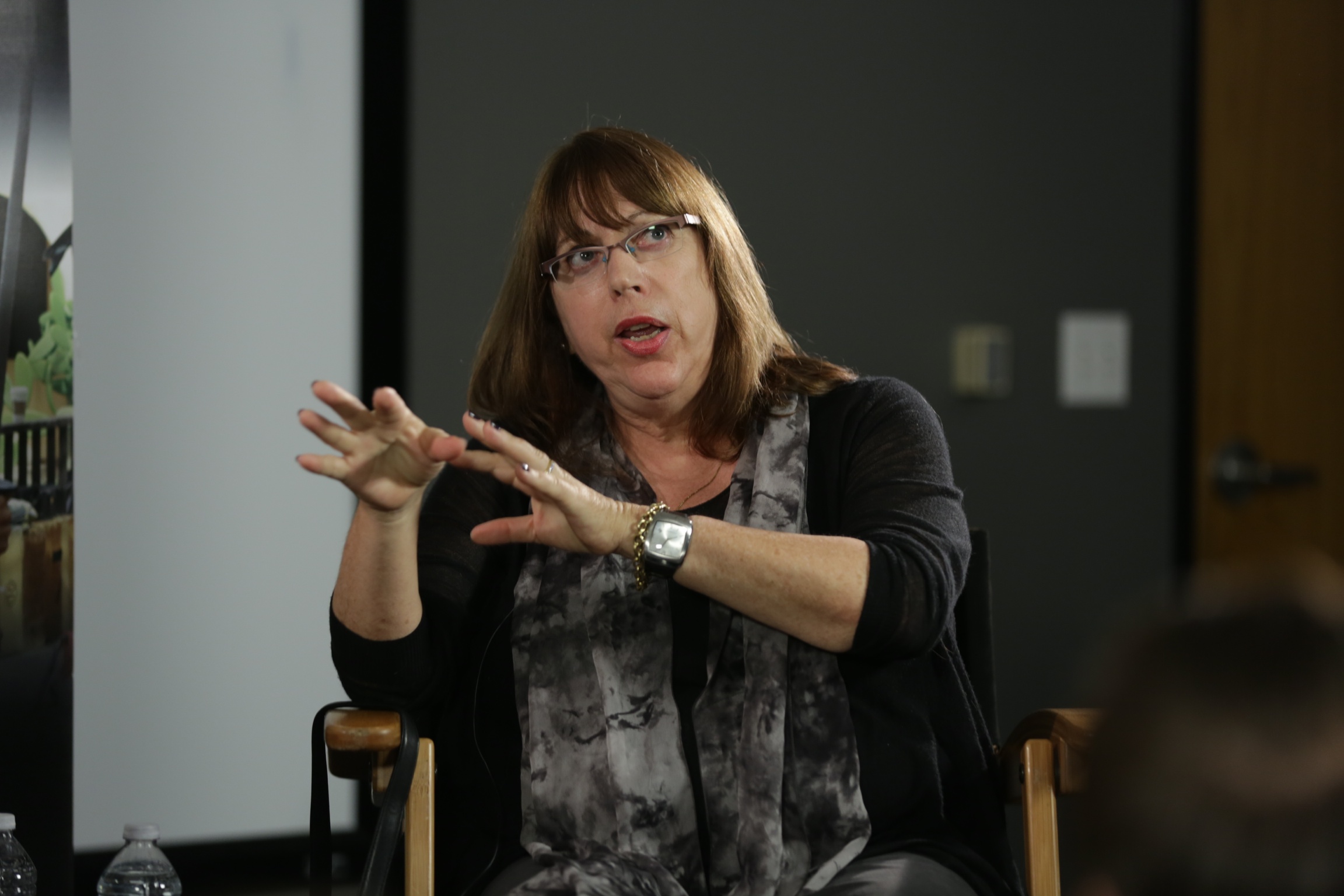 Tuesday night, we had a packed house at New York Film Academy Los Angeles for our guest speaker — brought in by Producer Tova Laiter — Literary Manager, Linne Radmin. Radmin spent seven years at ICM as a senior literary manager before founding the Radmin Company, a boutique literary management and production company based in Beverly Hills that represents screenwriters and directors. She has worked with a diverse range of clients which include Jason Segel (Forgetting Sarah Marshall), Leslie Dixon (Mrs. Doubtfire), and Wes Craven (A Nightmare on Elm Street). The Radmin Company's current clients include Student Academy Award winner Shawn Wines, who is working on a comedy pilot for Warner Bros, Cinco Paul and Ken Saurio (Despicable Me), Todd Alcott (Antz), and several more.
When Linne was asked by Tova how she decides whom to represent, she responded, "I have to be in love with the work and believe that I can help the writer." Tova then asked her to expand on how the writer/manager relationship works and how it's formed; Linne responded, "Crafting a query! The initial letter – and it needs to be intelligent, clear, creative, decisive. Be bold, but not obnoxious."
The film school students, many of which were screenwriters, had very specific questions for Linne. Lawrence, a writer, wanted to know where in a screenplay does Linne expect to find the inciting incident. Linne, without hesitating, responded, "page 12 or 13!"
She also admitted that although good writing is often timeless and just plain good, there are definitely topical trends which affect or are affected by the marketplace. Currently? "Rom-coms are out, emotional sci-fi is in!"
Linne admitted that today's market is tough for film school students and emerging writers, encouraging them to have both an agent and a manager. "Agencies have so scaled back – so better to have more voices in the marketplace by having both an agent and a manager, ideally a manager first. Eventually, also, a lawyer!"
Linne added that in all of this, branding is highly important! When asked by a student how she sifts through all the material she examines she said, "Passion for the material coupled with an idea, notion, plan about how I can use this is the marketplace. Branding matters."
Asked by Diego, an MFA Filmmaking student from Columbia, how directors carve themselves out when looking for representation, she said, "Shoot, shoot and shoot! Put it online, do a webseries. Just keep shooting!" Having a reel is obviously of utmost importance for directors, whereas screenwriters should be more concerned with GOOD WRITING.
Stephanie, a Swedish screenwriting student asked Linne what is important to think about for those looking for a manager. "Hopefully you will have choices here. You want to feel that the manager listens to your ideas. Also, what feels right is probably the way to go!" She also said it's okay to be your own advocate, "If you feel your manager's involvement is too little or too much, speak up!"
About the influx of lucrative quality television, Linne said, "Now some managers are strictly working in TV, but less are only in features. There is some great programing on TV now, so it's good to be open."
Asked by a student about getting into a TV writing room, Linne admitted this is highly competitive and usually the Showrunner (Executive Producer of TV show) hires his or her writers.
Some general tips that came out during the evening:
1. Become a writer's assistant if you can
2. Agents and managers should take 10%
3. Enter legitimate writing contests
4. Brand yourself! Once you have a hit, you will have more freedom to write something within a different genre
Linne also noted that the Radmin Company is always looking for interns!
by nyfa