New York Film Academy (NYFA) had the honor of hosting a live video Q&A with Michael Schulman to discuss his script analysis work for Netflix with NYFA students and alumni. Tova Laiter, Director of the NYFA Q&A-List Series, curated and moderated the event.

Michael Schulman was a script consultant for streaming powerhouse Netflix in the Original Independent Film (OIF) division. He has presented several well-received webinars on the state of screenplay development and acquisition process at Netflix and has been interviewed and frequently quoted in the industry media about the future of screenwriting and filmmaking in the streamer age.
Michael began his career at the longest-running talent agency, William Morris Agency, as an agent trainee and assistant to the worldwide head-of-talent where he worked with top actors including Richard Gere, Mel Gibson, Nicolas Cage, Denzel Washington, Michelle Pfeiffer, and Nicole Kidman. After a move to ICM, and upon promotion to agent in the motion picture literary department, Michael began representing emerging screenwriters, directors, and producers, brokering the deal for Danny Rubin's screenplay Groundhog Day to director Harold Ramis.
Michael ultimately switched from the agency world to the buyer side as VP of Development for Alec Baldwin's company, Orion Pictures and then for Dennis Quaid's company at TriStar. Michael later had a brief stint at Barry Mendel Productions on the Disney lot where he was involved with the acquisition, development and production of Rushmore, The Sixth Sense, and Munich. Michael spent two years as head of development for Michael Mann's company where he worked on Ali, The Aviator, and Texas Killing Fields.
Schulman began the conversation by walking the audience through the details of his work as a script consultant at Netflix. "It was very simple … I was a story analyst, a reader, I would be one of the first nets of incoming materials that came in from the outside world through agents, management companies or l producers." After reading the material, he would write a report in "Netflix language" that allowed executives to conceptualize the project and in the report, Schulman would state why the script was (or wasn't) worth pursuing. "I would be kind of like the first line of defense," he joked. Due to Netflix's high-quality mandate, Schulman cites that only a very small number make it to the next step in the production process.
Netflix, led by NYFA Guest Speaker Ted Sarandos, was the first of its kind when it launched in 1998 as a mail-based DVD rental site. The company has since revolutionized movie-watching and streaming. Gone are the days of communal movie-watching, audiences are watching films by themselves. This individual viewing experience plays a huge role in the kind of films Netflix produces. Schulman states "Marvel is a communal experience, Netflix isn't made for a communal experience. It's made for sitting alone in your bedroom or with your partner … it makes for a different kind of movie." The films on Netflix are more intimate "they dig deeper into the character and mine greater drama out of the smaller moments of life."
When Laiter asked what distinguishes a writer from the pack, Schulman replied, "Writers that have a voice, do original work or think slightly out of the box but with elements that are comfortable and familiar. That gets noticed by Netflix." Netflix is interested in work that breathes new life into the familiar. He cited Ben Affleck's, The Accountant as an example.
Schulman also cited Blumhouse Productions' remake of James Whale's The Invisible Man as an example of thinking outside the box while using what's familiar and comfortable. The 1933 film is about a scientist who discovers a potion that makes him invisible and allows him to sneak in and around places undetected. Blumhouses' version of the film, starring Elisabeth Moss, focuses on the victim who is stalked by the invisible man. The film explores themes of domestic abuse and gaslighting while paying homage to its source material.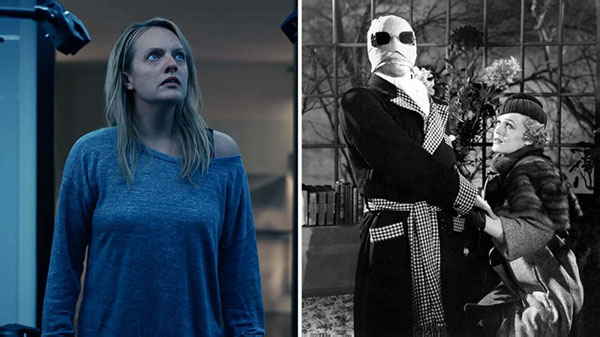 The Invisible Man remake (left), original The Invisible Man (right).
Netflix is also interested in diversity but Schulman warned that diversity is not just characters of different races, ethnicities or sexual orientations but also characters that see the world differently. Schulman cited Coda, the English remake of the French-Belgian film La Famille Belier, where a young girl sets out to help her deaf parents with their struggling business while trying to pursue a career as a singer. In Coda, the character's communication informs the way they see the world offering viewers a fresh perspective in an otherwise familiar storyline.
When asked for advice for emerging screenwriters, Schulman encourages them to "write what you know" and he insists that though the production/pitching process seems daunting, "good material does find a way of getting made." He also makes a case for writers pacing themselves and their craft, ".. to learn skiing, you start on the bunny hills and conquer those, you don't get okay on the bunny hills and then go immediately to the black diamond run and start trying to write a big multi-faceted musical, or a big movie, or espionage pieces."
Another recommendation Schulman provides for up-and-coming screenwriters is to find like-minded creatives whose interests and projects align with your own. Writers, after figuring out their script's 'comps', should seek production from producers who make the kind of work they can creatively identify with and pitch projects to production companies that have a history with the genre they're exploring.
Michael Schulman closed the session by thanking Laiter for the conversation and encouraging students to reach out to him on his social media channels like LinkedIn and Stage32, where he does script consultations when time permits.
New York Film Academy would like to thank Michael Schulman for sharing his time and experience with NYFA students and alumni.
To hear the full conversation, click the video below:
Please note: NYFA does not represent that these are typical or guaranteed career outcomes. The success of our graduates in any chosen professional pathway depends on multiple factors, and the achievements of NYFA alumni are the result of their hard work, perseverance, talent and circumstances.
by nyfa