New York Film Academy (NYFA) had the honor of hosting a live video Q&A with Jared Frieder, Daniel Dubiecki and Lara Alameddine to discuss the process of bringing Three Months to the big screen. Tova Laiter, Director of the NYFA Q&A-List Series, curated and moderated the event.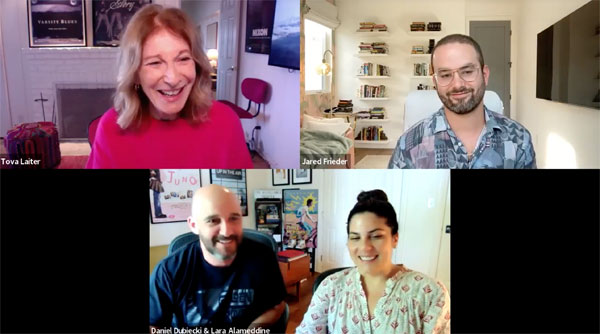 Jared Frieder made his directorial feature debut earlier this year with the coming-of-age comedy Three Months, starring Troye Sivan, Ellen Burstyn, and Judy Greer. His screenplay for Three Months made the 2015 Annual Blacklist and was accepted into the Sundance Screenwriting Intensive. It also won the Austin Film Festival's Comedy Screenplay Award, the Outfest Film Festival's Screenwriting Lab Fellowship, the Screencraft Comedy Screenplay Grand Prize, and the Big Bear International Film Festival Screenwriting Prize.
Three Months was produced by The Allegiance Theater, a production company founded by Daniel Dubiecki and Lara Alameddine.
Daniel Dubiecki is the CEO and co-founder, with Lara Alameddine, of The Allegiance Theater. He is an Oscar®-nominated producer for Best Picture for Paramount's Up in the Air, starring George Clooney. In addition to winning the National Board of Review's Best Picture Award, Up in the Air received six Golden Globe® nominations, five BAFTA nominations and six Oscar nominations. The Allegiance Theater also produced Money Monster, starring George Clooney and Julia Roberts, which was directed by Jodie Foster and made its world premiere at the 2016 Cannes Film Festival. The film grossed an astounding $93m worldwide. Dubiecki's partner, Lara Alameddine, started her film career at the University of British Columbia film program. She started with a string of branded content and short films for corporations such as Honda and Atom Films. Over the last ten years, she has been working independently to develop a slate of feature films and television series from original ideas, books, articles, and screenplays.
Frieder shared that Three Months was born during his application process for the University of Southern California's MFA Creative Writing Program. He wanted to "tell a different kind of story about HIV". The script then won a screenwriting contest and was selected for the Blacklist in 2015. Three Months had many iterations, says Frieder. At one point it was a series, equipped with its own writers room and 8 scripts at Hulu.
Three Months doesn't take itself too seriously, much like the film's leading man, Troye Sivan. Jared Frieder admits that he always envisioned Sivan in the role of Caleb but was never able to get him the script. It wasn't until Dubiecki and Alameddine stepped in that he was able to get him the script. "After a week, he accepted." When it came to casting Caleb, for Frieder it was about truth and ease. Troye Sivan checked those boxes. The four met for lunch and Alameddine recalls the moment they all realized Sivan was their Caleb. "You just know like when you know that you're in love."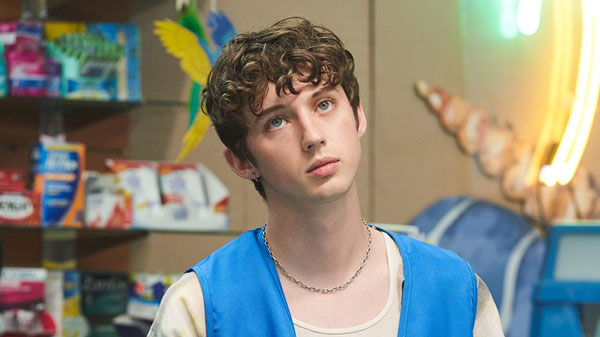 Laiter asked the duo why they named their film/TV production company The Allegiance Theater. Lara Alameddine reminded us that theater is a destination where audiences and artists meet. Alameddine also stated that when Dubiecki and herself were thinking of company names they were doing so with their creative philosophy in mind. The two chose "allegiance" because it best described their commitment to telling truthful stories. Dubiecki and Alameddine's production company formed an "allegiance with the story, the artist and audiences." The Allegiance Theater is a destination of trust and protection for artists and audiences to experience character and quality-driven storytelling through all mediums.
When asked by students how to pitch to a production company, Dubikei insisted on the value of submitting to film festivals and screenplay competitions "Send it to as many short film festivals and go to all of them … short film festivals always need more shorts." Jared Frieder advocates for screenplay competitions as well and recommends sharing your work with "as many people who will read it". Frieder also adds that "everyone's path is different". Almeddine's advice is a little different. She says, "as much as you can create your own stuff … that's what's going to help you get into spaces and rooms. The clearer the vision the more the pathway will open up for you."
Laiter closed the conversation by thanking our guests for the conversation and the students for their time.
New York Film Academy would like to thank Jared Frieder, Daniel Dubiecki and Lara Alameddine for sharing his time and acting experience with NYFA students and alumni.
Please note: NYFA does not represent that these are typical or guaranteed career outcomes. The success of our graduates in any chosen professional pathway depends on multiple factors, and the achievements of NYFA alumni are the result of their hard work, perseverance, talent and circumstances.
by nyfa