Oscar-winning director John G. Avildsen joined students at New York Film Academy for a Q&A following a screening of his film, Rocky. The excited students filled the theater to capacity, and cheered when the opening credits started rolling.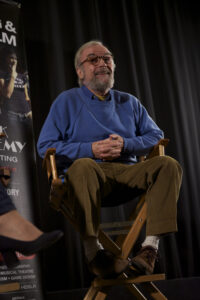 During his on-stage interview, Avildsen spoke about the film, saying, "When I first heard about it, I said, 'Boxing is really dumb.' But it's a beautiful love story – a great character study. He's a very engaging guy. The boxing is the background. It's about a guy and a girl, and it's a delightful story…. You have to have a great story."
He talked to students about his long career, and his films that helped launch the careers of Sylvester Stallone, Peter Boyle, and Susan Sarandon. He also gushed about working with Jack Lemmon on 1973's Save the Tiger, for which Lemmon won the Academy Award.
The energetic director offered up advice to his gathering of young filmmakers, saying, "The audience is very smart and they have nothing else to do but sit there an judge [your film]. Make sure you have your bases covered and make sure they believe it. When you do, they get their money's worth."
When asked why he chose to become a filmmaker, Avildsen responded, "It's not work. I've worked. I've been behind a desk and punched clocks. It's make believe with all of these creative people. They hang lights up, and try to find strange little props. They'll find you a great jacket, better than anything you could have thought of. People laugh, they cry, and respond to things, and it's amazing."
Avildsen was extremely generous with his time, and stuck around after the event to sign autographs, pose for pictures, and give advice to eager students.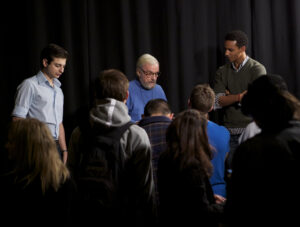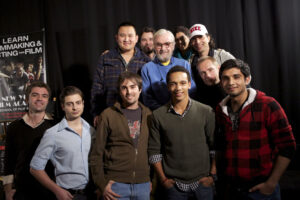 by nyfa