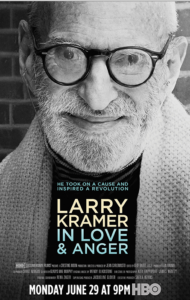 New York Film Academy Documentary Master Class Instructor and Curriculum Adviser, Geof Bartz's latest documentary, Larry Kramer: In Love and Anger, airs tonight on HBO!
As Supervising Editor of HBO Documentary Films, Bartz says this film is "about one of the true heroes — and great characters — of the 20th Century."
Larry Kramer is an author, playwright and activist who gave voice to the outrage and grief that inspired a whole generation of gay men and lesbians to fight for their lives. As co-founder of Gay Men's Health Crisis (GMHC) and ACT UP (AIDS Coalition to Unleash Power), Kramer's activism forever changed the public health policy pertaining to AIDS.
Directed by Jean Carlomusto, the documentary originally premiered at Sundance in January 2015, and will have its TV opening tonight on HBO at 9 pm EST. From there, Larry Kramer: In Love and Anger will be available at HBO ON DEMAND and HBO GO.
We hope you have a chance to check it out!

by nyfa