On Friday, November 18, New York Film Academy (NYFA) hosted a screening of IFC's DriverX (2018), followed by a Q&A with director/writer and NYFA instructor, Henry Barrial; producer, Mark Stolaroff; and star, Patrick Fabian; featuring and moderated by NYFA Acting Dept. Associate Chair, Anne Moore.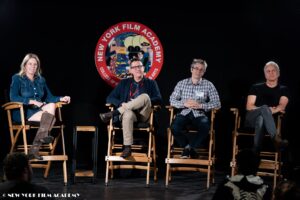 Barrial is a writer, director, and filmmaking/acting instructor at New York Film Academy's Los Angeles campus. DriverX marks Barrial's fifth feature. His previous credits include The House That Jack Built, Pig, and Some Body, which premiered at the Sundance Film Festival. Stolaroff is a producer with 25+ years in the business, and is considered to be an expert in micro-budget filmmaking. He has produced all five of Barrial's features.
Fabian has been a working actor for over 25 years, with 115+ credits to his name. He currently stars as Howard Hamlin on AMC's Emmy-nominated Better Call Saul. His other credits include  Friends, Grey's Anatomy, The Newsroom, Criminal Minds, and Will & Grace, to name a few.  Film audiences may know him best as Reverend Cotton Marcus in The Last Exorcism, and he is also fondly remember as "Professor Lasky" in Saved by the Bell: The College Years. Fabian has also starred in NYFA alum Aymen Khoja's Arabian Warrior, the first ever Saudi-American feature.
Moderator Anne Moore opened up the Q&A by asking Barrial about the collaboration between Fabian and himself on the script, as Barrial wrote the part of Leonard Moore specifically for Fabian. "I had the outline of the script worked out before I brought it to Patrick, and from there we worked on the character development," says Barrial. He added, "In terms of the actual writing of the script, that was all me." 
Barrial went on to discuss the importance of collaboration and community in this business, with Fabian chiming in by asking, "Who on this stage has been playing beach volleyball for the past 15 years together?" Barrial, Fabian, and Moore all raised their hands and it was revealed they have been friends and colleagues for a very long time.
Barrial went on to talk about the personal nature of this project and his collaboration with producer Mark Stolaroff. "Most producers won't tell you what their budget was, but I will!" exclaimed Stolaroff.  Immediately a Filmmaking student asked what the budget was, with Stolaroff answering, "We started with a budget of $100,000 which got us through production. From there we did a Kickstarter campaign to raise the funds we needed for Post, so all in the budget is $140,000."  
Obviously the movie is a labor of love as many of the cast and crew have worked on Barrial/Stolaroff films before.
When asked about how Fabian worked around his Better Call Saul shooting schedule, Fabian replied, "First off, I have to say how happy I am that I have a job that needs to be worked around. Henry and Mark were great about my schedule, but that's what you do, you make it work."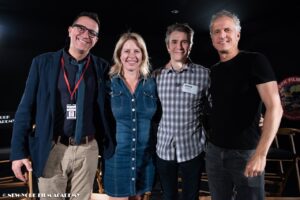 Fabian went on to talk about his longevity in the business, and the importance of being prepared: "You need to show up, be ready, and be early. And take care of yourselves when you don't get the part. Go hiking, drink juice, do whatever you need to get you through the tough times, because if you stay focused and committed, things will go your way."
The New York Film Academy thanks Patrick Fabian, Mark Stolaroff, and Henry Barrial for sharing their insights about making an independent film on a micro budget with a challenging schedule.
DriverX opens November 30th in theaters and on demand.
by nyfa