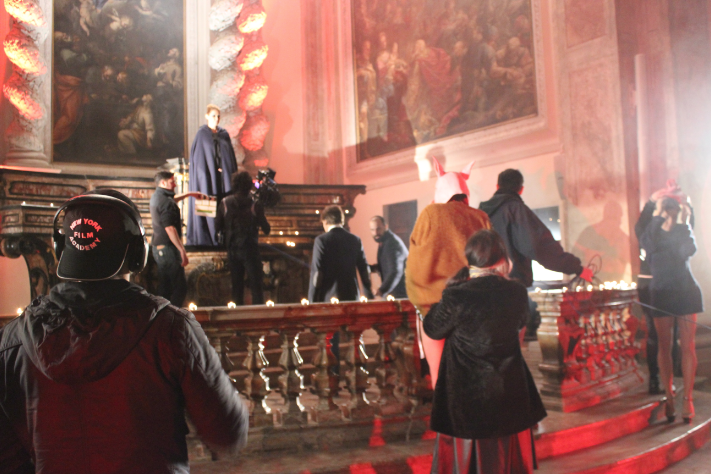 Even though Francesco Mazza had already been writing for popular television shows in Italy, he decided to move to New York to challenge himself and become a better artist. "My interest in New York Film Academy came from the all hands-on idea," says Mazza. "When you are in your early 30's, you can't afford to lose time, and at NYFA everything happens fast."
During Francesco's first year in New York, he came up with the idea for a pilot and pitched it to a couple of Italian production companies. The pilot, Vera Bes, caught the interest of Matteo Scortegagna, C.E.O. of Zodiak Active Italy. From there, Francesco wrote the pilot and soon after the project was green-lit. Francesco was not meant to direct the pilot. It was only after he showed Scortegagna his NYFA first semester film, a comedy called Man-eaters, starring his fellow NYFA acting students. After viewing the short, Scortegagna hired Francesco to direct his own pilot.
"The web-wise record-setting of $80,000 displays how important the project is for us, who strongly believe in the upcoming development of the web market," said Scortegagna. "As we were half way through pre-production, I came to know that not only was Francesco a talented screenwriter with prestigious credits in our country, but he was also attending a one-year course in directing and filmmaking at the New York Film Academy. Therefore, I immediately offered him the directing of the pilot, a challenge that was brilliantly accomplished by Francesco last March."
Vera Bes is about a girl with a special power: using the mystery of "lucid dreams" leant by her grandmother, she is capable of getting into people's dreams. In her spare time, Vera becomes a "dream consultant"- anybody affected by a recurring nightmare can come by her studio for a consultation. After investigating both in the world of dreams of the client and in reality, she climbs down the client's unconscious to set him free from the nightmare. But Vera has a further motivation: finding and killing the evil presence who murdered her grandmother.
"I like to think of NYFA as a toy or a musical instrument. If you apply yourself hard, you're willing to do sacrifices, you humble yourself no matter what you did in the past and you constantly struggle to learn. And you are going to have real fun. Before studying at NYFA, I've always had lots of ideas, but it's thanks to NYFA that I finally learned how to visualize and dramatize the stories I had in my mind. I would have never been able to direct a project like Vera Bes if I hadn't had the possibility to learn the essential rules of screenwriting with Ben Maraniss or the importance of externalizing the characters' struggle with Michael Sandoval. Not to mention all the priceless advice my directing teacher, Amos Poe, gave me throughout the year. I also fondly remember the speech [Filmmaking Chair] Claude Kerven gave us the very first day of school about the true meaning of being a filmmaker — something I'll never forget."
Vera Bes is already part of the official selection for the upcoming 2014 Marseille Web Series Festival. Francesco's goal is to create a character driven TV drama like Breaking Bad, American Horror Story, True Detective, etc. The idea of Zodiak Active is to find international production companies willing to partner up and produce an international product to be sold worldwide.
VERA BES – Promo from Vera Bes on Vimeo.
by nyfa