David Linde, CEO of Participant Media, the leading global media company dedicated to entertainment that inspires and compels social change, recently spent a morning in conversation with New York Film Academy (NYFA) Producing Chair Neal Weisman as the latest NYFA Producing Department Industry Speaker. Linde and Participant are coming off a hot streak having produced recent Oscar winners Green Book and Roma.
Linde spoke at NYFA's New York campus. Attending the speaker series event were students of the NYFA Producing department, as well as students from the NYFA Documentary, Screenwriting, and Filmmaking departments.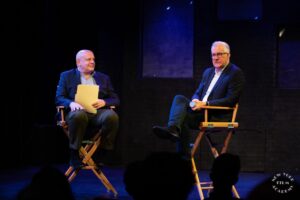 Linde shared his biographical highlights, starting with his first job in the paralegal department of Paramount Studios in New York City.  He discussed his move into film sales starting with Fox Lorber, and then Miramax, before becoming a partner of the seminal New York production outfit Good Machine. 
Many of Linde's relationships with acclaimed filmmakers were forged during this period, including directors Alfonso Cuarón, Alejandro González Iñárritu, Ang Lee, Todd Haynes, and Todd Solondz. Linde lavished high praise on one of his mentors, legendary producer Saul Zaentz; they worked together on The English Patient (winner of nine Academy Awards).
Linde also shared his experience as Chairman of Universal Pictures, where his lengthy—and ultimately successful—campaign brought the studio full force into animation and the family market.
Two major themes emerged from the discussion – Linde spoke extensively about melding his sales perspective with long-standing relationships with filmmakers. As Co-Head of Focus Features, he went on to distribute such notable projects like Brokeback Mountain, The Motorcycle Diaries, Eternal Sunshine of the Spotless Mind, 21 Grams, and Lost in Translation.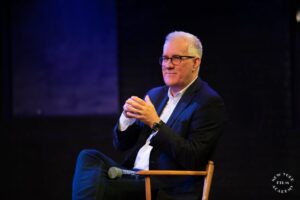 Linde also shared Participant's philosophy of backing entertaining narrative feature films and documentaries that can serve as catalysts for social change. 
He spoke extensively of the social and political action inspired by Roma. One victory cited by Linde is that domestic workers in Mexico will now be entitled to participate in their country's social security system. Weisman mentioned that comparable efforts are underway through Participant's work in the US in conjunction with the National Domestic Workers Alliance. Students are encouraged to check out the social action element of the Participant website here.
Linde also addressed the role of Netflix in the distribution of Roma and the industry-at-large. Both Participant and Oscar-winning director Alfonso Cuarón are exceedingly pleased with the way Netflix rolled out the picture, as well as the large viewing figures. Weisman mentioned that Roma blazed a trail for a new kind of hybrid distribution model, about to be put to use with the release of the new Martin Scorsese film The Irishman.
Linde then inspired the students in attendance by noting that the advent of streaming services has created great opportunities as there are "so many new buyers."
New York Film Academy thanks CEO of Participant Media, David Linde, for generously sharing his insight and wisdom with our students!
[su_carousel source="media: 32906,32907,32909,32908,32911,32910,32913,32912″ limit="60″ link="lightbox" target="blank" width="780″ height="360″ title="no" autoplay="0″]
by nyfa