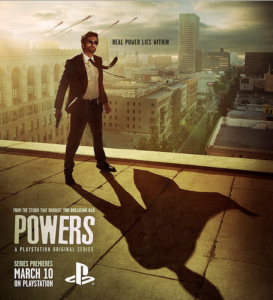 Another day, another trailer. This one, however, for the new original series Powers, is a little different, and a sign of big changes ahead for the television industry. Powers, an adaptation of the popular graphic novels by Brian Michael Bendis and Michael Avon Oeming, tells the story of a familiar, realistic world filled with superheroes and supervillains, much like the NBC series from last decade, Heroes. Unlike NBC's Heroes, however, Powers intends to be much darker, grittier, and bloodier, if the trailer is any indication.
The season's main antagonist, played by comic and TV/movie vet Eddie Izzard, oozes danger in the brief looks we get at him. He'll be facing off against the show's leads, police officers played by Susan Heyward and Sharlto Copley, who first won sci-fi fans over with his starring role in District 9 and is currently starring as the title character in Neill Blomkamp's Chappie.
However, the most remarkable aspect of Powers may be where you can watch it—exclusively on your PlayStation. The show is the first attempt by the video game console to create and stream its own original content, hoping to take a piece of the pie Netflix and Amazon have been stealing away from the traditional TV networks. It is a bold but savvy move, considering many cord-cutters currently stream Netflix and their other television through the PlayStation already. It's safe to say the industry, from television writers to television producers will be watching Powers' ratings closely. Judging by the trailer, a lot of fanboys and fangirls will be watching too.
by nyfa