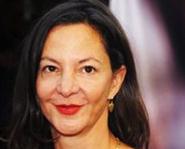 Prominent film producer Gabrielle (Gaby) Tana joined our Producing Program students last week for an inspiring Industry Speaker session. Gaby has not one, but two major feature film releases upcoming: Stephen Frears' Philomena starring Judi Dench and Steve Coogan, and Ralph Fiennes' The Invisible Woman (Sony Pictures Classics).
Coming off very successful premieres at the Venice, Toronto, and New York Film Festivals, Gaby shared her inside perspective on developing, financing, and overseeing the production of both films. A producer based in New York and London, Gaby discussed the role of BBC Films as both a creative and business partner, working with various financing entities such as Pathe, how tax schemes have aided her efforts, and how producers can impact marketing and distribution strategies. Gaby also shared some of her experiences producing earlier films The Duchess (which starred Keira Knightly), and Ralph Fiennes' directorial debut Coriolanus.
New York Film Academy Producing students will continue to track the progress of Gaby's two films as they open in the US in November and December.
by nyfa